Screen Queensland will present the Kids Content, Games & Convergence conference in Brisbane next week.
The two-day conference will feature presentations from leading industry experts on the latest issues and trends in children's programming, gaming, multiplatform and digital entertainment. Organisers wish to engage emerging or professional content creators, producers and creatives, and those want to learn more about the rapidly changing landscape of new media options.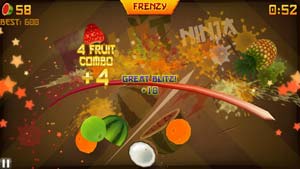 The conference will arm its delegates with the ability to navigate the current screen landscape with greater ease and understanding, and will focus on practitioners' points-of-views who have been successful in developing and executing a single story idea across devices, channels and communities.
The conference brings together an extensive line-up of industry leaders and covers the latest developments and opportunities in this rapidly changing landscape:
Discovery Networks Asia Pacific,
Halfbrick (one of the most well-known indie developers in the world today following the success of Fruit Ninja: picture)
, Hoodlum, Pozible, SLR Productions, The People's Republic of Animation, Blacklab Entertainment, Sticky Pictures, Flying Bark Productions, Defiant Development, Media Farm, Network Ten, Disney Channel, ABC Children's Television, Liquid Animation, Beyond Screen Production, Witch Beam Games, Australian Children's Television Foundation, QUT Creative Enterprise Australia, Matchbox Pictures, Ludo Studio, Disparity Games, Werner Film Productions, Kixeye Australia, Carbon Media, Screen Australia and more.
Tickets are now on sale for the two-day conference to be held on Thursday, June 12 from 9.00am until 5.45pm and Friday, June 13 from 9.30am until 5.00pm at the Griffith Film School, Griffith University, South Brisbane.
Ticket prices are $10 for one day, or $18 for both days.