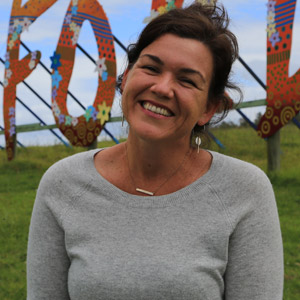 What do you do?

I'm the Head of Programming for Woodford Folk Festival, which incorporates The Planting, Festival of Small Halls and some ad-hoc touring.
Why do you do it?
I love helping to make sure people can see great music.
What do you love about the city you live in?
Currently I am living in Charlottetown, PE, and I love that it's got a music scene that punches hugely above its weight as well as incredible natural, slow beauty. In Australia I live in Caloundra and I love that I can ride my bike around the points after 9pm and there are no cars on the road. Nightrider.
Where did you go for your last holiday?
I had a few days without wi-fi in Telluride recently, so an accidental holiday and that was pretty amazing. Colorado is so beautiful.
What's your favourite item of clothing? Why?
It's an old Insight t-shirt and it's so soft. I feel like it's been worn in my family for about ten generations. It hasn't though. I wear it in public still and I probably shouldn't because it has no shape and is very thin and unflattering.
What was your favourite TV show when you were a kid?
'Monkey Magic', 'Cities Of Gold', 'Voltron'. That's a trifecta. Can't pick a favourite and I would challenge anyone to pick a favourite from that perfect list.
If you could travel back in time for a day, where would you go?
Oh my god I just made my husband watch 'Back To The Future' for the first time in his life. can you believe it? So this is a very timely question. Maybe New Orleans. But maybe also Australia pre-Captain Cook to give everyone a warning.
If we were coming over to your place, what would you cook us?
I'm very into this delicious corn chowder with coriander/ lime/ cashew cream at the moment, so you'd probably be forced to be very into it too.

What's the best lesson you've ever learned?
Enthusiasm is not a contract is a very solid one from recent years.
Tell us one thing about yourself that nobody else knows...
Nooooooooo, thank you though.
Are you happy with your work/ life balance?
No. I have been working on this, but I seem to vacillate between all or nothing; mostly all.
How do you define success?
Being with people I love and me and those people being happy.
What are you most looking forward to about Australian Music Week 2017?
I'm looking forward to seeing growth in a new event with such good intentions and such a great future ahead of it and the results of an increasing relationship with the Aust folk scene. So seeing new music and catching up with colleagues. That and the inevitable meeting with someone entirely unexpected.
How important is an event like to the Australian Music Scene?
Events where people are attending with the intention of being open to conversation and willing to share knowledge and ideas are what keeps us together as a community and what keeps us moving forward. Even though music is such a social thing, weirdly the business of it can be isolating. So meeting people with or hearing about common experiences can be so heartening. It also gives attendees a pretty good idea of the lay of the land at that time.