Over WOMADelaide's 25 years, the stages dotted throughout Botanic Park have played host to an outrageous cast of talented performers from all over the world.
Every seasoned festival-goer has their personal favourites, but talk to a few and it's clear that for every mention of global superstars like Angelique Kidjo and Ravi Shankar, just as many people treasure their memories of far less-heralded performers.
So it proved again this weekend, and a huge part of WOMADelaide's appeal is the joy of discovery. Throughout the weekend it's common to see people standing transfixed by the beautiful music they've just stumbled upon, leafing through pocket guides to find the name of their latest, accidental discovery.
I did just that when I encountered Aurelio's languid protest songs. Political lyrics and surprisingly funky music reflect the Garifuna community's African roots as well as their Caribbean and Latin surroundings. The songs were at turns mournful and celebratory, but his strident voice was impossible to ignore.
Even more memorable was The Manganiyar Classroom, perhaps the most simple and honest celebration of a musical culture that WOMADelaide has ever seen. The theatre production featured 20 irrepressible boys from Northern India rejoicing in their community's music and their own right to be heard.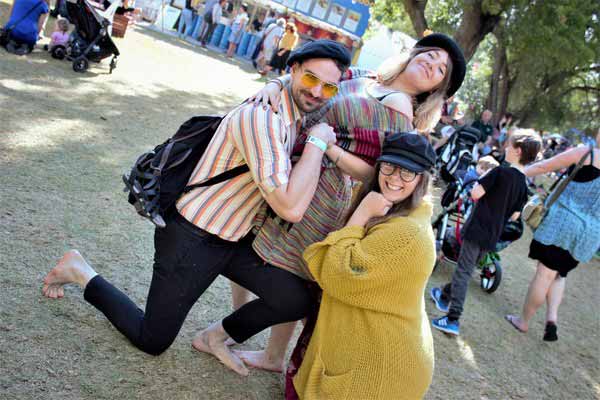 Image © Erin Eustace
The cheeky youngsters competed with each other to shine the brightest and their impish smiles were matched by those in the appreciative crowd as they owned the stage for a joyous hour.
Bringing a theatrical show with such young performers to a festival is a challenge, and there were some issues with the surtitles but the message – that it's necessary to integrate music into an educational curriculum – came through clearly.
It's taken for granted now, but bringing so many acts with different styles of music to WOMADeaide's many stages is an incredible accomplishment that deserves acknowledgement.
DD Dumbo - image © Erin Eustace
For the most part, the technical side of things once again went off without a hitch though there was nothing to be done about the sound bleed during 'Koyaanisqatsi'. It meant that the quieter passages in the score were punctuated by West African grooves from another stage, which detracted from the incredible performance by the Philip Glass Ensemble.
From the moment the ominous chanting began, the sound was incredible and watching the film under a full moon wreathed in clouds was an electrifying experience, but the tension was lost during these quieter moments and a restless crowd slowly dissipated throughout the performance.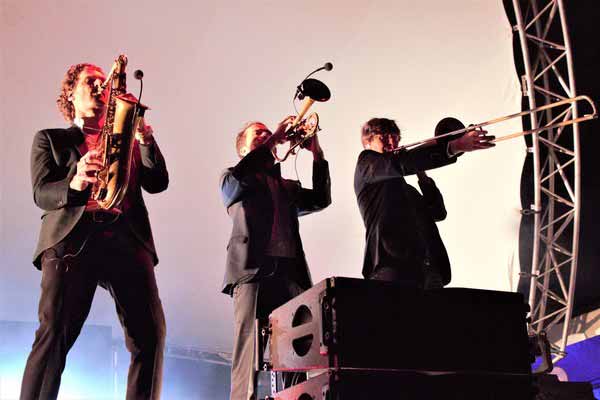 Parov Stelar - image © Erin Eustace
There were no such concerns for the incredible show put on by Dancenorth, Lucy Guerin Inc and Senyawa. Frenetic choreography marked a performance in which the contributions of both dancers and musicians seemed constantly on the verge of collapse.
A series of unearthly howls and shrieks emanated from the diminutive singer while his partner created sheets of industrial clang that was among the more challenging musical performances of the weekend.
The violent and barely-controlled movements of the dancers (and some audience members) collided to create an utterly breathtaking spectacle that stands as one of WOMADelaide's triumphs.
The dark, aggressively modern no-wave tango of Orquestra Tipica Fernandez Fierro was breathtaking. Despite the stage being packed with musicians, not a note was wasted in this stark celebration of sex and death.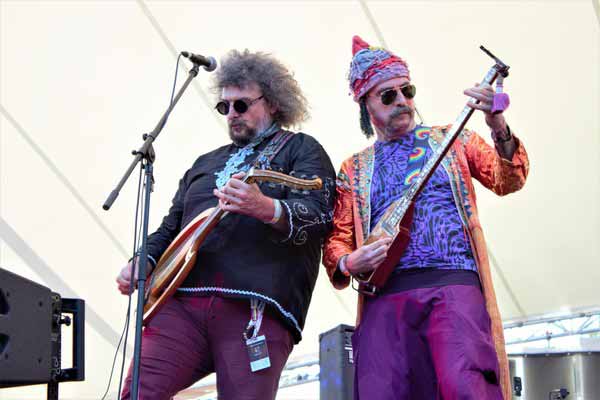 Baba Zula - image © Erin Eustace
Baba ZuLa played the part of merry pranksters as they upheld the tradition of Turkish psych. Blazing electric saz and breakbeats combined to form dense, hypnotic grooves that stretched out over the park.
Emir Kusturica never made it out of clown phase, seemingly more concerned with dragging girls half his age through a tortuous game of Simon Says than providing any musical contribution during his pantomime of a set.
Emir Kusturica - image © Erin Eustace
Bokante's second ever gig showed an incredibly tight fusion of jazz, funk and a host of musical styles from West Africa to the Caribbean. Evoking the spirit (if not the style) of past greats like the Mahavishnu Orchestra, the results were captivating.
Sinkane similarly blended influences from around the world with a heavy emphasis in slinky funk and Ahmed Gallab's falsetto rode over it all beautifully. The addition of horns to the band added some serious punch to their sound and it was tough to stay seated for the performance.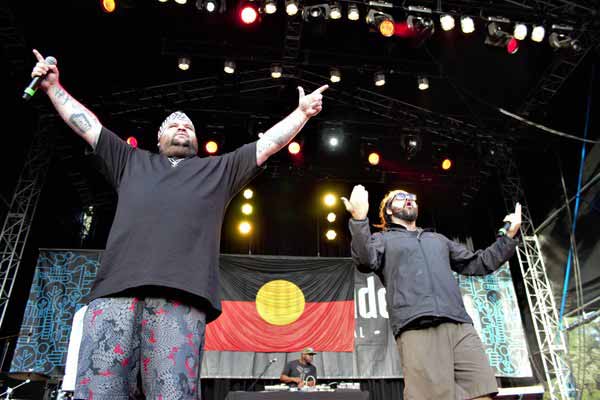 AB Original - image © Erin Eustace
Perhaps the most fun of all to dance along to was Nhatty Man & Gara. Losing his voice after coming straight from Port Fairy Folk Festival, Nhatty Man still gave it his all and brought some serious energy to the stage. The band mixed the classic, '70s Addis sound with funk and hip hop, and he topped it off with some incredible dance moves.
These snapshots from across the weekend combine to create a larger picture of another incredible festival. Despite heavy showers on Sunday, the rain held off for most of the weekend and meant that on Monday the site still had plenty of greenery instead of turning into a dustbowl.
As a satisfied crowd slowly dispersed, smiles graced tired faces and everyone began to share their own, personal highlights from across the world of music and dance.
- Alexis Buxton-Collins
Upon entering the global fun fair of WOMADelaide 2017, my first artistic encounter was with EkosDance Company.
They are a troop of untrained Javanese dancers from the North Maluku islands; a place of such isolation that it may only be reached by three hours of flight and one hour of speedboat. They would perform on the following night, but first they would run a workshop on how to dance like a fish.
Image © Erin Eustace
WOMAD is not simply a listening festival; it is a place to learn, to explore, to live and to dance. I flicked my tail and swam into the four-day ocean of festivities, netting an abundant catch of new memories.
Exiles and Insurrection
Ana Tijoux was born in exile, her parents having fled from the fascist regime of Pinochet in Chile while Sinkane's Ahmed Gallab's parents fled war-torn Sudan; the vocalists that comprise South Africa's a capella trio The Soil were raised under the segregation of apartheid.
Despite the diversity of sound, ranging from Latino hip hop to Afro pop and gospel, there was a unity of purpose. Music is a weapon that can tear down oppression. As Australians, the tyranny and abuse of power that these artists spoke of is not simply an abstract curiosity.
L-Fresh the Lion rapped about being treated like a second-class citizen because he is a Sikh while A.B. Original did not shy away from the uncomfortable conversations that need to be had about indigenous rights.
A four-day immersion in the sounds of the planet tends to reveal the commonality of our human experience, for good and for bad.
All instruments great and small
Under a Moreton Bay fig tree, Jamaica's Bushy One String regaled the audience with enigmatic joy about the merits of a guitar with only one string.
Those with singing voices of mere mortals may struggle to captivate with such a dearth of notes. With his charisma and his soulful laments, this one man truly occupied his stage.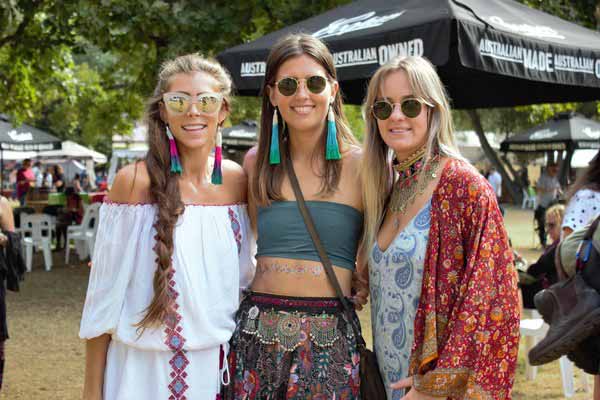 Image © Erin Eustace
The Korean drummers of Tago, on the other hand, were at the other end of the spectrum, armed with a hefty arsenal of mostly percussive instruments. Their acclaimed production mixed the slapping of sticks with slapstick comedy; their echoing rhythms could be heard from afar, but their impish, facial expressions and sometimes subtle, physical comedy required a closer vantage point.
Putting the Adelaide into WOMADelaide
The majority of the acts on the festival's bill would at some point proclaim how honoured they felt to be included on the line-up; this is simply a testimony to the renown and respect that the 25-year-old institution has cultivated.
For local South Australian emerging artists, a set in the Botanic Gardens before a sea of discerning music fans can provide impetus and win new fans.
Mane, Jesse Davidson, Electric Fields and Kelly Menhennett all attracted healthy audiences despite the furious competition provided by other acts.
Triple J and Double J
Triple J darlings Montaigne and Dope Lemon both unleashed inspired renderings of their latest material.
Montaigne, dressed like a bare-footed '80s businesswoman, exhausted every ounce of her cardiovascular endurance, dancing like a mime, stretching her hands into the crowd and reaching those glorious vocal heights on her catalogue of tortured material.
One of the beautiful things about this festival is it gives younger music fans a chance to glimpse their favourite artists. When Montaigne introduced a song as being "about how much I hated high school", a 14-year-old boy pumped his fist into the air in acknowledgement of shared angst.
Speaking of teenagers, Angus Stone's new vehicle, Dope Lemon, was a teenage-girl magnet, temporarily converting Stage 3 into a Blue Light Disco; there was even a smoke machine.
Striding through the plumes of smoke, Stone resembled a guitar slinging Che Guevera, bearded and dressed in khaki. He is too chilled to be a revolutionary though, although his new material is a marked departure from previous incarnations.
'Marinade' with its understated, Go-Betweens style vocals and jabbing guitars was one of the highlights of his set, which also heavily feature material from new EP 'Hounds Tooth'.
For the Double J audience, The Waifs celebrated their 25th anniversary as a band on the main stage. Parents in their mid-30s assertively told their kids "you're going to love this" as they beamed with anticipation. The former Rundle Mall buskers began with the title track to their latest release, 'Ironbark', before running through the hits.
The song 'Highway One' undoubtedly inspired a generation of Aussies to embark on a life of wanderlust with its tales of the open road and fish on the camp fire, while 'London Still' felt right at home at this festival laden with expatriates.
This selfie is straight fire
The selfie du jour for this festival was undoubtedly within the Carabosse compound, a visually spectacular art installation/ theatre piece inspired by the Universal Declaration of Human Rights and the plight of the world's stateless peoples.
Carabosse - image © Erin Eustace
Social media was alight with happy snaps before flaming pots in varying array. It was a sight that demanded attention.
WOMAD FOMO can be a serious conundrum, with so much good stuff happening at once. As the festival progresses, though, you must embrace that despite your fervent wish for it to be otherwise, you have only one body with one set of ears and eyes.
No matter where you wander or what you choose, there will be no regrets. The world is in the palm of your hands, for four days at least; the planet seems much smaller and our divisions less insurmountable; we become closer in proximity and perspective: it is a beautiful thing.
- James Murphy