Warpaint are here. The Kahleesis have come. Four stellar ladies from another planet. And it's Stella Mozgawa's birthday. Yay!
Tonight (25 February), amid a dense fog, their sonic identity breathes into us like we're in a giant sauna. It's mellow to begin with, but then the grooves kick in.
"You can get up if you want," are the words many in the audience were waiting for and in a slow, reverse Mexican wave, everyone gets up for a boogie. Then the hits arrive. Jenny Lee Lindberg joins the others from her riser to the floor for 'Undertow'. The double vocals are hypnotic.
And you know... Debbie Harry had it. The Bangles had it. Hope Sandoval has it. Warpaint have it. That hot je ne sais quoi; can't take your eyes off them.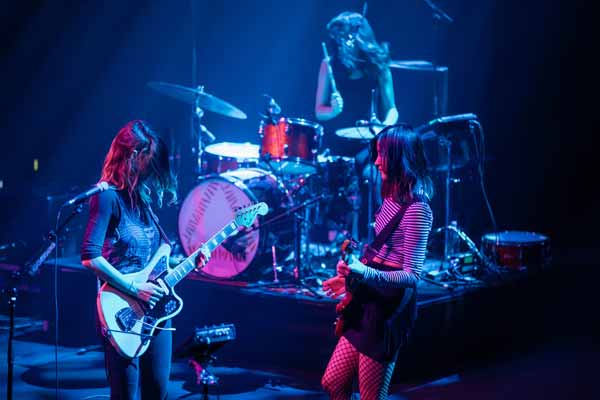 Image supplied
This acoustic ether in the Opera House is like a chorus of sirens beckoning us onto their mojo ship. And Jenny Lee is doing this infectious dance move with her bass. I'm calling it. Jimmy Page was born to wear a Les Paul. And the Rickenbacker bass was born to Jenny Lee. They are one.
And these are four artists in full flow. The room is alive with their mojo. Then Stella whips out the timpani sticks and creates a beat from the gods. I'm having Reni (Stone Roses) flashbacks. Or indeed, the last time I saw her here when she joined Kurt Vile to close out his set last year. The musicality of her playing, so original and perfect for this band. A great drummer.
The guitars are very Cure. I kinda wish they'd step on a distortion pedal and go full MBV/Lush on our asses, just to see like. But yeah, it never happens. Then there's a triple vocal. Three singing the same line. They are Venuses in furs, I'm a moth to their flame. "Gimme more, I've never had this before."
Image supplied
Then they inform us "it's Stella's birthday! Thanks for celebrating with our beautiful friend." Aww. Such buddies.
They do a bass for guitar swap for one song. Then 'Love Is To Die' begins. The intro vocal reminds me of the music from the movie 'Perfume'. New song 'New Song' is their last song... before the encore.
Opinion among my Warpaint fan pals is divided on the new record. But the hits still hit. The encore is gorgeous. 'Baby' happens with Emily Kokal solo. "I'm gonna do one by myself." She steps towards and then away from the mic, pulling off commanding Hansardian solo moves. A sweet change of speed. Four chords and that voice. Swoon.
And then to close, a tune I'd forgotten all about. 'Bees'. The catchy drums. The delayed overlapping bass. The smoky voice. And the guitar line that sounds like Robert Smith being pushed off a cliff in a wardrobe. 'And all that time it took you to get your self straight.' A line that always fascinates.
And then it ends. It's time for the LA women to return to their planet. It was nice to hang out and see them jam.