Violent Soho are a tireless touring band and despite multiple stops in and around Brisbane in the last year, they could still warrant a show at the near 10,000 capacity Riverstage.
The streets of Brisbane were covered with those wearing their merchandise, more so than usual. Since their latest album, 'WACO', topped the ARIA charts this year, they've secured their place as the great, white hope for Australian rock music.
Click here for more photos.
The supports for the night couldn't have been better suited. Luca Brasi looked like they couldn't be happier to be there and it was contagious. As tracks like 'Benthos' drew more people to those pogoing at the front, their faces were beaming.
Luca Brasi - image © Lachlan Douglas
The reaction went up a notch as the four piece from Tasmania played the opening notes to 'Anything Near Conviction'. Frontman Tyler Richardson barely needed to sing a note as the crowd joined him in belting out the words. His distinctive Australian timbre struggled to hit the lower notes while containing his visible excitement. It was a beautiful moment to behold.
The Bronx stormed onstage as though they owned it, as though they'd always owned it. Matt Caughthran strutted at the front, marking his territory as a rhythmic backing track led into the opening notes of 'Heart Attack American', making it clear that things were about to get loud.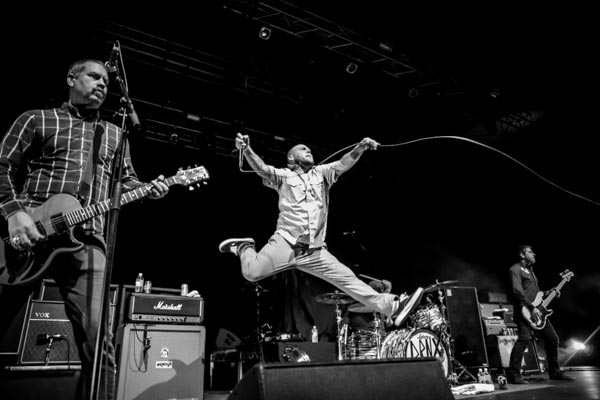 The Bronx - image © Lachlan Douglas
It's hard to picture, but this is a band who also perform under the guise of Mariachi El Bronx playing straight up Mariachi music. They play by their own rules. By the time they close out with 'History's Stranglers', the crowd are electric, limbs flailing and bodies pulsing. The atmosphere couldn't have been more perfect for the headline act.
The crowd reaction was intense as Violent Soho took to the stage, the delicate intro of 'Dope Calypso' inducing hysteria in the masses. As the song kicked in fully, a huge backdrop dropped behind them revealing their black and white banner. The band encapsulate all of the best aspects of '90s guitar music. The simple, melodic hooks of Pixies and Placebo combined with the effortlessly cool and carefree attitude of Sonic Youth and Pavement.
Violent Soho - image © Lachlan Douglas
Though the majority of the set was comprised of tracks from 'WACO' and 'Hungry Ghost', tracks like 'Jesus Stole My Girlfriend' were still met with the same level of enthusiasm. They're not the most original band in the world, but have a knack for songwriting that's unparalleled.
Violent Soho - image © Lachlan Douglas
Luke Boerdam concentrated on belting out the lyrics, leaving James Tidswell and Luke Henery to the drum-riser jumps and head windmilling. The circle pits that formed were ridiculously polite and refreshingly devoid of people just there to use up some testosterone. Boerdam didn't need to sing a note for 'Covered In Chrome' as the crowd drowned him out with voices of their own. I couldn't even tell you if he sang the "Yeah!"s in the chorus, so deafeningly loud were the voices around me.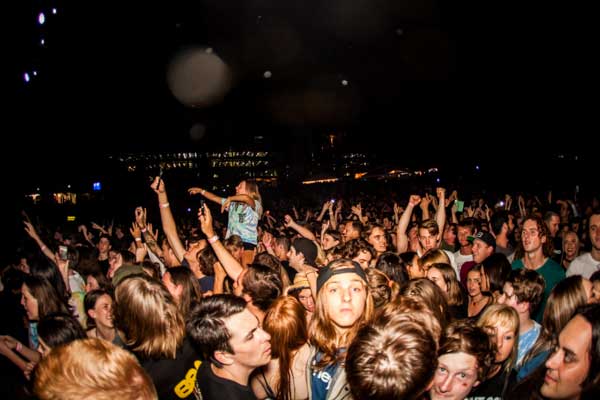 Violent Soho crowd - image © Lachlan Douglas
It was hard to pick a favourite with so many incredible songs to choose from, a pertinent reminder of why this band are as popular as they are. With 'Neighbour Neighbour', 'Viceroy', 'Like Soda' etc. there wasn't a dull moment during the entire set.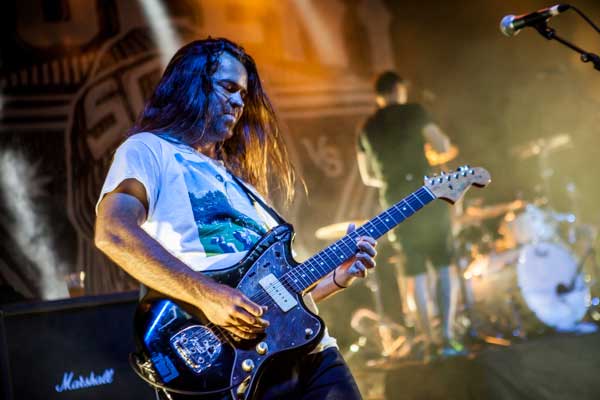 Violent Soho - image © Lachlan Douglas
There's something spiritual about watching thousands of people let themselves go in unison, all there to let themselves go and have a great night. They've worked hard to get there leaving no doubt in anybody's mind why these four boys from Mansfield make people proud to be from Brisbane.
Click here for photos.