And so it was that we kicked off the first leg of our 'Never Say Never' tour with a road trip to Canberra.
One of the best things about your band's profile getting slightly bigger is you can afford to employ a tour manager or as we affectionately call them 'Daddies'.
This particular specimen is called 'Andy'. We found him roaming wild in the Victorian hinterlands with others of his ilk.
We shaved him down, taught him English and he has been saving us from the perils of alcohol and our own destructive personalities ever since. Love you Daddy!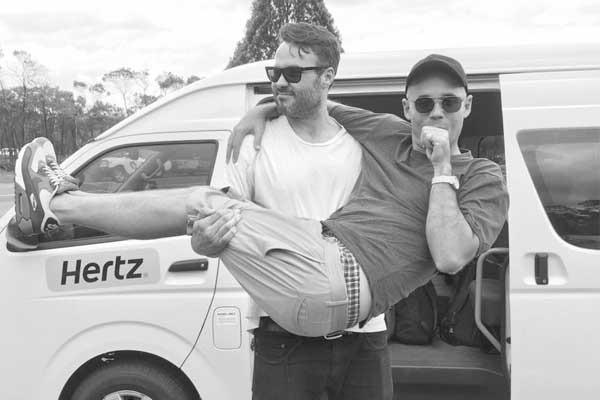 Other than roundabouts, we didn't know what to expect from Canberra but sure enough the locals turned up and proved to be quite the rowdy bunch. Opening the gig were local lasses Coda Conduct, who are a half rapper, half comedian duo who certainly know how to keep the flows and LOLs coming in equal measure.
In main support was
Pez
, who after somewhat of a hiatus is back with new music and a renewed self-belief. It's great to see him back doing what he so clearly loves. We got to road-test a bunch of new songs at the show and the response was positive, which was a huge relief, 'cause you know, nobody wants to play new shit for the first time and have rotten tomatoes thrown at them.
After an impromptu whiskey-fuelled dance battle on the front lawn of our hotel, we all slopped off to bed. On our drive home the next day we stopped at The Big Merino for a Gatorade break. For those of you who were wondering, this giant, sheepish monstrosity is 100 per cent anatomically accurate. Here is a photo of me jail squatting in front of its huge gonads as evidence.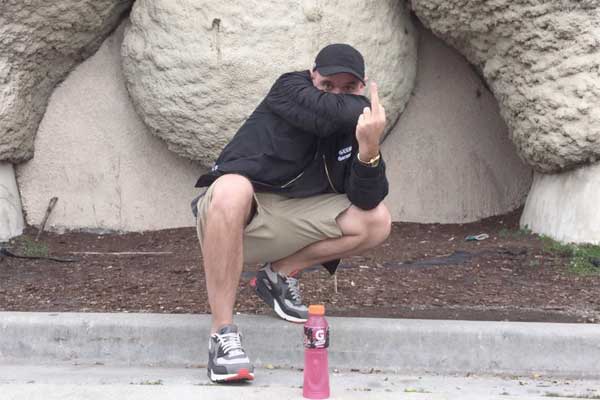 The next Friday we were off to Adelaide followed by Originals Music Festival the next day in Coolum.
Upon arriving at the venue in Adelaide for soundcheck, we were stoked to be greeted by a stencil-graf piece citing some of our lyrics by local artist Visionz. Frothin!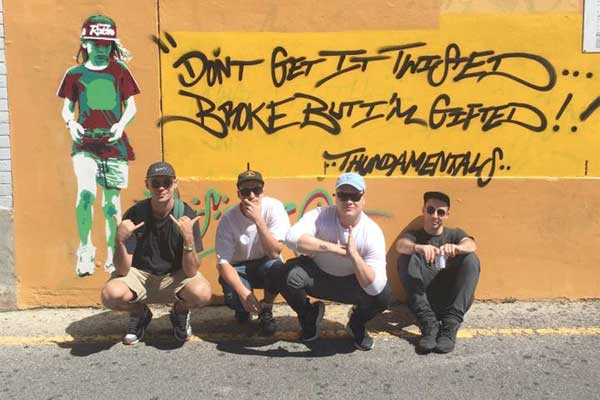 Adelaide was a big vibe. Despite our computer crashing on two separate occasions, it was nothing a cheeky beatbox and freestyle couldn't smooth over and the crowd was well and truly lit for the entirety of our set. Backstage hangs with Adelaide royalty, Pressure from the Hilltop Hoods and Purpose made us feel right at home.

The next day we were off to the Sunshine Coast to perform at Originals Festival with good mates Remi, Young Franco, UV Boi and legendary trashbags Dune Rats.
Image © Steph Siipola
The set was pumping as the kids lapped up the new jams. I particularly enjoyed whooping the merch seller at backstage ping pong. Dude was no much for my legendary top-spin forehand fuego.

The 'Never Say Never' tour is just getting started and I can't wait to hit up the rest of Straya. Hopefully catch some of y'all 'pon road in the coming weeks!
Peace, Jes

Thundamentals Tour Dates
Thu 17 Nov - Republic Bar (Hobart)Fri 18 Nov - The Croxton (Melbourne)Fri 25 Nov - Miami Tavern (Gold Coast)Sat 26 Nov - The Tivoli Theatre (Brisbane)Fri 2 Dec - Wollongong Uni BarSat 3 Dec - Long Jetty Hotel (Central Coast)Thu 8 Dec - The Jack (Cairns)Fri 9 Dec - Dalrymple Hotel (Townsville)Sat 10 Dec - Magnums (Airlie Beach)Thu 15 Dec - The Metro (Sydney)Fri 16 Dec - Cambridge Hotel (Newcastle)Sat 17 Dec - The Metro (Sydney)Wed 28 Dec - Southbound Festival (Busselton)Thu 29 Dec - Beyond The Valley Festival (Gippsland)