As soon as they walked on stage, it happened. Like four Jesuses. The Sydney Opera House stage was not big enough for them.


As Mani started into the bassline of 'Adored' the building physically, f*cking took off. Seriously, it was nothing short of messianic.
The love between Brown and his adorers. He connects with us all, in the round, giving energy, love, tambourine shakes and gaunt stares into our hearts. On our human level. He really does give a f*ck.
Click here for more photos.
John Squire is bar none the best guitarist I've seen in the flesh. His palette of colours, the nuance, the grounding in rock, the exultant reaches, the filthy delicious blues, the improvising, familiar yet new, and the harmonious interplay with his bandmates. He builds on their bridges And his new rock & roll long hair! And the guitar solos from the gods.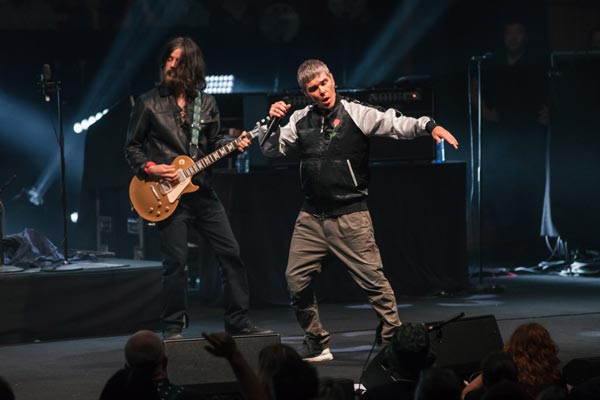 Image © Daniel Boud
As the Gallagher brothers always maintain, you gotta dress good. And The Roses' stylist deserves a raise. They look like a million British Euros! "How are the back of our heads looking?" Brown asks those in the choir seats. Hi fives, smiles and monkey dances.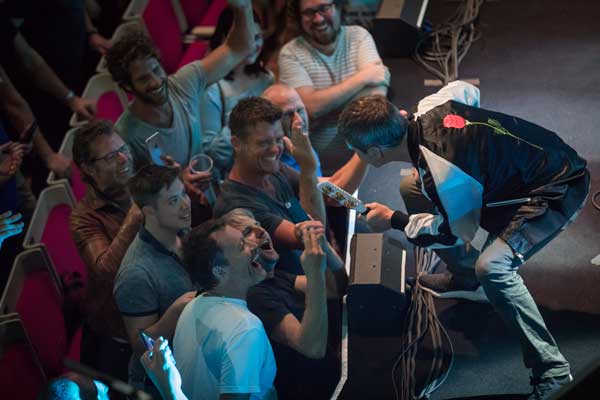 Image © Daniel Boud
Reni, Mani and Squire each have a musicality and comfort with each other. The way the guitar line hangs in 'Waterfall' to be supported by the bass. Reni is pulling moves out of his arse all night. Drumming beautiful to behold. This band is alive like most others have never been. They are playing with their music. And the shaman, king monkey, Ian Brown, geezer in excelsis in baggy trousers. He's already in me.
They played all the hits (except 'One Love' and '10 Storey Love Song'). Outstanding were: 'Breaking Into Heaven', 'Waterfall', 'This Is The One' and the anthemic closer 'Resurrection'. The tribe is healed.
Image © Daniel Boud
Brown says of his band that special things happen when the four of them get in a room together. When that room happens to be the Sydney Opera House and we all get to watch, it is a life blessing. Love is the law here. Like I said, messianic.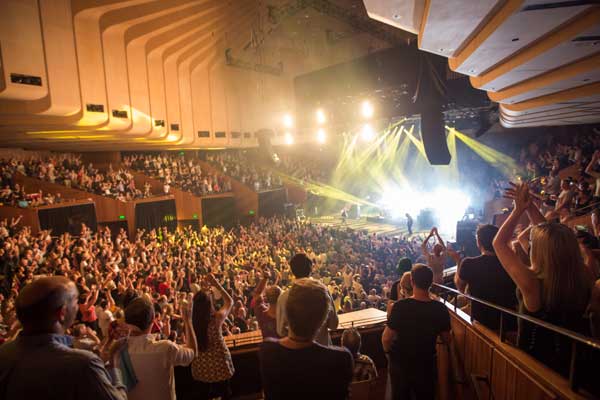 Image © Daniel Boud
It ends. No encore. None necessary. I gaze out into the harbour. The Bridge is a lemon slice made of stone, with words scratched in. 'Ian, Reni, Mani and John woz 'ere.'
Click here for more photos.