Tonight (5 November) was all about nostalgia and a full-house packed The Gov early, which meant that both supports played to a healthy crowd.
Ghyti's catchy indie rock was as sharp as ever while Jeremy Neale and his band, The One True Loves, delivered crisp, power pop with catchy hooks.
Jeremy Neale - image Ross McNaughtan
The cheesy '80s hits played in between bands seemed incongruent, but Regurgitator have never taken themselves too seriously and the crowd was happy to follow suit.
Click here for photos.
10:30pm came and passed before the three-piece stepped onstage in snazzy tiger-stripe suits and said "let's do some sucking, guys...". The jackets didn't last long as they ripped into 'I Sucked A Lot Of Cock To Get Where I Am' and 'Everyday Formula' with gusto. The sight of a punter in a wheelchair crowdsurfing confirmed that the crowd was very, very excited.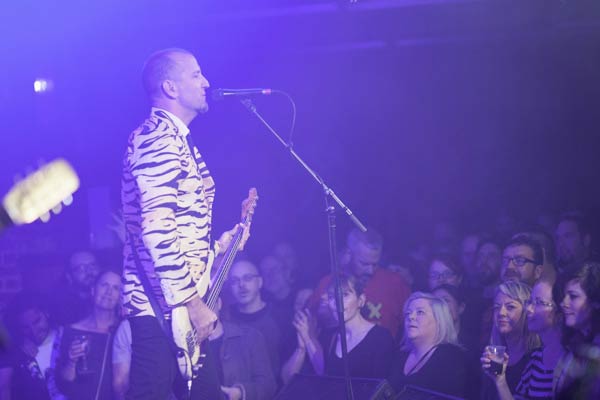 Regurgitator - image © Ross McNaughtan
Well aware that fans like their old stuff better than their new stuff, the '90s legends catered accordingly with a no-nonsense set that encompassed most of the hits. While their early material was easily replicated live, some of the more heavily produced songs from 'Unit' fared less well, an off-key version of 'Polyester Girl' being the most glaring example.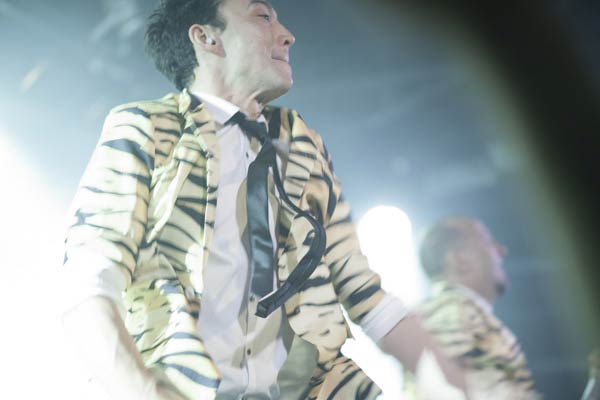 Regurgitator - image Ross McNaughtan
It didn't matter to the overwhelmingly middle-aged crowd, however, who were intent on reliving their youth. It's worth remembering that the band are in their mid 40s as well. What should have been a blistering rendition of 'Blubber Boy' was strangely muted and perhaps that was why, after just 40 minutes, they announced the "pretend last song" and slowed things right down with 'Virtual Life'.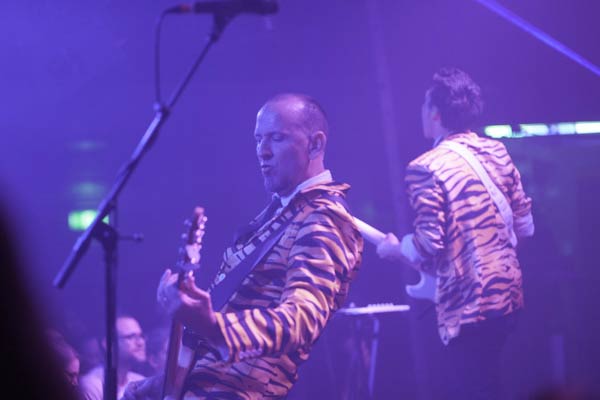 Regurgitator - image © Ross McNaughtan
There was never any doubt that they'd be back for a few more hits and all three seemed reinvigorated when they re-emerged in denim vests. One of Regurgitator's hallmarks has always been their willingness to play with different styles and that was once again on show when they returned with 'Track 1' from the 'New' EP. Looking back, both that track and 'Fat Cop' sit uncomfortably close to nu-metal, and the drunk fans attempting to bust some moves to these were hilarious.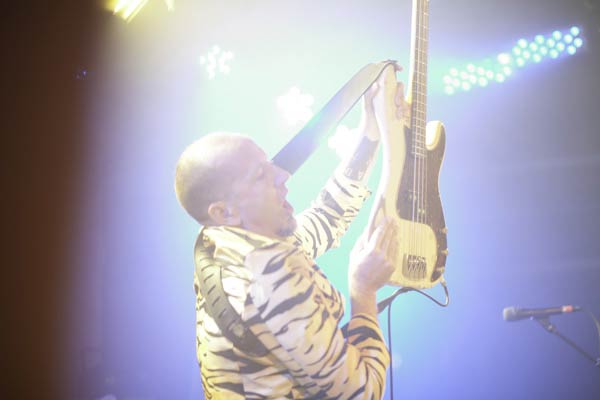 Regurgitator - image © Ross McNaughtan
When 'Kong Foo Sing' started there was no room for mirth, everyone simply jumping around and flailing limbs as the show wound to a close. '! (The Song Formerly Known As)' fared less well, especially when the backing track stopped halfway through. Apparently nobody minded, as the crowd insisted they start from the beginning before they called it a night.
Click here for photos.