Catcalls and cheers erupt as the lights dim at The Tivoli Theatre (15 December).
A hush falls over the crowd and mysterious, asexual creatures skulk onto the stage and flick the switch.
Peaches
emerges to join the big, white yowie-resembling creatures… enticing us all to slowly 'rub'; the tension in the crowd starts to build.
Click here for more photos.
With each costume change Peaches' two accomplices became bolder, revealing a little more of the confronting sexual nature of humankind.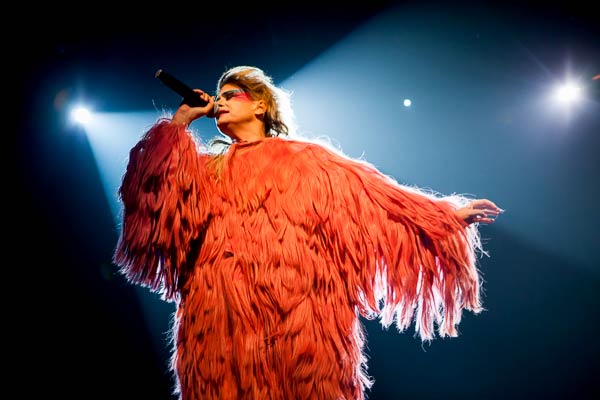 Image © Lachlan Douglas
Peaches mesmerises as she takes us through a progressively dark sex show complete with gimp masks, chains and leather-bound characters wearing vagina head pieces, rubbing their clits as they strut and gyrate all over the stage.
Image © Lachlan Douglas
The asexual characters birth into life as male and female, veiled at first, then powerfully emblazoning their wants and needs as we listen to Peaches tell us how big, big lips with an extra tongue is extra fun.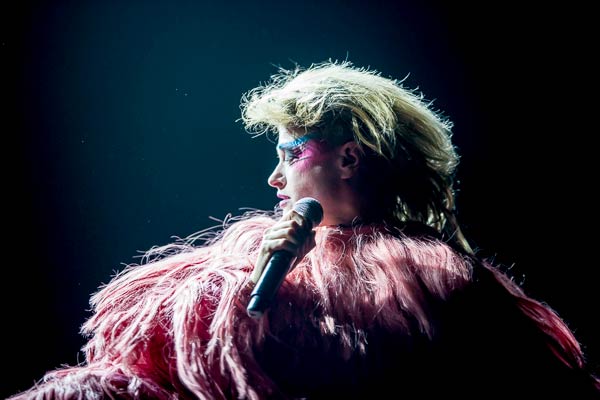 Image © Lachlan Douglas
This chick is the shit: she is bold, empowering and completely comfortable in the realm of sex. As she does a Messiah walk out over the crowd, her accomplices feign fucking the pain away, exploring the dark, taboo side of sexual fantasy and the act itself; the audience is encapsulated with sexual power and the peak of climax.
Not just hair got let down; 'Angry Song' and 'Sic In The Head' brought down a few more barriers. The theatre transformed into a sweaty, pulsing orgy of Peaches, pussy and hair.
Image © Lachlan Douglas
Suddenly a giant, inflatable dick is erected above the begging crowd. Peaches enters the suspended dick for all to see, the crowd swallows it enthusiastically.
Image © Lachlan Douglas
Peaches owns the stage and whipped the crowd into a frenzy of willing slaves to her compositions and performance art. All felt the post-coital rapture.
After two encores, we all gathered our thoughts as we walked out of the fantasy, sweaty and satiated.
Click here for more photos.