The Peaches live experience is like The Flaming Lips on heat; an erotic carnival ride of eroticism and fetish.
An artist is reflected in the audience that they attract; AC/DC fans don denim and flannelette, Peaches fans at The Gov (28 December) wore face paint and leopard-print suits. When the pioneering performance artist asked "are you nasty, Adelaide? Nastier than Darwin? Nastier than Sydney?", she did not know that a double-barrelled spray of nourishment was awaiting her.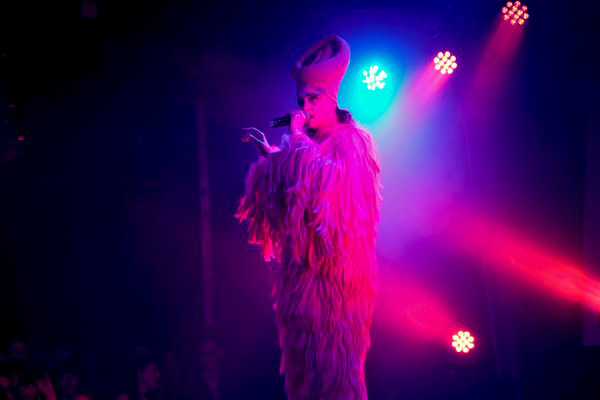 Image © Erin Eustace
As she emerged from an enormous, inflatable phallus that ascended above the audience, Peaches was bathed in a mysterious but precise mist from the audience; was this a Super Soaker? The angle and tint was all wrong for urine; no folks, this was a lactating mum, thumbs and forefingers delivering a breast-milk baptism.
Click here for more photos.
Not shocked, Peaches wanted more, proclaiming: "I have always wanted someone to do that to me, but they never would when I asked; thank you Adelaide, you are amazing. Whenever I am asked what the craziest thing to happen to me on stage is, this will be the answer." Peaches exposes so much of herself that such audience interaction is to be expected.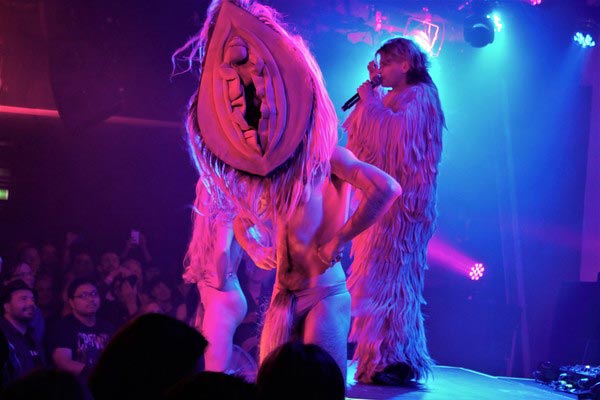 Image © Erin Eustace
From the opening track 'Rub' to the encore of 'Dumb Fuck' and 'Light In Places', the performance of every song was paired with choreography, costume changes and a concept, and her slutty dancers – Agent Cleave and Jess Daly – accompanied most of the set, embodying an A to Z of fetish and fantasy, looking like mannequins in the window of an Amsterdam sex shop.
Her show is not simply about titillation, though. It is also about empowerment; the balancing of the scales in a society of male privilege and female objectification. The ominous 'Free Drink Ticket' is a vicious, revenge smackdown to a lying player, a slash to the Achilles like 'You're So Vain' or 'Like A Rolling Stone'.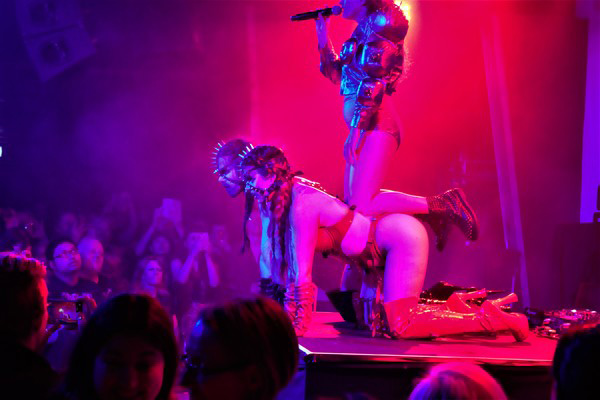 Image © Erin Eustace
As with show stopper 'Fuck The Pain Away', sex and agony are entwined. Her show, like copulation, is a dopamine release that numbs the worries of reality.
Berlin's Black Cracker, as Peaches touring support, was dressed in a black and white skirt, his Afro twisted into a trio of pigtails, exuding the joy of his "holistic approach to music", which aims to heal through positivity. He does not stare into the middle distance while on stage, but rather seeks eye contact and connection with all in the crowd.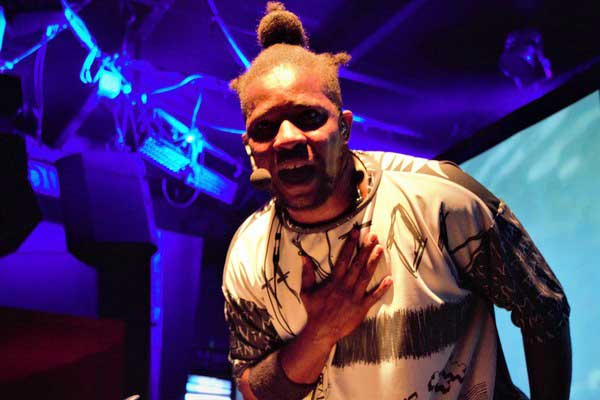 Image © Erin Eustace
He saw me seated at the side of the stage, gestured for me to get up and dance and then delivered a high five to me when I did. Artists can touch or souls.
Bad Cop, in his opening DJ set, paid homage to icons recently departed in 2016.
In a year like this, a nipple-soaked evening of debauchery with Peaches was just what the doctor ordered.
Click here for more photos.