Metal fans looking to escape Adelaide's punishing heat were out of luck as we crammed into an extremely sweaty and overbearingly humid Thebarton Theatre (10 February).
While understandably sluggish, the crowd seemed no less appreciative of prog-death lords Opeth as they delivered an evening of devastatingly heavy music, good humour and absolutely flawless musicianship.
That Caligula's Horse were chosen to open for Opeth is proof their stock is clearly rising in the Australian music scene.
Click here for more photos.
Their brand of hard-edged progressive rock, complete with soaring vocals and extensive instrumental sections, was a good fit to open the evening's proceedings. Vocalist Jim Grey was quick to mention the grandeur of the Thebarton Theatre, clearly not having played a venue this size before.
Caligula's Horse - image © Jordan Bird
The audience, while intrigued by Caligula's Horse, were somewhat flat due to the oppressive heat, but eventually warmed up to them by the end of their somewhat short set.
Then it was time for Opeth. Curiously, it was only keyboardist Joakim Svalberg, bass guitarist Martin Mendez and drummer Martin Axenrot who appeared on stage initially.
The introduction of 'Sorceress' from Opeth's newest release served as rather grandiose entrance music for vocalist/ guitarist Mikael Åkerfeldt and lead guitarist Fredrik Åkesson, who eventually appeared on stage alongside their bandmates to roars of appreciation as they launched into 'Sorceress' proper.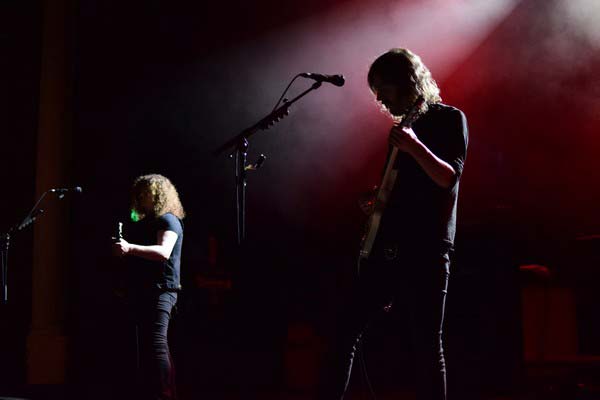 Opeth - image © Jordan Bird
In a live setting, Opeth functions as a well-oiled machine, executing incredible musical feats with effortless perfection. Vocally, Åkerfeldt was in phenomenal form alternating between beautiful, soulful melodies to astonishingly, guttural-death growls from one moment to the next.
Despite Opeth's more recent discography consisting of entirely clean vocals, it was comforting to see he was still more than capable of delivering the exceptionally intimidating growls prevalent in their earlier albums.
Between songs, Åkerfeldt interacted with the audience extensively (perhaps as respite from playing, as the band was clearly suffering in the heat), his friendly charm and witty humour enchanting the audience, as well as offering a 'sorry, not sorry' to fans wishing them to return to their death metal roots.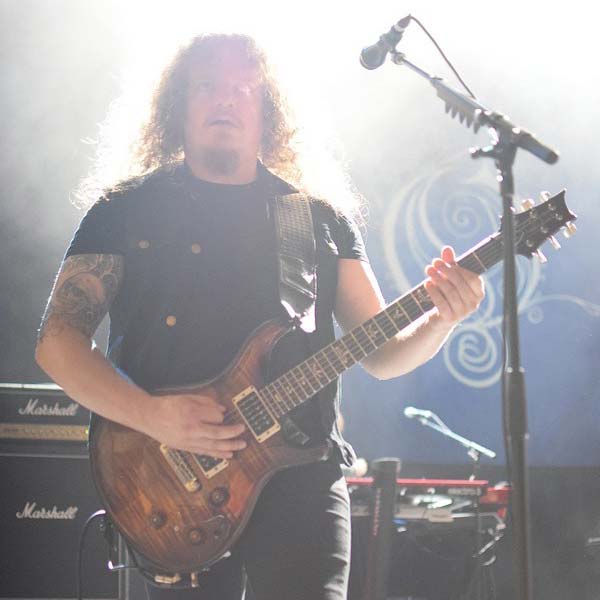 Opeth - image © Jordan Bird
Prior to beginning the quieter, more reserved 'In My Time Of Need', Åkerfeldt informed the audience they had incognito agents throughout the audience who would drag out anyone who was not seen singing-along to the song and kill them. The audience complied.
These quieter songs were peppered throughout their diverse setlist, and while the audience was still highly receptive to heavier tracks such as 'The Drapery Falls' and 'Heir Apparent', it was in these more reserved moments such as 'In My Time of Need' and 'Face Of Melinda' that the audience was able to recover from what little moshing the extreme heat allowed.
As well as reaching as far back into their discography as 1998's 'My Arms, Your Hearse' they also included many of their newer, more prog-rock inspired tracks, such as 'The Devil's Orchard' and 'Cusp Of Eternity'.
Due to the heat, the crowd understandably chose to bob their collective heads to Opeth's hulking riffs as opposed to outright moshing. This was largely made up for by the audience's rapturous applause as well as a spontaneous sing-along of 'For He's A Jolly Good Fellow' breaking out within the crowd, much to Åkerfeldt's confusion ('Is that supposed to be for us?' he queried).
By the end of closing song, 'Deliverance', the audience – despite being exhausted and drenched in sweat – expended the last of their dwindling energy by applauding as thunderously as they could muster as all five members of Opeth took to the front of the stage for a final bow.
Click here for more photos.