The Adelaide Entertainment Centre is a cavernous venue, but on a scorching summer day (29 January) it provides welcome respite from the heat.
While shorts are the attire of choice for much of the audience, Nick Cave comes out dressed in a suit with the Bad Seeds similarly attired and looking every bit the elder statesmen of Australian rock. The set opens with three brooding songs from the recent 'Skeleton Tree', but after 'Magneto' Cave lightens up a bit and declares "that was pure Sinatra".
Click here for more photos.
'Higgs Boson Blues' begins in a similarly, muted fashion but builds up to a blinding crescendo while Cave's heart goes "boom, boom, boom". The crowd reaches for him desperately as if he's some kind of faith healer and there's a spiritual element to the performance, but he's about to go old testament on us.
"I wanna tell you 'bout a girl," he snarls, as he launches into the stomping 'From Her To Eternity' and then 'Tupelo'.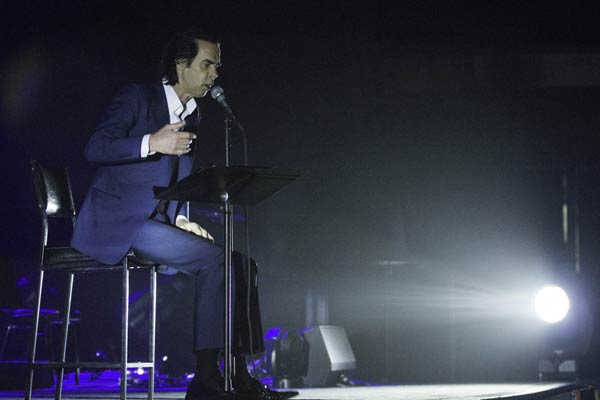 Image © Ross McNaughtan
It's not just Cave out there, of course: the Bad Seeds have seen many line-up changes over the years, but the current incarnation is in sublime form. Theoretically helmed by Warren Ellis, the rhythm section of Martyn P. Casey and Jim Sclavunos have been playing together for so long they're practically family and they help to anchor the songs as they're extended and played with, Cave ad-libbing out front.
By contrast 'The Ship Song' is pretty straightforward, and it's a shame the venue isn't more conducive to a thorough sing-along. Perhaps Cave notices, because as requests are shouted out he promises to indulge them if everyone sings along to the next tune.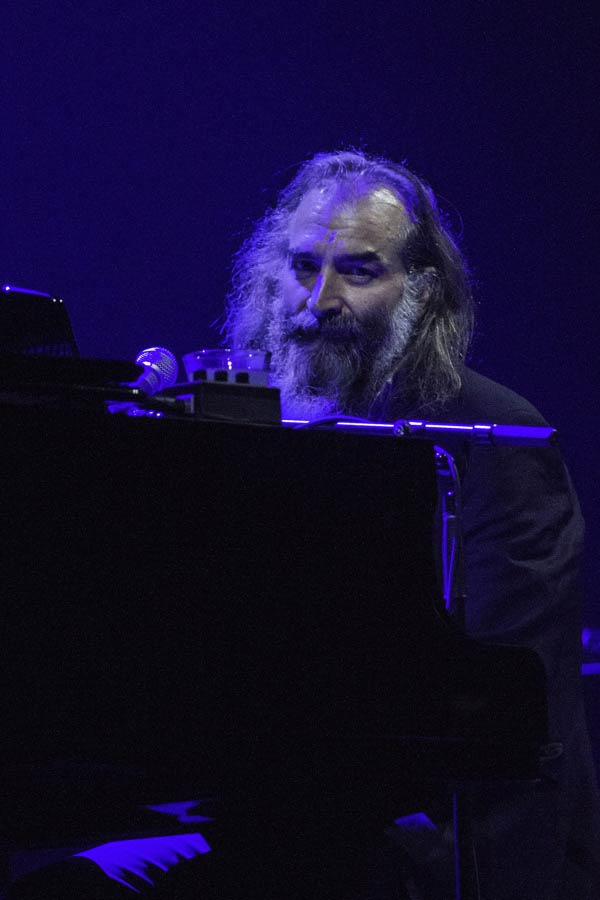 Image © Ross McNaughtan
He then gives the band a break and pulls up the piano stool for 'Into My Arms', and the adoring crowd duly obliges. A few more 'Skeleton Tree' tracks follow before the tempo is once again raised. Cave prowls the stage like the crazed ringmaster of a dark carnival while the bell tolls for 'Red Right Hand'.
The Bad Seeds' energy is frenetic and squalls of noise erupt as they begin to indulge their noisier tendencies. As he closes the set, an enormous projection of Elise Torp duets on the heartbreaking 'Distant Sky'.
Throughout the night, Cave's voice has gone from rich baritone to seductive whisper, demented shriek and celebratory yelp but this is a different sound altogether. He's never seemed more human than when he sings: "They told us our gods would outlive us, but they lied."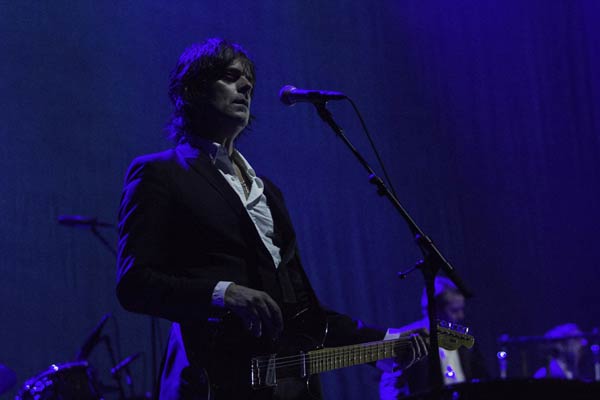 Image © Ross McNaughtan
It's an utterly heartbreaking moment, and one that's tough to follow. As on the album, he does so with the title track and then silence.
An encore is desperately called for and granted, kicking off with 'Nobody's Baby Now', 'The Weeping Song' and a menacing version of 'Stagger Lee' (can it be played any other way?). Gleefully drawn out, the violence of the lyrics is mirrored in the thunderous, cathartic wall of noise that it climaxes with before 'Push The Sky Away' brings the evening to an end.
Since the demise of Grinderman, the Bad Seeds have seen a more introspective side of their work emerge. Tonight, despite recently being named in the Australia Day honours, Nick Cave AO reminded us that he's not growing old too gracefully.
Click here for more photos.