During its evolution, the trio has moved from being a version of accompanied piano music to a genre in which the voices of piano, violin and cello are each given an equal voice, contributing to the melody and music making in a democratic manner.
This provides both a refreshing contrast (particularly for lovers of the rich tones of the cello) for listeners and a challenge for performers, who have to move beyond their usual chamber roles and take on a new focus. The Sitkovetsky Trio, who have been hailed as brilliant exponents of the genre, started their second Musica Viva tour of Australia in Brisbane on Thursday evening (6 July) at the Conservatorium Theatre. For this tour, the Sitkovetsky Trio are: Alexander Sitkovetsky (violin), Wu Qian (piano), Bartholemew LaFollette (cello).
They opened with Rachmaninoff's first piano trio. Although written when he was only 19 and thus unadorned with an opus number, the piece nevertheless demonstrates many of the stylistic cues that run throughout Rachmaninoff's oeuvre. Typically anthemic, the music sweeps gloriously yet melancholically around mellifluous lines of heartstring-tugging melody, in this case beautifully underpinned by Wu Qian's powerful playing, particularly during the opening sections.
Image © Karen Hutt
Although overlapping in lifetime and musical influences, Dmitri Shostakovich is by far a more divisive composer than Rachmaninoff. Certainly Shostakovich's Piano Trio no. 2 is a far more confronting piece – whilst retaining an underlying romantic tonality and containing numerous engaging melodies, there are excursions into atonality and runs of chromatics. The final section in particular references the brutal treatment of Jews during the second World War (the piece was written and premiered in 1944). The sense of menace in the fourth movement was well articulated, with a sinuous weaving of unsettling notes against an accelerating heartbeat, the rising pitch taking us to the edge of fear, before moving to an almost brazen air of defiance, encapsulating the spirit of a people pushed to their limits and their refusal to relinquish their humanity and identity in the face of unmitigated brutality.
Click here for more photos.
After the interval Lachlan Skipworth's Piano Trio brought us right up to date with a piece only two years old. Commissioned for Musica Viva, Skipworth's trio draws on his experiences of learning the shakuhachi flute and uses a traditional piece, Daha (pounding wave), as its thematic underpinning. The restless and energetic nature of this piece, with shifts in mood and pace, brings to mind both the relentless rhythm and unpredictable nature of the ocean.
Image © Karen Hutt
They finished with Mendelssohn's impressive Piano Trio no. 1 and a return to romantic lyricism. The Sitkovetsky Trio have played this on multiple occasions and they also recorded it in 2015. An instant success after its initial performance, Robert Schumann correctly predicted its ongoing popularity. The piece finishes with a magnificent energy that had all three performers literally throwing themselves at the music, colliding in glorious unity, at this moment seemingly as one. An encore of the slow movement of Mendelsohn's second trio allowed everyone to breathe deeply again!
Alexander Sitkovetsky and Wu Qian form the core of the group and they have collaborated with a number of different cellists since the group was formed ten years ago. During their last tour of Australia they were joined by German-Japanese cellist Danjulo Ishizaka and he was originally scheduled to appear again on this programme. With his late inability to appear, they have turned to fellow Yehudi Menuhin School alumnus, Bartholomew LaFollette, principal cello teacher at the school, in his stead. LaFollette's unenviable task here was to break into the established rapport between pianist and violinist – no mean task when they are not only long-time collaborators, but they are also married and have a young daughter!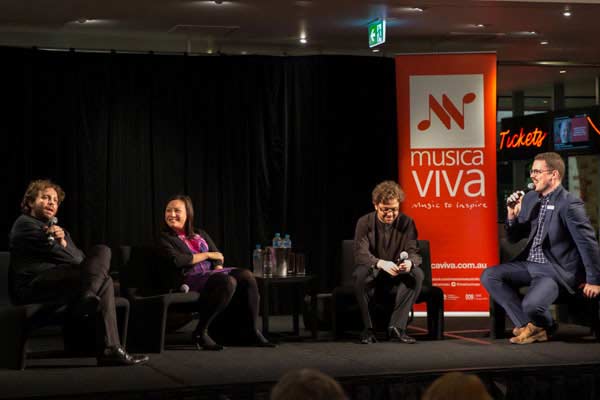 Image © Karen Hutt
Although the trio in general achieved a fine balance of sound in the Conservatorium's excellent theatre, there was still a feeling that, despite the technical excellence and undoubted talent of all three performers, LaFollette was on occasion playing alongside, rather than with, the violin and piano, and this was sometimes to the detriment of the whole. There were hints in the post-concert Q&A that suggested this minor shortcoming was noted from within. Trio playing is a finely balanced art and there is enough talent in this group and room inside the excellent programme choices to overcome that hurdle. That this is achievable was particularly evident in the outstanding conclusion of the programmed Mendelssohn.
Click here for more photos.
Sitkovetsky Trio Tour Dates
11 July – Perth Concert Hall13 July – Adelaide Town Hall15 July – City Recital Hall (Sydney)17 July – Hobart Town Hall18 July – Melbourne Recital Centre20 July – Newcastle Conservatorium Of Music22 July – Coffs Harbour Education Campus24 July – City Recital Hall (Sydney)Sergei Rachmaninoff – Trio élégiaque no. 1 (1892)Dmitri Shostakovich – Piano Trio no. 2, op 67 (1944)Lachlan Skipworth – Piano Trio (2015)Felix Mendelssohn – Piano Trio no. 1, op 49 (1839)