Little Mix have returned to Australia and performed their first ever concert in Adelaide as part of their Glory Days Tour.
Band members: Jade, Jesy, Leigh-Anne and Perrie dominated the stage at the Adelaide Entertainment Centre (26 July). Fans, both young and old, were treated to an outstanding performance by the UK-born girl group whose talent for not only flawless vocals, but energetic live performances is unmatched by any I've seen.
Click here for more photos from the show.

The ladies were accompanied by four, male back-up dancers that have talent literally pouring out of their bodies and an enormous video screen displaying both performance video and live shots. All of which were coupled with fire and pyrotechnics that gave the crowd a total arena, concert experience while still being intimate due to the smaller venue.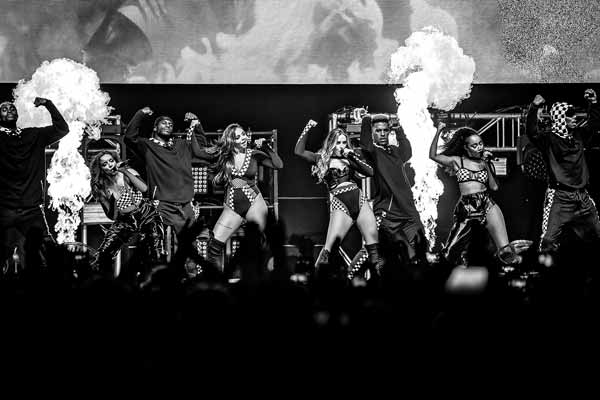 Image © Erika Owens

Little Mix opened the show with their latest single from the 'Glory Days' album, 'Power' and the stage was set for the night.

Little Mix is made up of truly exceptional performers who, while on stage, look as if they have been performing arena tours their entire lives, which is interesting when factoring in that they were only formed in 2011 on 'The X Factor'. For these, then strangers, to be able to mesh so well after only six years together is an exceptional feet in its own right.



Image © Erika Owens

A love for the crowd was seen throughout the night, with all four ladies waving at adoring fans during performances much to their delight. When addressing the audience, Little Mix were cheeky and playful, much like I have seen in interviews, which to me shows that they were genuinely happy to be performing to such a thankful and loud crowd.

If I had to choose a top performance of the night it would have to go to their smash hit 'Secret Love Song', which is a nod to the LGBT community. Tears were flowing all around me for a song that has so much meaning in today's society and it would seem that all four performers felt the significance as well as the tears started to escape their eyes.



Image © Erika Owens

While watching the crowd, I noticed a male couple behind me who were holding each other, slow dancing to the music and when the line "Why can't I kiss you on the dancefloor?" was sang they looked at each other and shared a kiss. It's moments like these that make you realise the significance of a song on someone's life and it was truly beautiful to witness.

The ability for these ladies to flawlessly sing each song, while performing dance moves I could only dream of being able to do and putting everything they have into a show, is incredible. The vocal range of each performer is impeccable and the harmonies were truly insane to witness.



Image © Erika Owens

Not since The Veronicas have I witnessed a band be so well meshed together when it comes to vocals. I can see why fans have stuck with Little Mix for the past six years and I don't feel like that is going to waiver any time soon.

Here's hoping they come back to Adelaide on their next tour and once again, blow it out of the water. Although trying to top this concert, particularly with the encore performance of 'Shout Out To My Ex', will be no easy task!

Special mention to Australian born Zoë Badwi who opened the show with a DJ set playing the latest hits and performing her own songs. A great addition to the show and a real asset to hype up the crowd. Finally got to hear 'Freefallin'' live and it was everything I'd hoped.


Little Mix Setlist
PowerBlack MagicSaluteDown & DirtyF.U.HairYour LoveSecret Love SongNo More Sad SongsYou Gotta NotWingsTouchShout Out To My Ex