Genre defying, YouTube flying, pop-culture mocking and side-pony rocking Lake Street Dive scat and riff the night away at The Gov (4 January).
A side pony – Lake Street Dive vocalist and chanteuse Rachael Price explains – is not simply an asymmetrical hairstyle; it represents anything that you do that is a little weird, a little left-of-centre, but is still way cool. In addition to being the name of their latest album, side pony is an apt metaphor for their sound.
When you understand the band's history, you realise they had no choice but to rebel against conformity. The band is alternately billed as being from Boston or Brooklyn, but this is simply for convenience. They all met studying jazz at a conservatorium in Boston, and their classical training is evident in their adept improvisation and inspired free form solos.
Image © Erin Eustace
They are now based in Brooklyn, but this is not the hometown of all the members. When Rachael took to the mic, she exuded an easy Southern charm and gospel-tinged vocals indicative of her Tennessee upbringing. Her vocals are an amalgam of Norah Jones, early Mariah Carey and blue-eyed soul pioneer Dusty Springfield.
Lyrically, the band embrace the whiskey and heartbreak themes of country and the blues. Hit 'Bad Self Portraits' and 'How Good It Feels' are homages to loneliness, while 'Saving All My Sinning' is suggestive of an inner conflict between religious ethics and primal desires.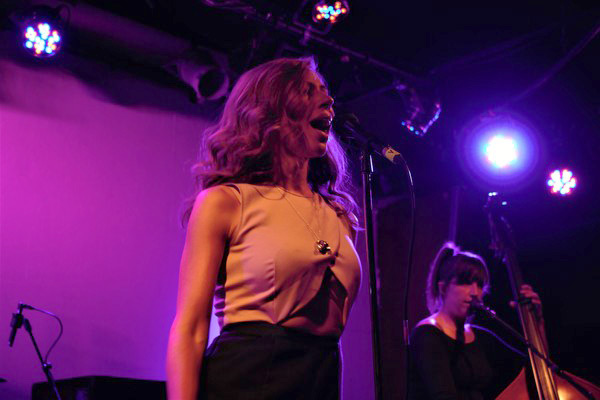 Image © Erin Eustace
They never let the mood drop into gloom, though, balancing the scales with comedy and mirth. Having found fame in humorous Halloween cover versions on YouTube of Queen, George Michael and the Jackson 5, Lake Street Dive's comedic timing is as honed as their syncopated jazz rhythms.
On this night, they performed covers of 'Lola' by The Kinks and Prince's 'When You Were Mine', joking and jesting about cow bells all the while. Drummer Michael Calabrese and stand-up bass player and side-pony rocker Bridget Kearney share the role of class clown while Michael 'McDuck' Olson is both lead guitarist and trumpet maestro, injecting splashes of Miles Davis where you would least expect it.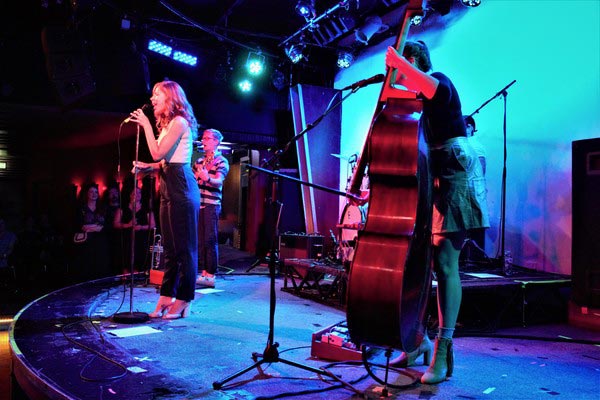 Image © Erin Eustace
Not fitting neatly into an existing niche, Lake Street Dive are carving their own, having all the tools to do so. Before social media, such quirkiness would have fallen between the cracks of commercial radio programming; now their uniqueness has made them viral sensations.
You haven't heard of them? Dial up the YouTube and settle in for some binge watching.
Click here for more photos.