In a time when most people struggle to stay in the same job for more than a few years, it's impressive to stop and think that Arizona rockers Jimmy Eat World have kept the same, four members for nearly a quarter of a century; across nine studio albums.
And tonight (18 January), seeing once again how much of a good time frontman Jim Adkins, guitarist Tom Linton, bassist Rich Burch and drummer Zach Lind have on stage, it's clear why they've stuck together.
Image © Pat O'Hara
Hitting Sydney on one of the hottest days of the summer with new album 'Integrity Blues' in tow, Jimmy Eat World had a full and excited Enmore Theatre ready.
Click here for more photos.
The new record's material was always going to feature prominently, and its darker, more electronic undertones jarred a little at times when stacked alongside older, guitar-riff-heavy classics. And opening with the downtempo 'You With Me' was an interesting – and brave – choice.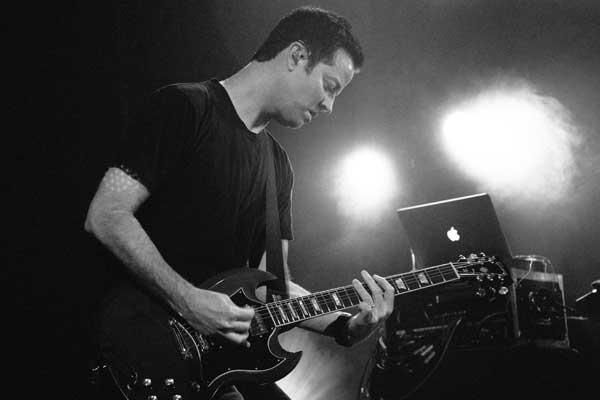 Image © Pat O'Hara
But it wasn't long before the band slipped into their bangers, with 'Big Casino' and 'If You Don't, Don't' providing ample sing-along moments. While some of the band's weakest singles got a guernsey on the night – 'I Will Steal You Back' and the underwhelming 'My Best Theory' – they perhaps only sound less impressive when up against the material from their acclaimed 1999 set 'Clarity' and mainstream, breakthrough album, 2001's 'Bleed American'.
The tunes from the former appeased old-school fans – 'Lucky Denver Mint', the Linton-sung 'Blister' and the sublime 'For Me This Is Heaven – while those from the latter provided the biggest, audience-participation moments.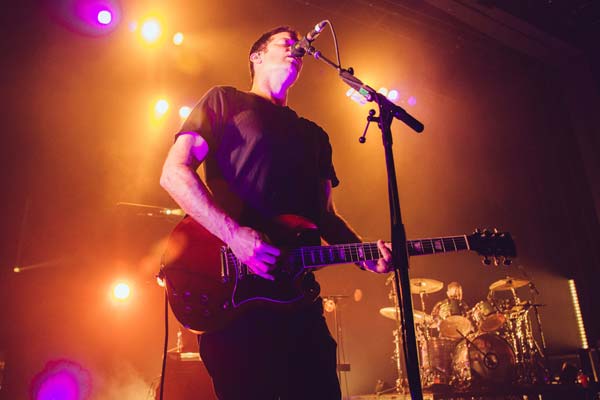 Image © Pat O'Hara
'Bleed American', 'A Praise Chorus', 'The Middle' and show closer 'Sweetness' – a tune they formerly used to open a set – ensured a few husky voices in the office come the next morning.
A band of few words, Adkins's mile-wide smile was all that was needed to have the audience eating out the palm of his hand. Gushing about how much they love playing Sydney helped, too. But there was little time for small talk, with the band jamming 26 songs into the set.
Jimmy Eat World were last out here in 2014 to play their 'Futures' album in its entirety, and a few of those gems – '23', 'Authority Song', 'Pain', 'Work' – provided some of the set's strongest moments.
Image © Pat O'Hara
At times, the sound left a lot to be desired, with too much bass drowning out arrangements and not enough meat around the middle: no pun intended. But the pure showmanship, sincerity and strength of the material still won out.
Let's hope they can keep doing it for another 25 years.
Click here for more photos.