On Friday (28 October), the traditional custodian owners of the land, the Quandamooka people, welcomed thousands of people to share this spectacular land of Minjerribah to host the annual music event Island Vibe Festival.
Island Vibe is unlike any other festival in Australia as it's perched on the picturesque beach of Minjerribah (North Stradbroke Island). The festival attracts people from all different walks of life to come together to celebrate culture, roots and reggae, electronic music and good vibes.
Click here for photos.
Due to the festivals outstanding location, I was able to combine a picturesque beach holiday into the festival experience. All festival goers have the option to camp right on the beach at Adder Rock or hire a holiday house just a short walk away from the festival site.
Arriving on the island on Thursday afternoon, I took a walk down the nearest beach path that, to my delight, led to the top of a beautiful white sand dune. It's easy to find a private beach on the island to sit and contemplate the magic of Minjerribah.
Image © Emelia Ebejer
The weekend of Island Vibe was yet again blessed with outstanding weather, in fact perfect weather for sunbathing and swimming. The ocean was swimming with fish, turtles, dolphins and even whales that added so much to my Island Vibe experience.
The festival kicked off with high energy on Friday afternoon when Fat Picnic, the eight-piece Brisbane band got the crowd grooving with their dub, funk and ska sounds. Their energetic performance kicked up a dust cloud that spread through the festival, getting everyone warmed up for a big weekend of shaking and grooving.
Bearfoot - image © Emelia Ebejer
By early evening the festival was in full swing when the Sunshine Coast guys from Bearfoot played a set at the intimate Coconut Lounge. The dancefloor was completely packed with Sunshine Coast kids as well as other festival goers who couldn't resist the temptation to take off their shoes and get into their original reggae/ rock tunes.
Later Friday night, Dubmarine typically put on a high-octane performance getting everyone extremely amped up with their intensity. Though I have seen them play dozens of times, they fail to disappoint as they continue to give it their all for each and every performance.
Dubmarine - image © Emelia Ebejer
For a small festival, Island Vibe has something to offer everyone and the setting of the festival completely changes when you take a stroll over to the Bamboo Bass stage, which featured some of the best Australian electronic artists around such as Operon, Duos, smiGGle, Ruffy and Afrogalactic just to name a few. The tight corner of the festival attracted wild dance moves, hoola hooping and juggling and seemed to be going off at any hour of the day.
Bamboo Stage - image © Emelia Ebejer
By Saturday everyone had warmed into the festival vibe. In between bands, festival goers headed down to the beach for a dip in the soothing ocean to wash off the dust and sweat they'd accumulated from flaunting it on the dancefloor. The beach is the perfect place to take a rest, socialise and recoup until hitting the dancefloor yet again.
When the sun finally started to cool off, Tiki Taane drew a large crowd at the Lion Mane stage. Before working as a solo artist Tiki Taane was part of the New Zealand group Salmonella Dub. But since taking his own musical path, Tiki's hit ' Always On My Mind' made it to #1 on the New Zealand charts, however his music isn't all acoustic ballads.
Image © Emelia Ebejer
For a solo artist, Tiki Taane creates an incredible, full-bodied sound from drum & bass to dub. He uses a loop pedal to create his unique sound and the crowd's response certainly reflected his talents.
One thing that distinguishes Island Vibe from other festivals is just how clean the festival site is kept. Festival goers seem to respect the 'leave no trace' rule for both the island and the festival, which makes a significant difference to the overall feeling of the weekend.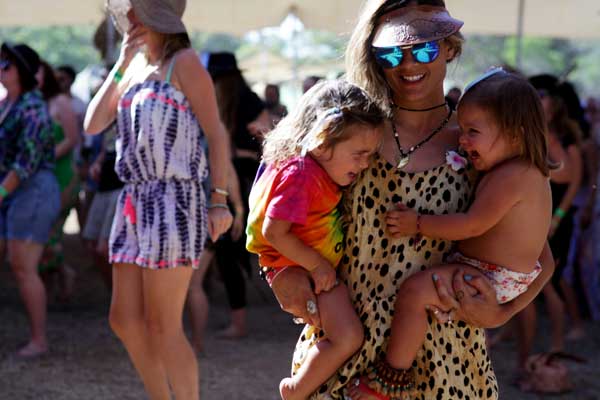 Image © Emelia Ebejer
Island Vibe is a family-friendly event, so expect to see many little ones enjoying the festival just as much as the adults. The family friendly feel of the festival creates warmth that other festivals seem to lack and encourages everyone from all walks of life to mingle and share the love.
If you aren't eating at one of the delicious food stalls, shopping for some funky new threads, dancing or hanging down at the beach you will probably find yourself people watching. Island Vibe attracts the most eclectic bunch of beautiful people from all nations, age groups and demographics and sitting back to simply people watch is certainly an activity I thoroughly enjoyed.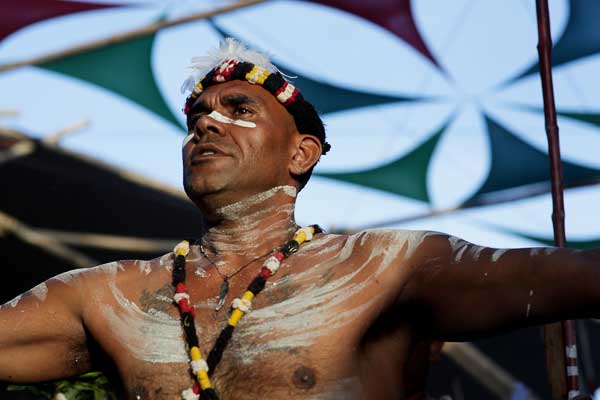 Image © Emelia Ebejer
The ceremony on Saturday afternoon with the Yulu Bari Ba dancers and the Birri Dancers was a really nice time for everyone to gather around, sit and watch in stillness as the performers told stories through their dance of the different native animals of the land. It was beautiful to see a celebration of our culture as a central focus of the festival.
By Sunday, everyone at the festival seemed familiar from sharing conversations, drinks, dance moves, meals, swims and lots of good vibes and I felt sadness that it would be yet again another year until the next Island Vibe.
Image © Emelia Ebejer
It is by far my own, and many others favourite festival because how can you beat a roots and reggae festival on our very own pristine, tropical island?
Click here for photos.