Last Saturday night (11 February), Hana & Jessie-Lee and the Bad Habits took over The Grace Emily, both figuratively and literally, when launching the single 'Maryses To Pieces' off their soon to be released album 'Southlands'.
Supports by Harvey Lee Parke and The Timbers set the perfect tone for a warm evening of country music to a full capacity crowd in the iconic Adelaide venue.
Both Hana Brenecki and Jessie-Lee Zubkevych are long-time champions of the local, music scene in Adelaide, both coming from punk-rock backgrounds. But in late 2014, the two joined forces in the short-lived, but highly successful, honkytonk band The Sloe Ruin.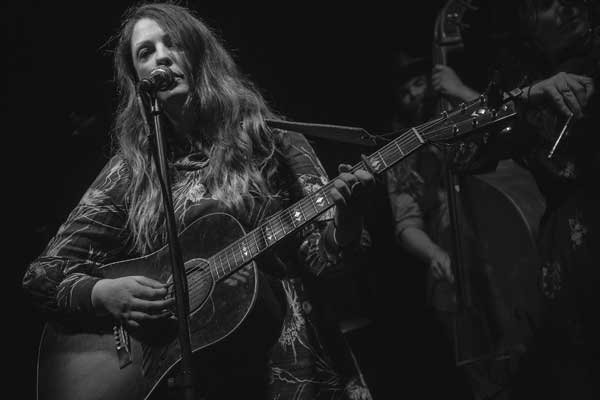 Image © Max Moore
Since the seven-piece outfit disbanded, Hana & Jessie-Lee have been playing stripped-back shows as a duo, while continuing to write and produce 'Southlands'.
Joining the duo on the album and for the launch, as well making up the Bad Habits band, were Mark Curtis (mandolin/ vox), Kat Mear (fiddle/ vox), Julia Watt (drums) and Thomas Reeve (double bass). This is a highly dynamic and desirable personnel listing for those familiar with both the Adelaide and Melbourne music scenes.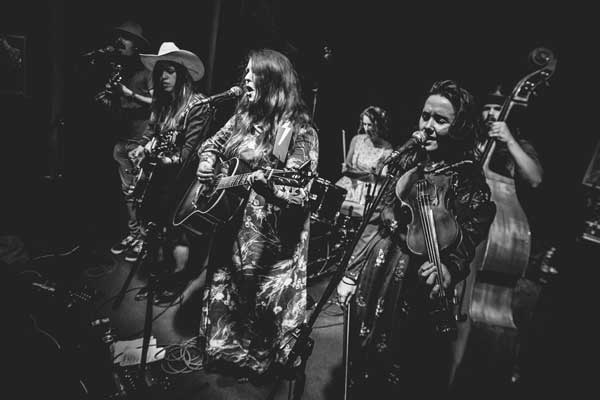 Image © Max Moore
Introducing the extended line-up to fans through the launch of the 'Maryses To Pieces' single was a valuable and wise move, showcasing a mature and developed sound with the visual harmony and energy that the group command.
It's hard to believe they have endured a lengthy long-distance relationship in order to produce this work, with a number of the musicians living interstate; the discernible bond that exists between them makes this band so compelling to watch.
With the exception of 'Trouble Will Find You', the band smoked through the 'Southlands' album almost in its entirety, touching on country, blues, soul and dark alt-country styles as we smoldered with them. Title title track was a clear favourite among the charmed fans.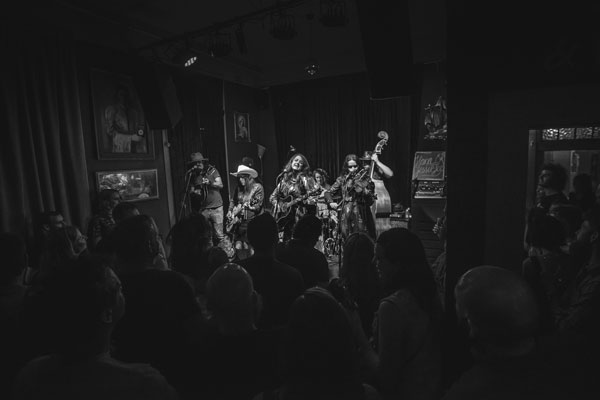 Image © Max Moore
Duet 'These Shambles' with Kat Mear touched the packed venue as Brenecki and Mear's voices played flawlessly off each other. Each of the band members comfortably radiate within the band while having space to apply their personal style.
Jessie-Lee is one of the finest guitarists to watch, appearing quietly concerned before confidently leading into the authoritative solos. The set concluded with 'Maryses To Pieces', which is an ode to a close friend of Brenecki's. The catchy and upbeat song was a joyful ending to the windy, lyrical road the crowd had fully travelled with the band.
The night finished with an non-amplified and lingering pseudo-encore, 'Roper River', in which the band quietly assembled a significant number of celebrated local and interstate siren singers to accompany them within the silent crowd of molten hearts in a small section, on the floor, just in front of stage.
The packed audience vocalised their adoration for the girls and their talented band, suggesting their album launch show in May could well be a sell-out.