As the early arrivals continued to snake their way past the horse stables at Maitland Showgrounds (29 April), Bankstown MC L-Fresh the Lion was already threatening to steal the entire show.
With a tight, energetic backing band, the troupe were quick to get their impressively-sized crowd worked into a fervour. 'Get Mine' and '1 in 100,000' are easy highlights, making an impact with their cleverly-dynamic choruses and important socio-political messages.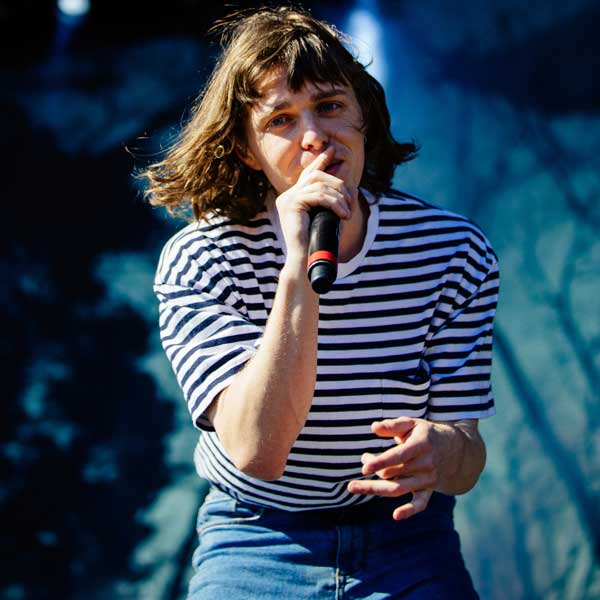 Allday - image © Pat O'Hara
At the other end of the hip hop spectrum is Tom Gaynor aka Allday. Gaynor's works are primarily concerned with 20-something hedonism, with state-of-the-art beats firing off behind every hook. His set is marred by a string of tech difficulties, but it thankfully comes together in time for the final one-two of 'In Motion' and 'You Always Know the DJ'.
Click here for more photos.
Kristine Flaherty is K.Flay; an outsider on a bill such as this, certainly, but one that the crowd were willing to get behind just the same. Her blend of piercingly-loud rock instrumentation, hip hop sensibilities and pop smarts makes for a versatile and intriguing performance.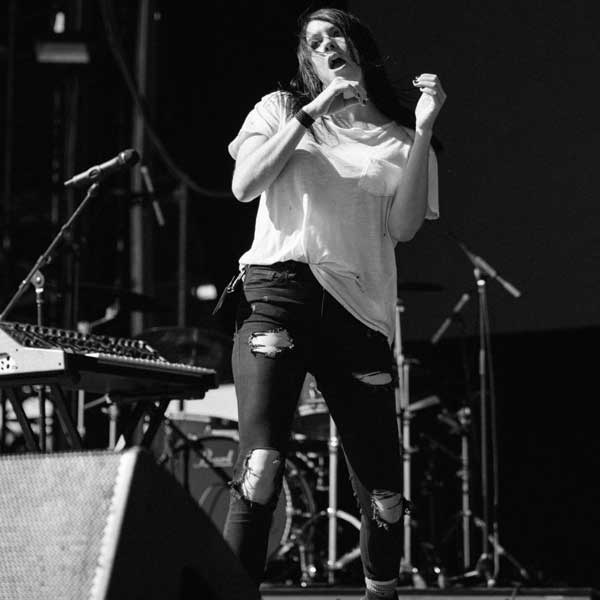 K.Flay - image © Pat O'Hara
Even with yet another technical snafu – this time involving the drummer – Flaherty brings it home with the intense 'Blood In The Cut'. That ferocity led nicely to veteran punks Against Me!, who pack an incredible punch as they delivered anthemic and rousing sing-alongs from across their career.
Classics like 'Pints Of Guinness Make You Strong' and 'Sink, Florida, Sink' mix well with more recent numbers '333' and 'Crash'; with the words being screamed back to them by a core group of die-hards scattered around the front rows.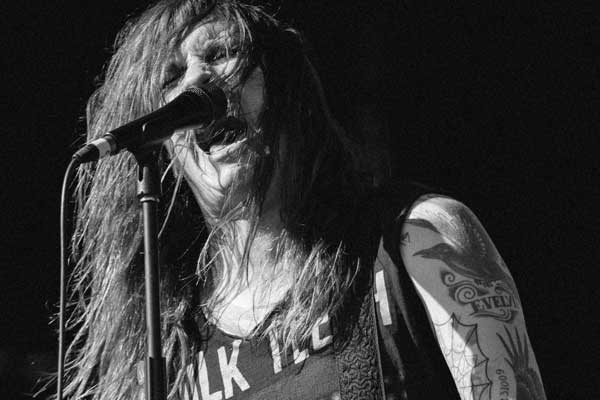 Against Me! - image © Pat O'Hara
"We're the only heavy band at this festival, so you should be the loudest, wildest crowd of the festival," reasoned Architects' vocalist Sam Carter. Consider his wish granted. What ensued was a mix of circle pits, hardcore throwdowns and even one adventurous punter attempting to scale the heights of the scaffolding.
It's bittersweet the band are performing in such a unique setting without guitarist, the late Tom Searle being around to see it. Still, if there's one way to honour the man it's to continue being one of the best live acts of their genre and more than worthy flag-bearers within the context of Groovin The Moo.
The Smith Street Band - image © Pat O'Hara
Their omnipotence and omnipresence within the Australian touring circuit aside, there's a reason audiences turn up in droves to watch The Smith Street Band deliver their raised-fist odes to love, life and loss. Theirs is an energy that's undeniable, whether through the endearing 'Shine' or the rousing 'Young Drunk'. The songs come from the heart and the crowd respond in kind.
By this point of the festival, word was out that looping wunderkind Tash Sultana called in sick. Taking her slot was pop hopeful Amy Shark, who managed her main-stage duties with aplomb. Backed by a keyboardist/ bassist and an absolute powerhouse of a drummer, Shark encircled a massive crowd with the confidence of a veteran.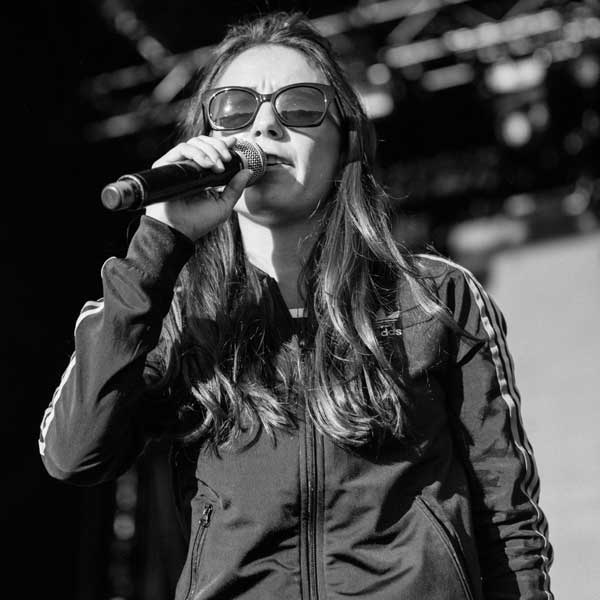 Amy Shark - image © Pat O'Hara
'Blood Brothers' stands out as a no-brainer for the next single, while current single 'Weekends' sent a myriad of millennials onto each another's shoulders for a classic, festival moment. Loyle Carner, direct from the UK, was stunned by his packed crowd. "I wasn't expecting anyone to be here at all," he confesses. Still, there's not a hand that isn't shot skyward as Carner lays down some solid, autobiographical boom-bap for them.
This makes way for one of the country's biggest acts right now in Thundamentals, who also happen to be at the top of their game on the live front as well. Put it this way, some bands and artists will save their biggest hit until last. With Thundas, every single song feels like their biggest hit. They're all deafeningly sung-along to, eliciting huge responses from across the entire tent.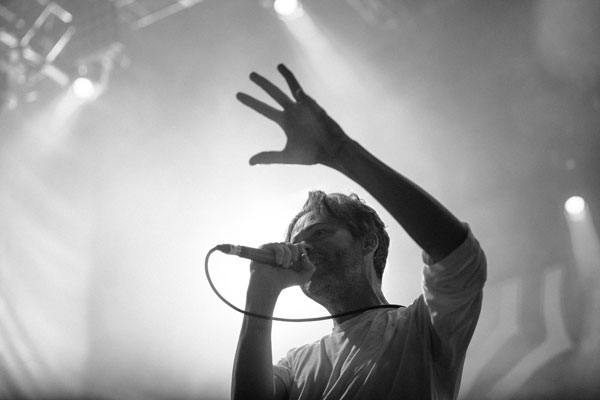 Pnau - image © Pat O'Hara
The last time Pnau were on the Australian festival circuit, they were on the cusp of releasing their debut album while Obama had just been inaugurated. Still, theirs is a flame that has well and truly been reignited; and it's with that they spark up one of the best sets of the entire day.
Drummer Tim Commandeur drives the set with his effortless fills, while Nick Littlemore is clearly loving the prospect of delivering his rave-pop sermon to a fresh audience after so many years. Bookending the set with their two biggest hits – 'Wild Strawberries' and 'Embrace' – Pnau offer equal parts recent-history nostalgia and hope for the future.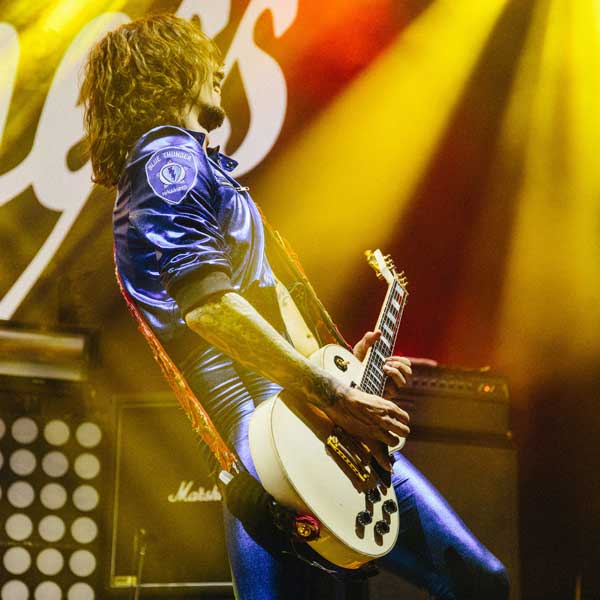 The Darkness - image © Pat O'Hara
Although from very different styles and eras, The Darkness and The Wombats are near-perfect music festival fodder. The former have a bombastic flair and a charisma that's hard to deny, while the latter have accumulated enough radio hits to last them two life-times. Back-to-back, they both prove to be entertaining in the lead-up to the festival's conclusion.
Whether it's Darkness frontman Justin Hawkins getting carried around the crowd on a security guard's shoulders or The Wombats firing off steam cannons just for shits and giggles, these Englishmen are guaranteed to raise a smile. They'll make you believe in a thing called love and dance to Joy Division like it was 2003 and 2007, respectively, all over again.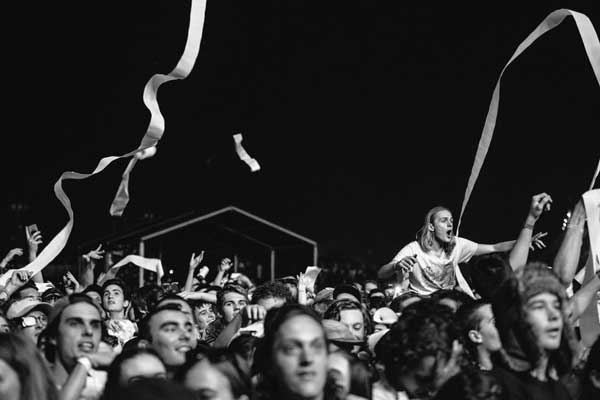 Violent Soho crowd - image © Pat O'Hara
Violent Soho's progression from pub-rockers to festival headliners is an unexpected timeline, but one that's been incredibly inspiring to watch. Still, it's worth mentioning that the fame hasn't changed them. They're still the same Mansfield larrikins, kicking footballs and hurling toilet paper.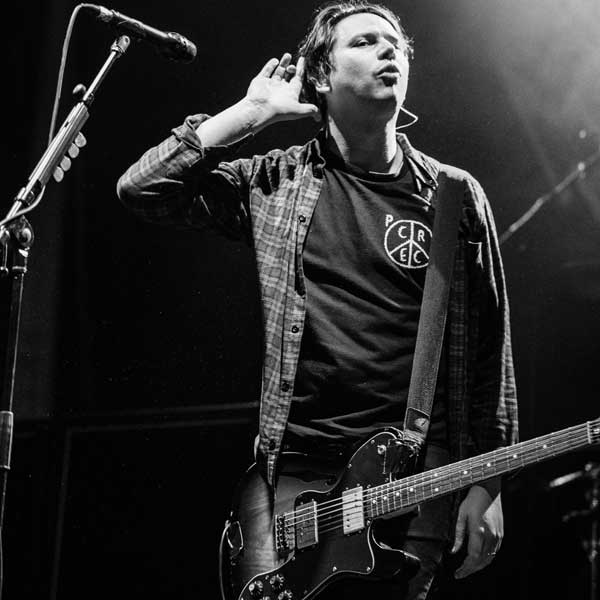 Violent Soho - image © Pat O'Hara
As soon as Luke Henery bowls himself into the bass-line from 'Viceroy', it's on for young and old. The band go from as early as the angsty mane-thrash of 'Muscle Junkie' right up to latest single 'How To Taste' with the same energy that's served them time and time again.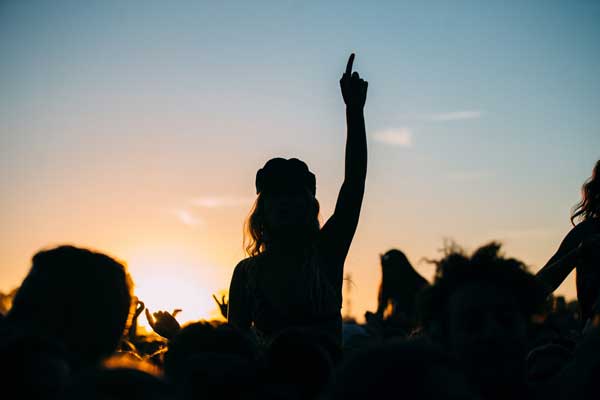 GTM Maitland 2017 - image © Pat O'Hara
Even cooler is the unexpected cameo from Grinspoon's Phil Jamieson, who comes to lend a hand during a cover of his band's own 'More Than You Are'. If that's not a baton pass from one festival veteran to another, I don't know what is.
Click here for more photos.