If someone had told a 'Kerplunk!'-era Green Day fan that this band would be playing arenas in Australia 25 years later, then they would have probably laughed.
If you'd tried telling them Green Day would be a fully-fledged stadium-rock band with pyrotechnics, multiple backdrops and costume changes, they'd probably accuse you of being high. Yet here we are.
Few other bands have had the longevity and rabid fan worship that Green Day have been afforded over the years. Not even an overblown and boring triple album could push them into obscurity, though it was no surprise that tonight's set list (8 May) didn't feature a single track from it.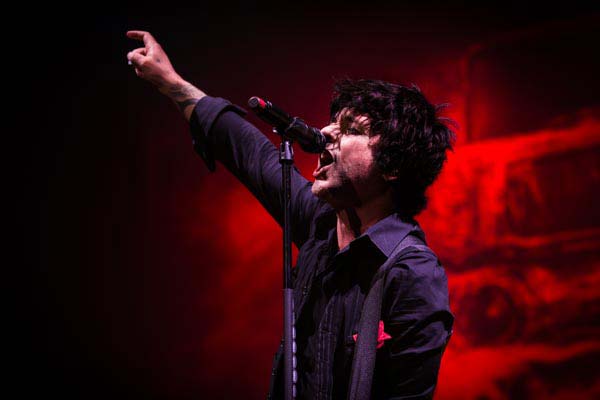 Green Day (Adelaide show) - image © Erika Owens
Instead, we were treated to a selection predominantly drawn from career highlights 'American Idiot', 'Nimrod', 'Dookie' and the latest one, 'Revolution Radio'. Though I loved Green Day as a teenager and have held a soft spot for them ever since, I was a bit worried that a two and a half hour set with their relatively homogenous sound might get old quick.
Thankfully they've been doing this long enough to realise this and used techniques from the book of stadium rock to keep things interesting. Each and every time frontman Billie Joe Armstrong shouted "BRISBANE!" or "AUSTRALIA!" the crowd responded with a celebration of geography that I never experienced in my school days.
Click here for more photos from the Adelaide show.
He instigated call and response, made rallying cries about modern politics and threw in a few "Fuck Donald Trump!" salvos for good measure. He commanded us to punch the air, sway our arms and clap along, which the masses were more than happy to oblige.
He brought a fan on stage to sing a verse of 'Longview' (badly) and brought a terrified child on stage to play three chords at the end of their cover of Operation Ivy's 'Knowledge'. The way that Josh Homme-looking kid transformed from terrifyingly fluffing his notes to running jumps across the stage was a genuinely touching moment. Billie Joe Armstrong seemed genuine when he said that was his favourite guest guitar bit of the entire tour before letting the kid keep the guitar.
The highlight of the set personally was the run of 'Longview', 'Youngblood', 'Burnout', 'Hitchin' A Ride', 'When I Come Around' and 'Minority'. Hearing these songs back to back reminded me why I fell in love with the band in the first place. Those bratty, anthemic pop-punk gems that captured the rebellious psyche of a teenager so perfectly.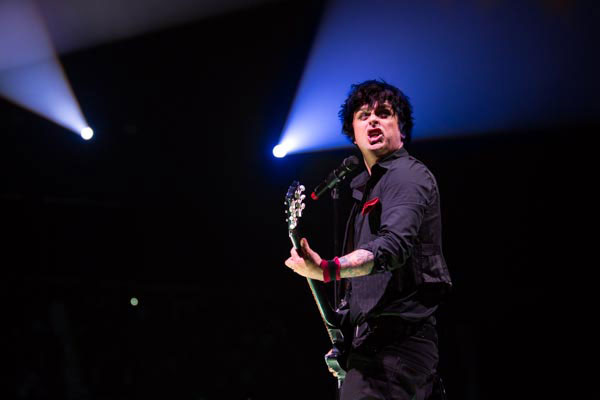 Green Day (Adelaide) - image © Erika Owens
It wasn't long after that 'Basket Case' and 'She' led into a ridiculous rendition of 'King For A Day' that used its two-song structure to segue into songs such as 'Shout', 'I Can't Get No Satisfaction' or 'Always Look On The Bright Side Of'. 'Still Breathing' and 'Forever Now' were relatively flat in comparison as closing songs before the first encore.
We were treated to two encores, the first consisted of 'American Idiot' highlights 'American Idiot' and 'Jesus Of Suburbia', the latter of which sounded amazing live. The second encore featured a solitary Billie Joe serenading us with 'Ordinary World' and 'Good Riddance (Time Of Your Life)' on an acoustic guitar. It was a clever way to get those tender moments into a set that would have been weaker without them yet wouldn't fit anywhere else.
The theatrical bows the band took at the end were reminders of how far removed from punk ethos they have become despite Bill Joe's protestations. Though deep down, I think they already know this. If it works for them, then it works for me.
Click here to read the Adelaide review.