Green Day have finally returned to Australia, bringing their new album, 'Revolution Radio' to the Adelaide Entertainment Centre (3 May).
Ska-punk band The Interrupters opened the night with a short set of fast-paced bouncing classics. With similarities to legends of the genre like Rancid and Operation Ivy, The Interrupters received a warm reception with the older punks in the room, while the younger audience received a history lesson.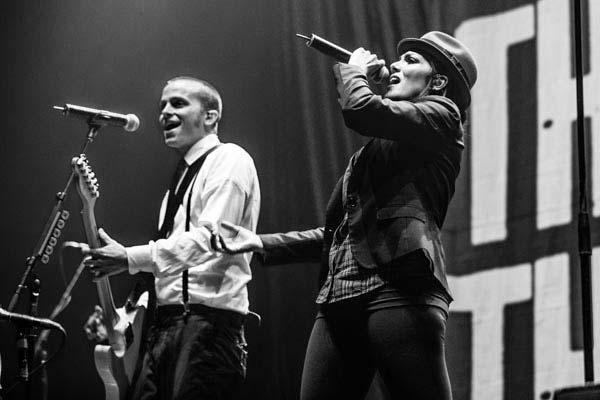 The Interrupters - image © Erika Owens
Green Day filled out the Adelaide Entertainment Centre with a crowd full of young, old and even families, waiting to see the multi-generational punk-rock pioneers as they hit their 30th year together.
Click here for more photos.
Green Day launched the show with massive hit 'Know Your Enemy' from 2009's '21st Century Breakdown'. From there they went into their new hits from 'Revolution Radio', which were just as well received as their classics.
This tour is a Green Day fan's greatest dream, with a two and a half hour set the band dived deep into their discography playing their most famous hits, a handful of old-school songs that only hardcore fans would know and the best highlights of their newer material.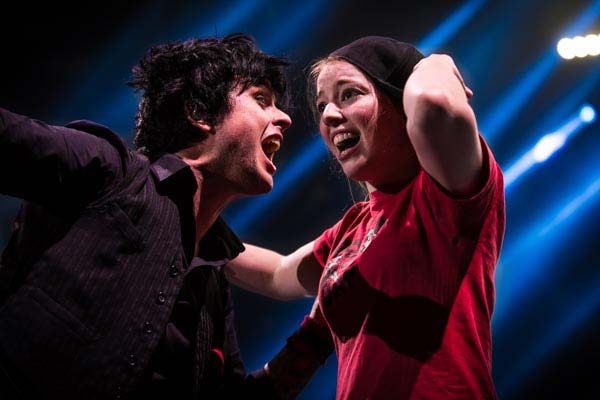 Billie Joe Armstrong with a lucky Green Day fan - image © Erika Owens
Every song was treated like an encore, accompanied by extended bridges, interludes and pyrotechnic explosions and flames. Fans were invited on stage to sing-along to 'Longview', while a young girl was invited on stage and got to play and keep a Green Day guitar played by Billie Joe.
It was an interesting contrast seeing the old-school DIY punk rocker trio perform with six members on stage, which consisted of two back-up guitarists and a keyboardist/ saxophonist. However, this made for a spot-on quality, studio recording sound with each member adding back-up vocals for a pitch-perfect performance.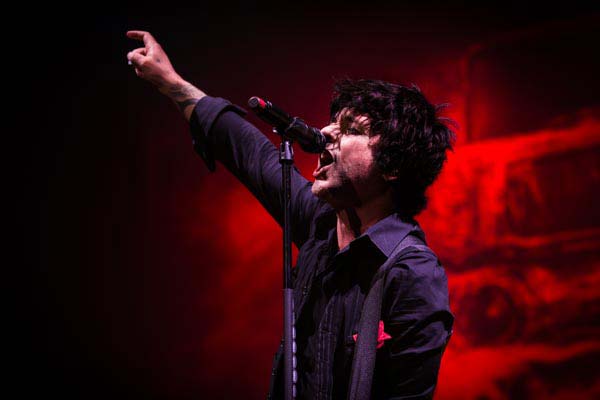 Green Day - image © Erika Owens
Green Day has transformed from a simple punk-rock trio to a stadium-rock behemoth in the best possible way. With a larger than life stage show, Green Day added new life to '90s anthems like 'Longview', 'Welcome To Paradise', 'Basket Case' and 'When I Come Around'.
Finishing the set with two encores the show covered everything it needed to. With the first encore waving the crowd goodbye with 'American Idiot' and 'Jesus Of Suburbia'. While the second encore finished just as it should with Green Day's most recognised anthem 'Good Riddance (Time Of Your Life)', which consisted of Billie Joe Armstrong performing solo on stage with just an acoustic guitar.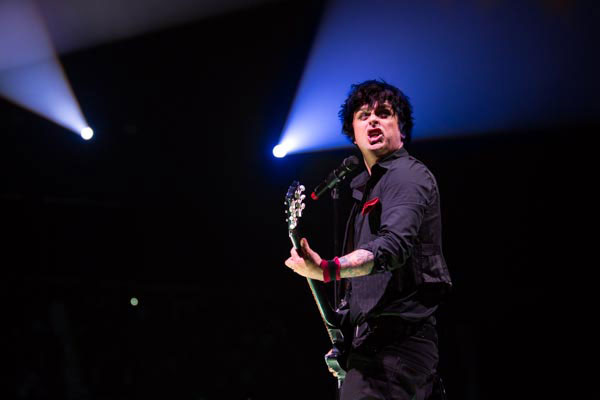 Green Day - image © Erika Owens
With 30 years of experience, Green Day have perfected their craft and this is arguably the best you will ever hear them. The band still have shows in Melbourne, Brisbane and Sydney.
Click here for more photos.