Despite the warnings made by many about the 'unbearable heat' at Byron Bay Parklands over New Year's Eve, I couldn't help but surrender to the irresistible Falls Music and Arts Festival line-up.
The all-rounder roster of international artists brought Childish Gambino, London Grammar, Broods, Catfish and the Bottlemen, Jamie T and Aluna George Down Under to perform alongside a stacked Australian contingent, including Violent Soho, Matt Corby, Alison Wonderland, The Rubens, Ball Park Music, The Jezabels, Tkay Maidza, Illy, DMA's and The Avalanches. 'Unbearable heat' couldn't beat the unbearable possibility of missing an event brimming with some unbearably solid musical talent.
Day One
The first day scattered a low-key selection of bands over the duration of the afternoon and night at the Amphitheatre only. I first ventured from the shaded security of my tent to witness Northeast Party House; sunny skies didn't deter the crowd that gathered to watch and boogie to a notably groovy set as the boys showcased their new album, 'Dare'.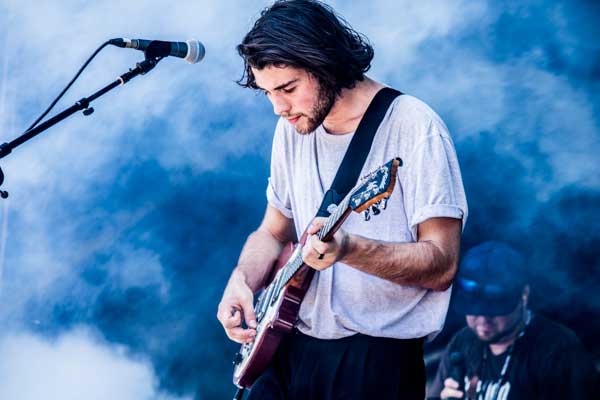 Northeast Party House - image © Zoe Russell
It was particularly interesting to watch so many band members (six) produce such quality dance music; the boys' effort to keep the crowd bopping was admirable.
Click here for more photos.
As a Mallrat fan, I was disappointed to see the crowd disperse as Northeast Party House closed; the teen talent next emerged to only a handful of audience members. Listening live, her voice is the epitome of sweet yet understated, laced with youth; though the lyrics she vocalises are as insightful, catchy, and clever as those written by any experienced songwriter, dotted with crafty rhymes and backed-up by bouncy, pop beats so catchy I was humming 'Sunglasses' to myself for hours.
Despite not particularly appealing to my usual taste in music, Grandmaster Flash was undeniably entertaining, attacking the turntable like an expert. His performance was daring, edgy, and unapologetic, merging old-school hip hop with heavy vocals while effortlessly drawing in thousands of crowd members, hypnotically bopping their heads in tune with the beat.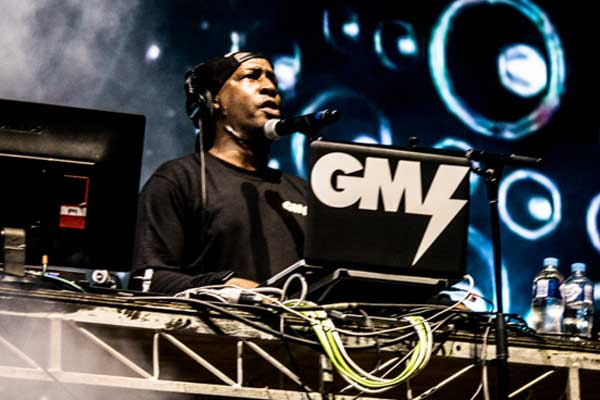 Grandmaster Flash - image © Zoe Russell
The night swiftly merged into January morning, though the awaited 2017 countdown came off as an unorganised, confusing mess; there was no artist on stage, and little hype leading up to the change of year. The 'clock' on the projector screen struck midnight by displaying a message, bizarrely reading 'You're at the best party ever!' (?).
In between sets throughout day one, a short wander around the site revealed a promising number of fashion and jewellery stores, many selling quirky pieces well worth purchasing. A number of small swimming pools (Palm Springs) were also set up on the grounds, a fitting addition to the festival.
After amateurishly wearing new boots sock-free on the first day, I even had the pleasure of swinging by the medic tent, both heels soiled by infected blisters. While working under the heat and pressure of treating a constant inflow of injured patrons, the paramedics remained patient, kind, and attentive; I was incredibly impressed by the service.
Day Two
The 1st January brought with it a mighty sense of anticipation, vaguely clouded by exhaustion from the previous night's celebrations. While walking to the Amphitheatre to see The Jezabels at 3.40pm, the warnings of 'unbearable heat' were quickly but quietly confirmed.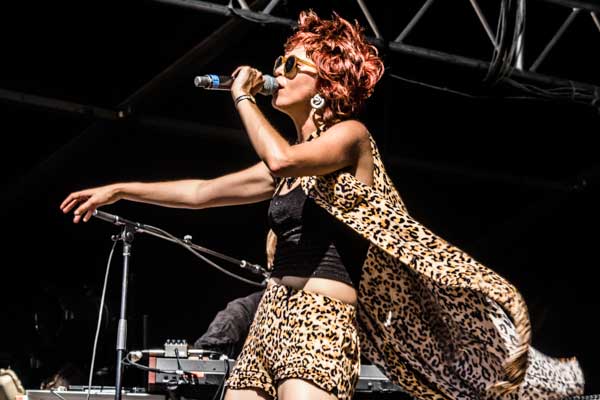 The Jezabels - image © Zoe Russell
It was heartbreaking to see the crowd reclined to the back beneath the minimal shade of the trees; sitting huddled among each other in an effort to shy away from the biting rays. Though despite the uncomfortable weather, The Jezabels performed with an incredible amount of energy and enthusiasm, owning the stage and owning the atmosphere by filling it with Hayley Mary's stunning vocals.
While it was difficult to tear away from Matt Corby's captivating performance later that afternoon, my spirits were raised as an excited hum reverberated among the crowd shifting to the Forest Stage to witness Illy's rapping expertise in action.
The massive tent, cool breeze and shady trees were an instant source of relief, though I almost immediately began to question the sound quality and projection in the area. Even still, it was obvious Illy brought his all to the set; it was brimming with polished, well-articulated tracks, all while he constantly communicated with the audience in an honest, down-to-earth manner, demonstrating why he's both a renowned hip hop artist, as well as a respected Australian musician.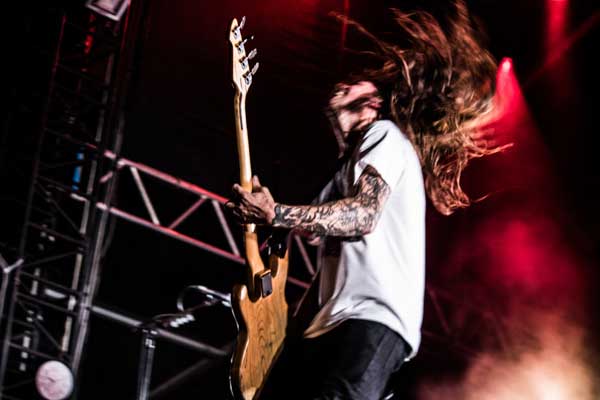 Violent Soho - image © Zoe Russell
The performance wasn't just one to watch, it felt like one we were all a part of. Even after being surrounded by Illy's admirable following, very few crowds can compare to the sea of diehard Violent Soho fans. From the top of the hill at the Amphitheatre, the mosh-pit rivalled the roughest of oceans, people lolling and crashing like waves.
As always, the band performed stunningly, loud and proud and in total control of each song, their stage presence, and of their listeners. Witnessing Violent Soho play live proves testament to the old saying, 'less is more'; with simplistic lyrics (Do ya do ya do ya do ya do ya do ya do ya?!), a vocal range bordering on blatant yelling (as opposed to singing), and a nonchalant, all-Aussie, we-don't-give-a-shit attitude combining to produce half a dozen brilliant tracks and a killer vibe on stage. Their music could raise the testosterone levels of your Nan.
Click here for more photos.
After watching The Rubens perform at the Amphitheatre at Splendour in the Grass 2015 (and again on Magnetic Island, 2016), I knew what to expect of the impending performance, though still had high hopes to finish off the night with a couple of classic tunes by some of Australia's most beloved rock stars.
Perched on the hill directly outside the Forest Tent, I wasn't far from the stage, though as expected after watching Illy, I was taken aback by the projection quality in the area. At the time, with an attitude affected by the poor set-up, the performance felt a little flat, almost like karaoke.
With sound lost among the surrounds the atmosphere seemed dull, crowd members squashed over the hill outside the tent. The set-list was as predictable as previous gigs, though it's always a surprise to be reminded of just how many catchy hits the band has released. The last time slot is always an accolade to be proud of, but an earlier slot at the Amphitheatre would have improved the performance immensely.
Replenishing energy levels after day two (and fuelling up for the last day ahead) was made easy thanks to the absurd amount of options available to eat and drink. There were at least three times more food stalls than I expected, selling a wide variety of cuisine, both healthy and greasy.
Special mention to the Pizza Cone stall for finding a way to improve the world's best takeaway, and to the Sub Sandwich stall in the campsite, for loading its burgers with the three main food groups: bacon, halloumi, avocado.
Day Three
Day three finally arrived, boasting a schedule jam-packed with another bucket load of awe-inspiring performers. My afternoon started with Ball Park Music at the Amp, an old favourite who made the cut of acts worth braving the sun for.
Again, crowd members were crammed at the back and congregated under the few trees in the area, though as always, the band shone, filling a stellar set with music so well-written and effortlessly appeasing to such a wide audience range, I only wished they could have played later in the afternoon. Shout out to Sam Cromack, the lead vocalist, who has a musical talent so rare he must be envied by many.
Shaded by a now, grey sky, Bernard Fanning hypnotised the audience with his soulful tunes, combining classics from 'Tea And Symphony' with new releases from his recent album, 'Departures'. Although his latest record is palpably different to the previous, Bernard has clearly followed a safe, song-structure format, dictating his music by his emotion-tugging, cleverly written lyrics, supported by simplistic guitar riffs and plucking.
While he's been a little unadventurous in his solo venture from Powderfinger, there's no denying the spell the man can cast on a crowd, lulling the listeners over with tender tracks and reviving them all in an instant with livelier beats. By the time 'Songbird' made its inevitable appearance towards the end of the set, I knew I wasn't the only one in the area who was overwhelmed with nostalgia and pride for classic, Australian music.
As many predicted, the looming clouds eventually released a downpour of rain, sending some scattering for dry land, but a surprising number towards the mosh-pit in an attempt to score a decent spot close to the stage during the shemozzle. Catfish and the Bottlemen was my most highly-regarded band in the Falls Festival line-up, though after standing in the rain for an hour and a half I retreated to the safety of the campervan (many regrets).
The question remains as to why the band was so late to the stage, but it was impressive to see so many fans standing, shivering, and hoping to catch a glimpse of the legends live in action. Unfortunately, the rain cut my day three short, washing out my chances of witnessing London Grammar and Alison Wonderland.
Awaking to a soaked campsite and incessant drizzle put a damper on an otherwise stellar weekend, but the three-hour traffic jam driving out of the campsite was what really took the cake in terms of festival frustration. Admittedly, there were times while sitting directly under that unbearable heat I would bluntly announce: "I will never attend a Falls Festival at Byron Bay again!".
But my genuine love for the site and absolute awe for the Amphitheatre will undoubtedly draw me back for another year of sweat, sunburn, and boot blisters. Like Splendour In The Grass, the weekend's vibe is indescribably cool, drawing together a Falls Festival family crowd of hilarious characters and live-music enthusiasts. Two stages is a blessing, particularly for those energetic enough to spring from one to the next.
All in all, if the organisers conjure up another star-studded line-up for the 2017/ 2018 event, I'd be easily persuaded to spend another three days sweltering under the sun while being soothed by the sweet sounds of banger tunes. Nice Gary!
- Gabrielle Vacher
The fields were primed, the bars were stocked and the punters were glittered all ready to begin Falls 2016/17.
After shuffling around the whimsical delights of The Grove and taking a dip in the already questionable communal pools, music fans settled in for festival favourite Client Liaison. Giddy off the release of their debut, full-length album the boys went all-out on their trademark, luxury style.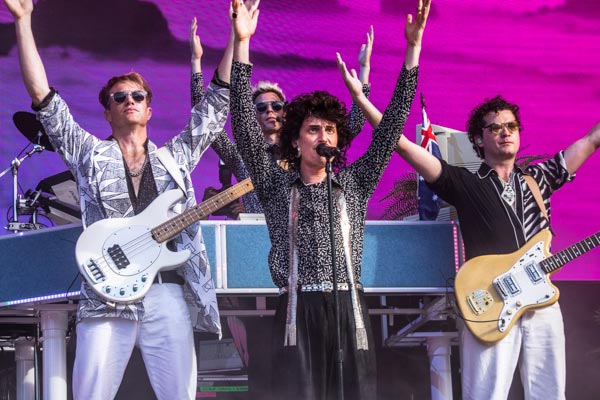 Client Liaison - image © Zoe Russell
Giant watercoolers adorned the stage as Client Liaison took us through their album pearlers. What would be cluttered for other acts accentuated Client's set and watching alliterative name buddies Monte Morgan and Tom Tilly out showboat each other is some high-quality entertainment.
New Zealand siblings Broods followed shortly after with fewer props, but just as much energy as vocalist Georgia Nott frolicked around the stage. Nostalgia laden single 'Mother & Father' marked the first time at the festival where you could audibly hear the crowd singing over the ample amplification.
Hot Dub Time Machine took over official countdown duties and while the journey back in time was as much fun as your first blue-light disco, the timing had something to be desired. You see, by the time we got back to music's equivalent to 2016 ('Never Be Like You' – Flume, of course) it was only 11:30pm.
Childish Gambino wasn't slated to start until precisely 12:01am. I had convinced myself this was because Falls was going to pull out something amazing but as the minutes ticked down the stage remained empty. Then, with 30 seconds to go, a handful of the night's performers shuffled on stage like primary school kids taking a bow after their first play and half-hearted popped confetti.
It was disappointing that a festival centred on New Year's Eve would treat such a pivotal moment so haphazardly.
Click here for more photos.
That disappointment soon turned to elation as Childish Gambino's famous figure cut a shadow on stage. Wasting no time, Childish jumped right into a set-list that mostly comprised of his earlier rap tracks. It seems, like me, this surprised people as one of the loudest cheers was for buttery-smooth single 'Redbone'.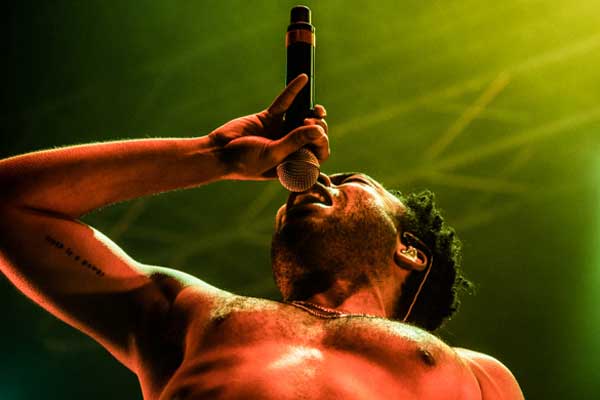 Childish Gambino - image © Zoe Russell
Nevertheless, Childish slammed his entire set, stuffing it full of as many supremely talented musicians as possible (shout out to the amazing keyboardist with the mesmerising hair).
As a new year dawned and punters shook the dust and glitter off their bodies, the smart money was on City Calm Down. Carving a set that was both emotional and lighthearted (the wind did not like their backdrop), the addition of live horns added spice to an already absorbing performance.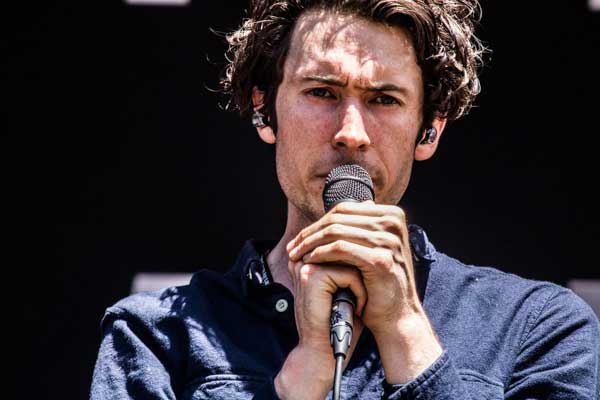 City Calm Down - image © Zoe Russell
What followed was a festival highlight in Modern Baseball. The first band that was dressed appropriately for the weather (skinny jeans have no place in 35 degree days) Modern Baseball humbly blew their crowd away. A delightful crowd of people indulged in a unprompted rendition of 'Hey Baby (HOO! HAA!)' before Modern Baseball sailed through a stunning version of tearjerker 'Pothole'.
Australian Idol turned unironed beatnik, Matt Corby chilled out our New Year's Day afternoon with his relaxed set. Impressing the swollen crowd with some flautist skills before breaking out his Like A Version cover of Tina Arena's 'Chains', Corby provided a peaceful break.
Second-night headliners, The Avalanches had something to prove as their comeback Splendour performance failed to rise to some people's expectations. I'm happy to report that this time around they met expectations and then some. The set flowed beautifully thanks to less remixing of already remixed songs and some entrancing accompanying visuals.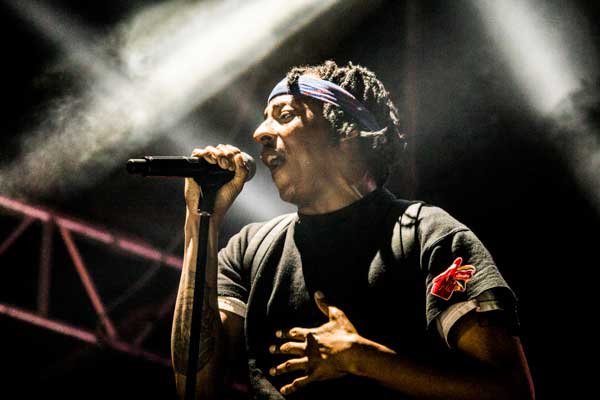 The Avalanches - image © Zoe Russell
Feeling a little dusty waking up on day three, a fellow camper and I took advantage of the morning yoga available only to those not nursing a hangover. It was a beautiful way to shake off the relentless heat and was a refreshing addition to a major festival.
The Falls comedy programme might pale in a size compared to Splendour, but in quality they rose to the occasion. Special mention must go to Melbourne trio Aunty Donna who performed so enthusiastically that they had the crowd forgetting that they hadn't had a shower in three days.
After opening our chakras and getting our funny bones tickled there we were ready for actual ray of sunshine, Matty Rogers. Armed with an acoustic guitar, Matty was nothing but smiles and thank you's as he toured the crowd through some of the happiest songs I've ever heard.
Sticking on the chill trend, Australia via Europe solo artist RY-X took the audience on a journey to frostier places where people don't even know what the word sweat means. Perfect for a mid-afternoon cool-down, RY-X was a delightful deviation.
Summer festival stalwarts DMA's pleased a massive crowd by sticking mostly to tried and tested favourites. The rain that we had been threatened with all day began falling in fat droplets just as tearjerker 'Turn Up The Morphine' rang through the forest stage. However, this didn't stop the lads cementing their mega-hit 'Delete' as the millennial's answer to 'Wonderwall'.
Click here for more photos.
Just as we were praising the Gods for providing a break in the relentless heat. they turned vengeful and dumped on us a week's worth of bad weather. Not only did this turn every covered area into the sinking scene from 'Titanic', but it pushed Catfish and The Bottlemen's set back an hour. So unless you liked standing in the rain the only place to flock was Tkay Maidza, and flock they did.
The forest stage was packed as the pint-sized rapper proved that she has more than enough moxie to carry a crazy-large crowd. The downpour might have made clothes damp, but did nothing to the spirits of Falls 2016/17.
Battered, dusty, tired and now waterlogged, punters left just a jovial as they arrived… but maybe a little more appreciative of the power of the plastic poncho.
- Velvet Winter