Austin, Texas post-rockers Explosions In The Sky are no strangers to Sydney, having played both the Manning Bar and The Metro over the last nine years.
But those stages always felt a little modest and underdressed for the band's grandiose, soaring and almost cathartic instrumental music. Happily, this was never going to be such an issue this time around, with perhaps the city's greatest stage and room setting the scene for their one Sydney show (23 February).
And when the band hit the stage the setting made even more sense. So much of EITS's catalogue plays out like small symphonies, with the band able to arrange a set that feels like it has a narrative despite the absence of any words.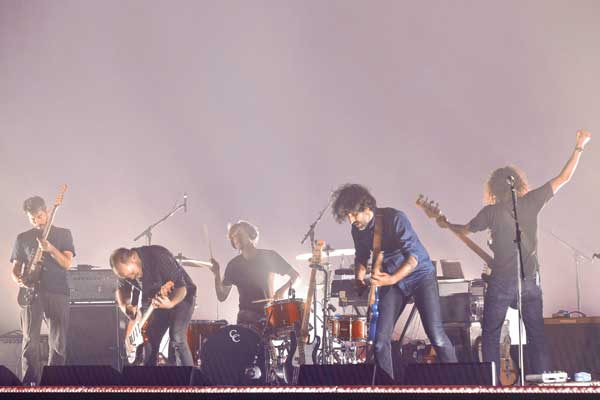 Image supplied
And with a brief hello from guitarist Munaf Rayani, adding that it's also dream-like to be playing the Opera House, the band were done with words and launched into a 90-minute set of such expansive, emotive and explosive sound that the audience would have goosebumps recalling it for weeks to come.
They rolled out their most epic songs, from the seven-minute uplifting emotional roller coasters 'The Birth And Death Of The Day' and 'Catastrophe And The Cure' from 2007's 'All Of A Sudden I Miss Everyone' to the darker and more brutal 'Logic Of A Dream' from last year's 'The Wilderness': an album heavily influenced by all the soundtrack work the band's done over the last half a decade.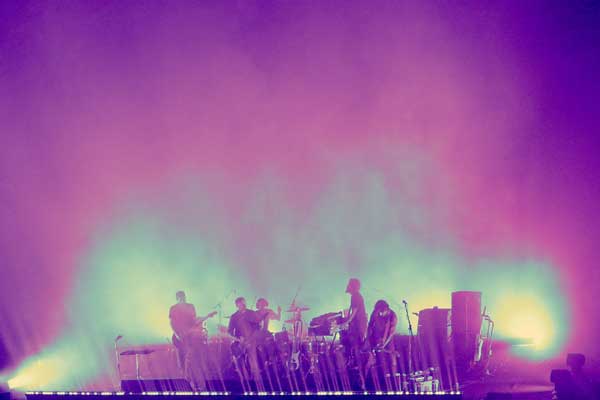 Image supplied
Relying only (and heavily) on a smoke machine and light show, at times lending the players – all dressed in black shirts and dark grey or black jeans – a haunting lost-in-a-forest-style silhouetted appearance, it was a surprisingly visual experience for such an aurally immersive band. Especially with Rayani swinging around dramatically and playing his guitar close to his knees for most of the show.
And, for a change, there were very few glows of phone screens from the audience, who were clearly held captive from the very first, lilting guitar notes.
While EITS get inevitable comparisons to the likes of Mogwai – who also graced the Concert Hall stage last tour – and even Sigur Ros, they deserve a space on their own.
With a three-pronged guitar assault at times, and the incredible drumming of Chris Hrasky – who either provides a razor-sharp motorik drive or huge, bombastic beats that deliver sonic punches – the band veer from the most delicate, pin-drop quiet, lilting guitar sounds to brutal wall-of-sound sonics, often many times within a song.
It's all orchestrated with precision, which at times can have EITS feel a little too thought-out, but not that anyone seemed to care on this night; especially not the guy in the front row who, after an hour, couldn't contain himself anymore and stood solo to headbang like no one else was in the room to see.
And with the band winding up with some oldies that earned cheers from the until now, dead-silent audience, like 'Your Hand In Mine' from 2003's 'The Earth Is Not A Cold Dead Place', it was clear there wasn't a more incredible setting for one of the most incredible rock bands around today.