It's a quiet, warm and early morning in February. Waking up in a swag under the trees listening to the birds singing… a blissful peace falls across the land, and a soft breeze blows through camp.
A subdued expectation slowly builds as one of Australia's best-loved festivals is in the final stages of being built.

Earth Frequency Festival (EFF), in South East Queensland, has come a long way from its early days as a passionately organised, landcare gathering, into what can now only be described as an internationally recognised transformational event, drawing people from all over the world and Australia.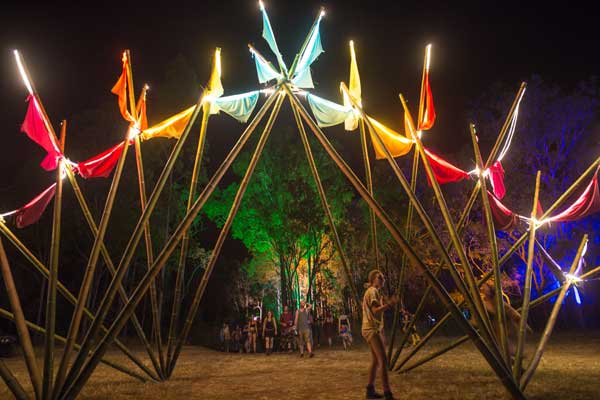 Image © Bill La - Spinferno
This year (17-20 February), the festival gathered new steam, and easily remains firmly in the hearts of those guests, crew and supporters who have been the driving force over the 12 years it now spans.
As a visual artist/ VJ performer this year (and former Site Manager in previous years) I have had a unique perspective in watching it grow into the beautiful, community-based event it is now, and I am gratified and humbled to see it blossom year after year.


This year EFF yet again hosted an array of amazingly-talented international, interstate and local musicians, performers and artists. From epic stars such as Ace Ventura, Beardyman, Desert Dwellers, Smoke Sign, Soulware, SonKite, Minilogue and others, through to our own brilliant Australian acts such as Kingfisha, The Herd, Sensient, Spoonbill, Whitebear and many more, the festival has diversified immensely, and continues to reach new heights.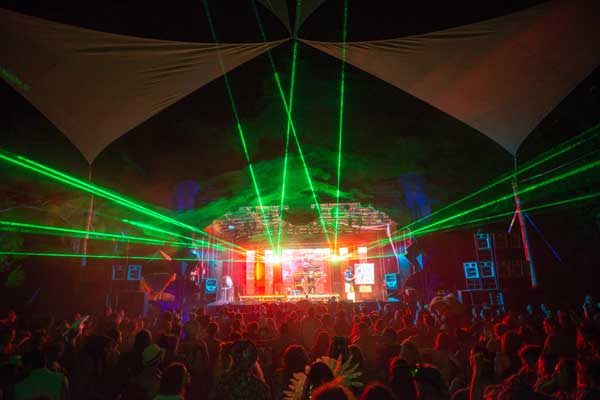 Image © Bill La - Spinferno


Incredible performances by JFB vs Beardyman, the Desert Dwellers showcase, Ace Ventura, The Herd and Opiuo were definitely standouts. But every, single artist and performer involved have created something so special, it truly gets harder to leave each year.
As much as any event prides itself on its smorgasbord of music and entertainment, EFF started out with landcare as its focus. This year saw the implementation of a well-delivered permaculture workshop, hosted by The Grounded crew – a locally-based permaculture and event team – and has proudly framed the event's purpose as a landcare and community building project once again.
Image © Bill La - Spinferno
EFF has always been respected and well loved by punters and crew alike, and has always given back to the community ten-fold; this year is certainly no exception.

 Along with stunning décor and gorgeous natural scenery, EFF always raises the bar with the selection of mind-blowing visionary art, visual artists and décor artists.
Artists including Adam Scott Miller, Collin Eldar, Bryan Itch and VJ artists such as Eyebyte, Shiptu Shaboo, Entoptic (that's me btw) and many others, made sure that visually the senses were in overload for the whole weekend. Coupled with the energetic crowd and fabulous performers wandering through the site, EFF is a visual and heart-thumping orgasm of awesome.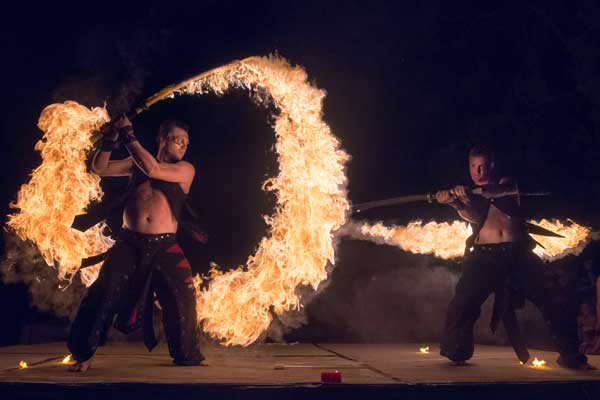 Image © Bill La - Spinferno
Overall, Earth Frequency has become a not-so-small part of a growing and nurturing community, and over the years Paul Abad (Event Director) has been giving his all graciously, to encourage and nurture this communitas.
I personally thank him immensely, from the bottom of my heart, and can honestly say this event has become a blueprint for future community-driven events, projects and is a catalyst for positive social change.