As the early November sun descended on the inaugural Dub In The Park at Warriparinga Wetlands (5 November), proud representatives of the Kaurna people, Jamie Goldsmith and Taikurtinna Dance Group, ceremonially welcomed inhabitants from every corner of the earth to their sacred lands.
Warriparinga translates to 'the windy place by the river'; it is a place of 'dance, of music, of celebration'.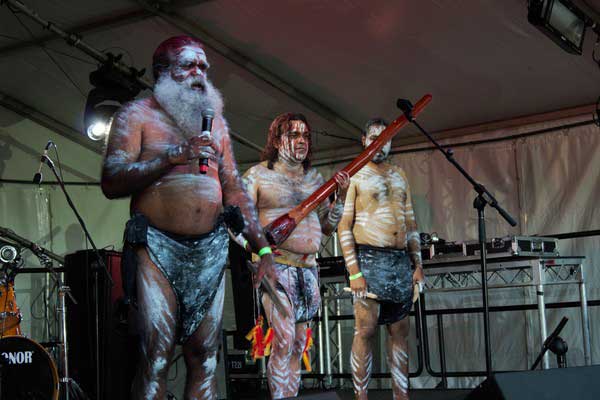 Image © Erin Eustace
The maiden artist line-up brought indigenous and non-indigenous artists from all nations together as one in an event of such powerful unity and goodwill that just being in attendance instilled hope in our shared humanity; children frolicked while cloaked in bright, fluorescent bird costumes while punters young and old grooved to an abundance of beats: both tribal and electronic between midday and the depths of night. It was a taste of WOMAD come early and not a moment too soon.
Click here for photos.
While guitars and drums were the most commonly played instrument on the day, the didgeridoo made multiple appearances during the sets of emerging Adelaide duo Electric Fields and obviously during dance-didgeridoo pioneer Ganga Giri's epic evening set.
Electric Fields - image © Erin Eustace
Electric Fields, led by the flamboyant Zaachariaha Fielding, are an unlikely amalgam of Gurrumul and Nina Simone popped into a disco blender. Fielding's powerfully emotive vocals rang out like birdsong across the wetlands.
Ganga Giri - image © Erin Eustace
Ganga Giri, armed with an arsenal of didgeridoos of varying shapes and sizes, is a purveyor of such a unique and curious hybrid of styles both ancient and modern that he has garnered a loyal global following.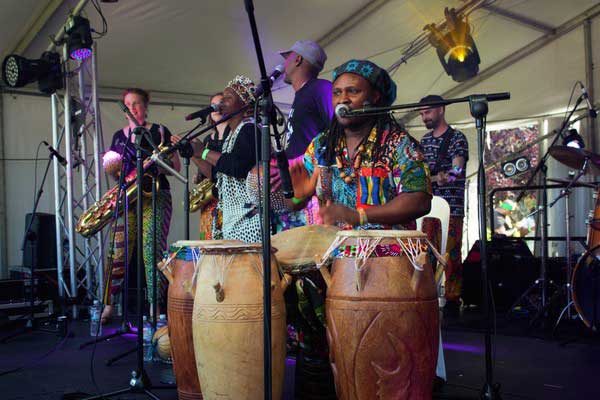 Image © Erin Eustace
Dub music is a global language that speaks to people from as far afield as Ghana and the northern reaches of England. Ghanaian live wire Bortier Okoe and his exuberant ensemble of percussionists, saxophonists and backing vocalists beat the early afternoon crowd into a frenzy with their songs of freedom and joy.
Dub Princess - image © Erin Eustace
The strikingly tattooed Dub Princess, meanwhile, with her hell-in-boots-hybrid of Lily Allen and Amy Winehouse, crooned her way into the early evening; firstly, with Kodiak Kid and secondly with Future Roots. The local dub and roots scene was well represented, with sets by Local Revolution, Fraud Millionaires, Black Diamond and more.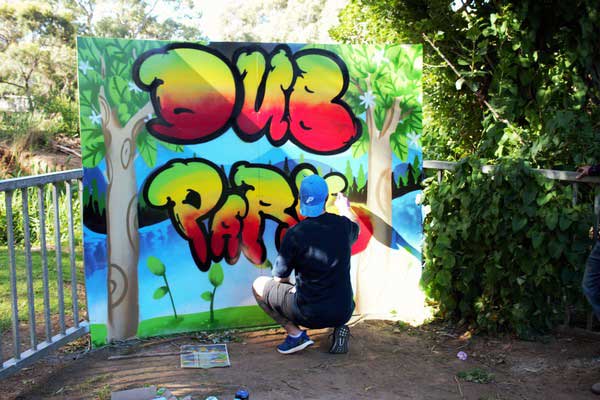 Image © Erin Eustace
By the time the wetlands was bathed in darkness, an energetic throng of festival goers was in attendance, which was a spectacular feat for a debut festival. Adelaide has demonstrated a faithful and enduring love of world music. Dub In The Park emitted the same family friendly, earth conscious vibe while simultaneously being efficiently and carefully organised.
Image © Erin Eustace
The dub seed has been planted in sacred soil and with love will grow with each coming year.
Click here for photos.