The Milk Factory's cosy comforts and intimate stage set-up suited Doolie's single launch to a tee on Saturday (28 January); she saturated the small space with sweet, textured vocals that rival Emma Louise's.
Support act Tay Oskee performed prior, bringing with him an unrelenting fan base, his multi-instrumentalist talent and a handful of stirring tracks that featured on his stunning 2016 EP, 'Shelter'.
Despite being a third-time audience member at an Oskee gig, his uncanny ability to consume and captivate his listeners never wavers; while several were dancing and singing-along, everybody in earshot was totally transfixed.
Folk may be a genre arguably tougher than most to break into, although Oskee is armed with natural-born talent and songwriting skills that reflect strengths musically, lyrically and vocally, rather than being steered by one dominant component.
Most importantly, however, he possesses an emotion-tugging edge that separates his work from your standard, easy listening, simplistic, plucking riffs and softly-sung verses.
Despite your background, your age or your preferences in music, his songs have a way of reaching out and triggering a response; whether joy, nostalgia, sorrow or exhilaration, what's notable is that they all make you feel something.
'That Place' closed the set on a high note, showcasing Oskee's impressive vocal range and poetic lyricism, although 'Shelter' is another noteworthy track, fusing a number of different elements and frequently changing tempo and keys to produce an extremely mesmerising piece of music.
Doolie's nerves were visually palpable though audibly impossible to notice; her pure, lilting vocals are far more mature than you'd expect of an artist so young and seemed to take the crowd by surprise as she stood and took the microphone.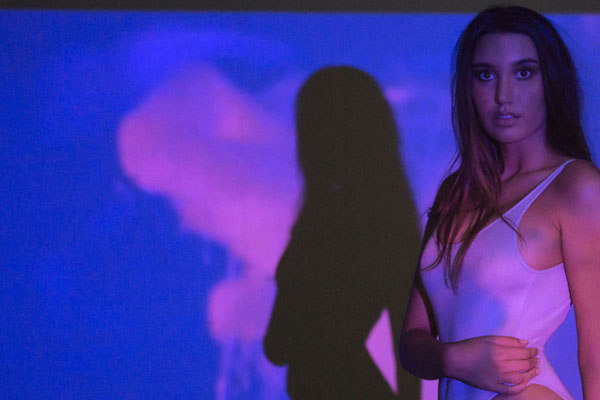 As an artist only scratching the surface of her impending music career, she's already discovered and developed a discernible 'Doolie' sound; rather than experimenting or uncertainly dipping her toes into a different genres, she has instead found her strengths and hit the ground running with them.
Her atmospheric-pop music is embedded with rich harmonies, heavy percussion and an all-round alternative flare, straying far from any predictable pop song structure. Both 'P R I S T I N E' and new single 'Exhale' are comparable to works artists such as Ngariie, and most definitely Emma Louise, certain to complement each other nicely alongside a neat collection of tracks on what's sure to be a future EP in the works.
Granted, at first she appeared uncertain standing before the crowd, glancing tentatively between audience members while slowly easing into a comfortable stance on stage, although it's easy to forget how young she is with a voice so exceptionally refined.
The low-key gig proved the perfect platform for Doolie to showcase her talents, all while undoubtedly acting as an encouraging, non-daunting opportunity for the artist to hone in on her skills performing in front of what's sure soon to be a thriving fan base.