J. Lou. Murph. Three syllables that strike joy and pummelling, indie-slacker-rock fear-adoration into the hearts of many.
Tonight's sold out Metro crowd (12 January) is a mix of well worn Husker Du and Gumball t-shirts and brand-spanking-new purple cow t-shirts flying off the merch stand. Hmm, upgrades. The air is thick with: "Hey man, I saw Dinosaur in like '94 man when you were like in nappies man."
The lights go down, the roar goes up, the backdrop goes nuclear 'Green Mind' green. The amps are Stonehenge. They were, are and will be our druids. They come from Amherst, MA, USA. They are Dinosaur!
But wait; what, Bernard from 'Blackbooks' behind yon drumkit breaks? No Murph? Proceedings at tonight's gathering begins with semi-tragic news: Thus spake J: "Murph couldn't get into your country so Kyle Spence (The Fog, Kurt Vile) is helping us out tonight." [Ed's note: Murph has landed and will resume his posse behind the drum from tonight's Brisbane show (13 Jan)]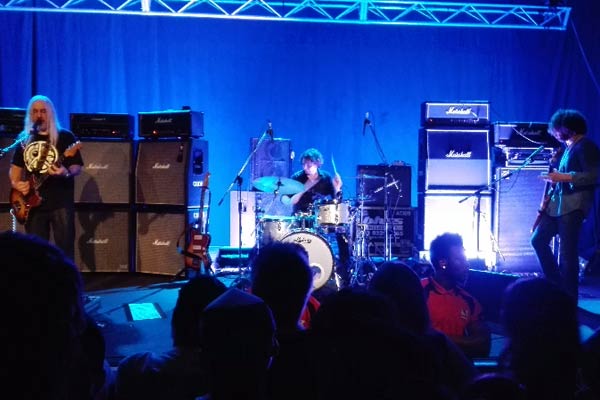 Image supplied
But a worthy stickman is Kyle, blasting the shit out of openers 'The Lung' and 'Get Me'. A night of oldies maybe? But then the new shit, 'Goin Down', opening track on 'Give A Glimpse Of What Yer Not'.
Then J slings on a Rickenbacker 12 strings, tunes it out loud, fuck tuners! Lou sings. Sebadohsification ensues. A second guitarist (the roadie?) for 'The Wagon'. Glorious!
On 'No Bones', Lou channels Lemmy and Phil Lynott. Head-bang energy to burn, he's an animal. J channels Rory Gallagher and Jimi Hendrix. Kyle channels, well, Murph, and maybe Pistol and Boo too. (hint, Johnny Depp). 'Watch The Corners' takes on a Mercury-esque 'We Will Rock You'-ness.
The 'Feel The Pain' riff forms the loop-pedal intro, T-ing up the song beautifully. Followed by 'Start Choppin' on a red telecaster. F*ckin choon! It's all too much for Lou as he smashes his head/ eye on the mic. But he's grand. "I can still see," he assures us afterwards. We love you Lou!
Then out of nowhere, a rare treat for the nerds. 'Little Ethnic Song' for 20 seconds. No way! 'Freak Scene's wah filth sends me mosh-pit bound. The next generation are crowd surfing. Would they carry on the oral tradition, spread the gospel of J. "For even as he loves the arrow that flies, so He loves also the bow that is stable."
I film a section of 'In a Jar'. A kid behind me complains. "Can't you see with your own eyes?" "Yeah, fair dinkum, I know what you mean kid. But I'm writing a review. I want other people to see… ah feck off! I saw these guys in 1994 when you were only in…" Oh no! I've become that guy! Fuck! Sorry kid!!
I've seen J (solo)/ Dinosaur about ten times in my life now. They never disappoint.
I've met J. He played on my record 'Espero' in 2011, a heavenly Wayne-meets-Alice-ian experience. His studio is an attic full of guitars, tube gear, a Mellotron, cuddly toys and the room where Dinosaur jam. He's also sort of catatonic to speak to. And hilarious. And sounds rather like Brian from 'Family Guy'.
My only conclusion is that he is a sort of wild child where only on the guitar/ drums does life make sense. He has devoted most of his brain power to his spell-binding decade-smashing-drum-guitar Gandalfary. His solos save your lives. His chords gels Lou's into pure forgiveness. His beats makes the hairs on Murph's head stand-on end. I mean, for f*ck sake, 'Out there' (not played tonight), it's a masterpiece. Cherish Dinosaur always. They may be an endangered species.
The encore rules. Lou's bass goes through guitar and bass amps. This filthy hoverboard of 'In-a-jar'ing basslines, is a house of pedals on which J wails, chugs, biffs, trills and whines. Kyle's heartbeat keeps this cardio-sculpture afloat as they transverse a universe we all yearn for.
This sound, from just three guys; how the fuck like?
Last song: 'Budge'. "Tons of rubble to sift through." Alright.