Melbourne's Cosmic Kahuna headlined Brisbane's home of the heavy, the Crowbar (20 January), with a support line-up much like a good, old bag of party mix… no matter which bad boy you happen to draw out, you know it's going to be frigging tasty!
Kicking the party into gear were local Brissie stoner-skate punks SLOJ (Smells Like Otto's Jacket). The four-piece pull no punches, with a set-list containing everything from sing-along party-punk anthems like 'Ezy Livin', right through to beefier tracks like 'Devil's Deeds' that would give any metal/ hardcore fan a half-chub at least.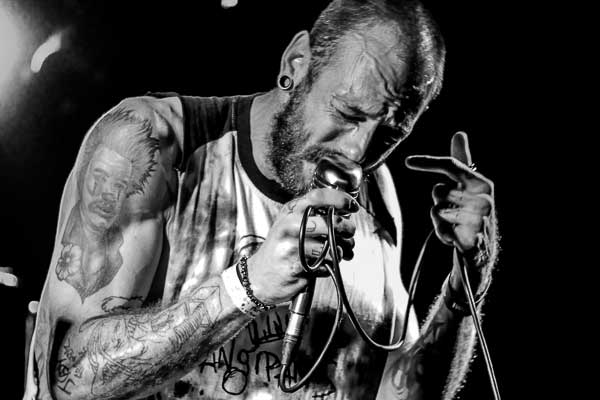 SLOJ - image Tamaryn Bremner
There is no denying it. These guys write catchy tunes, and with their debut album, 'Tales From The Ripped', due to drop soon, it's easy to see why SLOJ are quickly carving out a niche in the Brissie punk scene, and into the hearts of fans alike.
Click here for more photos.
Fresh off the Absolute Kaos Big Pineapple Carnage tour, are the Sunny Coast lads Not To Regret. These guys have a melodic, '90s, Cali-punk sound with a distinctly heavier feel, that even the inner 14-year-old version of me, full of angst and sporting a Rancid tee, gives them a solid nod of approval.
Not To Regret - image © Tamaryn Bremner
Their onstage banter, although lighthearted, didn't take away from some of the more serious subject matter in their songwriting with tracks like 'Watch You Die'. You can catch them touring South East QLD at the moment on their 'This Is The End' single release tour.
If your party fires weren't sufficiently stoked by this point, they were about to be. Fellow Melbourne punks Blind Man Death Stare (BMDS) were about to drop some freaking napalm! For the uninitiated, they are two parts of the legendary Pints, with Parker on drums and lead vocals and Mitch on bass/ vox. Immi completes the epic three-piece line-up on guitar.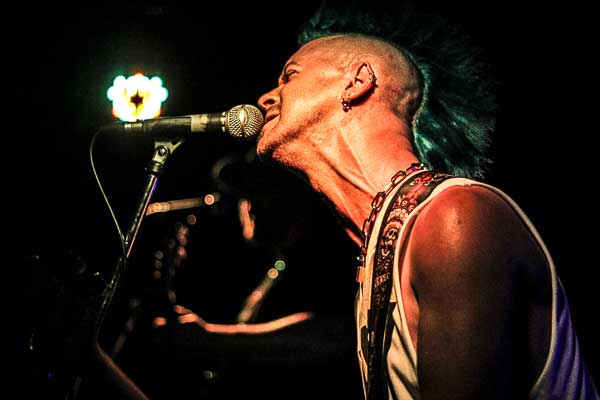 BMDS - image © Tamaryn Bremner
Like some kind of hardcore-punk Gatling gun, BMDS start firing out tracks riddled with satire and political agenda. Each line is delivered like a punch to the gut, and their collective onstage energy rips through the room like an atomic bomb. Hinting their latest album is only just around the corner, let's hope they return to Brissie sooner rather later.
Next up on this cracking bill, are the hardcore-punk outfit No Trust. Returning once again to Crowbar after somewhat of a hiatus, the ex-North QLD punks brought the heavy to the line-up. Their sound is unflinching, furious and fast.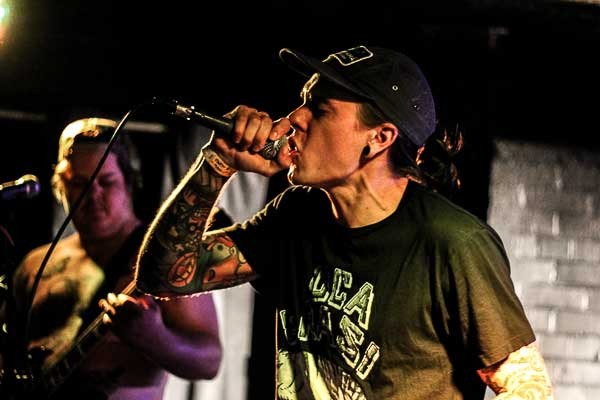 No Trust - image © No Trust
Frontman, Ren's vocal is grittier than a pair of Vans you've been wearing at the beach all day. Combine that with an unrelenting rhythmic section and some dirty ass guitar, and it is hella-easy to see why fans are stoked to see these guys playing shows again. Specifically, Gummy and Stu-rat from Logan punk outfit Goon On The Rocks, who join them on the mics mid-set.
Now. Set your faces to melt. Because Melbourne's riff slinging, surf-punk-thrash trio, Cosmic Kahuna are about to lay down some tasty licks. As the lads power through their set, performing tracks from both their self-titled and 'Wasteroid' albums, it strikes me that every one of their songs is a dead-set ball tearer.
Cosmic Kahuna - image © Tamaryn Bremner
The combination of Doz and Adrock's driving-guitar riffage and some bullshit, next-level drumming from Jack, sees boss level for the night unlocked. Doz's growls are punctuated by some insane guitar solos and quick shuffle rhythms, that if you're not already a fan, too bad.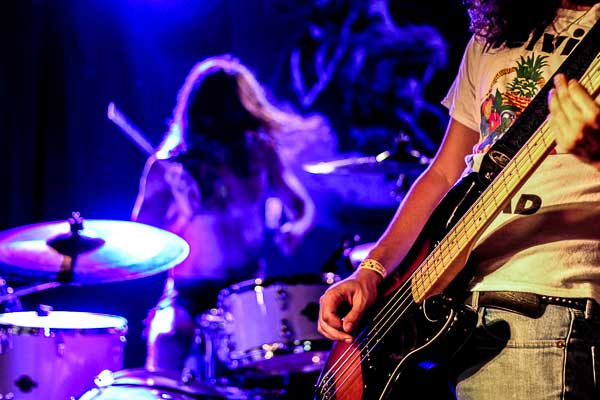 Cosmic Kahuna - image © Tamaryn Bremner
Go right on over to the merch stand, and treat yo' self. 'Cause you are now. You can't help but feel a deep sense of purpose from within the band, and I for one, am keen as to see what the future has instore for these lovable lads.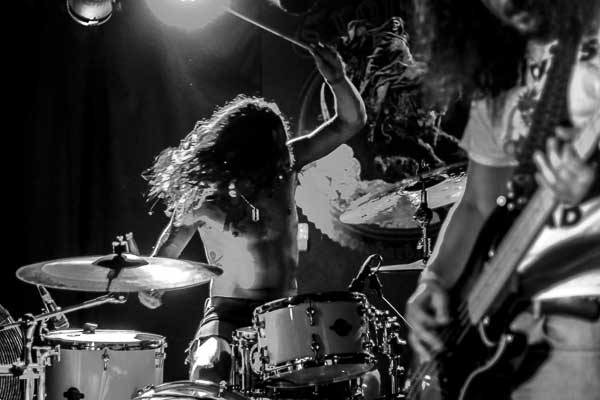 Cosmic Kahuna - image © Tamaryn Bremner
If you missed Cosmic Kahuna play Brisbane this time around, don't despair. They are returning to play at the Irish Club Hotel in Toowoomba with Brissie punk sportlords The Flangipanis, Tankerville (Melb) and SLOJ on 17 February. Do it.
Click here for more photos.