On Saturday night (8 April) in Brisbane, Eatons Hill Hotel hosted Australian melodic, prog-metal heavyweights Cog – the final show of their sold-our tour – after a prolonged hiatus where the band's cult-like following waited patiently for signs of resurgence.
The following that Cog cultivated during the mid-'00s verged towards fanatical. To see that devotion remain constant, even throughout the hiatus, is testament to the significance of this band and the indelible mark they have left on Australian metal.
Image © Lachlan Douglas
After that five-and-a-half year reprieve, the Bondi-bred band saw tickets to their Brisbane show sell out in a matter of hours.
Click here for more photos.
Lucius Borich (who incidentally has the best vampire name ever) sat astride a majestic mass of a (gold) drum kit, the Gower brothers, moody and beardy, bringing their distinctive, alt-proggy, post-rock, melodic-metal ambience to the faithful.

The band moved through the resounding eeriness of 'Resonate' into a thrashy and faithful rendition of their quit-your-day-job anthem 'My Enemy', towards the lilting, almost bluesy at times, haunting drum and guitar parts of hardline, older tracks like 'Real Life' side by side with 'The Spine'; as windy and tumultuous as ever.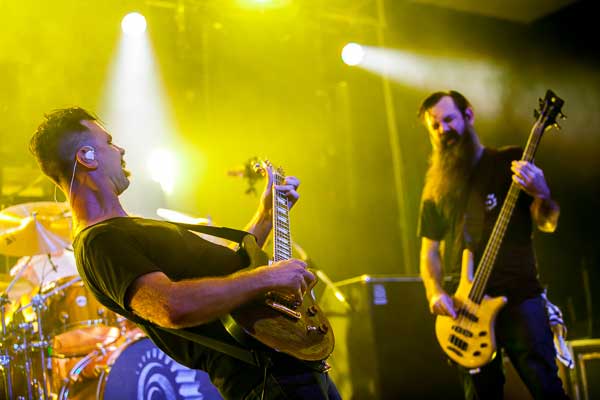 Image © Lachlan Douglas
Moody, experimental and riff slutty, all the show's set lists have been a gift from Cog back to their die-hard fans.
The irresistible urgency of Luke Gower's bassline, combined with moments where the trio all throw their voices together created a deep foundation from which to showcase the intricacy of Flynn's guitar and the at times maestro showmanship of Borich's signature session, drumming style.
Click here for more photos.