Client Liaison have a hyped, live reputation for a bloody good reason.
The chase for tickets to their sold-out Brisbane leg (21 April) became understandably desperate in the lead up to Friday night's show. For those who missed out, I'm spewin' for you and I bet you're spewin' too.
The vibes were immediately felt as we turned the corner onto Costin St to be greeted by a stylish (but tacky) red carpet, a late '80s off-white limousine and entry stamps granting us our 'Diplomatic Immunity'.
Upon entering the venue, we were met by bar staff in their '80s and '90s clobber and a stage similarly themed. It was clear that those in attendance were about to be taken on a hedonistic journey of a lifetime.
Click here for more photos.
And that's exactly what we got. The Melbourne four-piece opened the show with a bang and a banger (literally, they had pyro cannons) as the crowd's ears were teased with the irresistibly '80s style, synth-heavy bassline and '90s-electro undertone of 'Canberra Won't Be Calling Tonight', an ode to the theatre of Australian politics.
Juxtapose this with the visual experience that is the band's outlandish Australiana-themed couture – and the imagery of parliamentary debates featuring the infamous faces of a young John Howard and Paul Keating – and you have yourself one killer opening.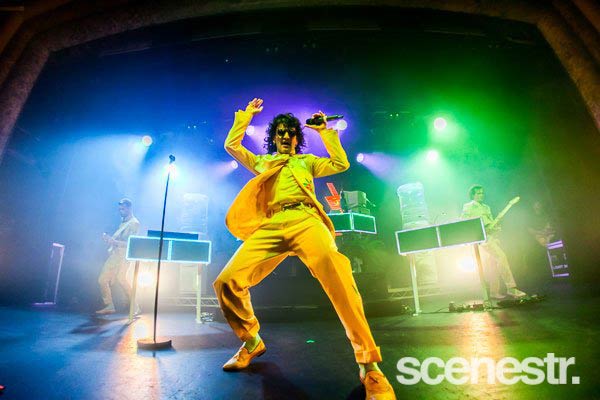 Image © Lachlan Douglas
Throughout the night (and multiple outfit changes) the band – Monte Morgan, Harvey Miller AO, Geordie Miller and Tom Tilley (yes, from Triple J's Hack programme, which was a trip-out for some) – fed us a smorgasbord of entertainment with their musical ingenuity and on-stage theatrics including their highly infatuating and flamboyant dance-moves and the handing out of not only flowers, but also cold Fosters to the lucky bastards in the front row.
Crowd favourites included classics from their self-titled first EP 'Feed The Rhythm' and 'Pretty Lovers', which saw much of the crowd break out into an electric slide of sorts [for the millennials, this is a classic '80s dance move].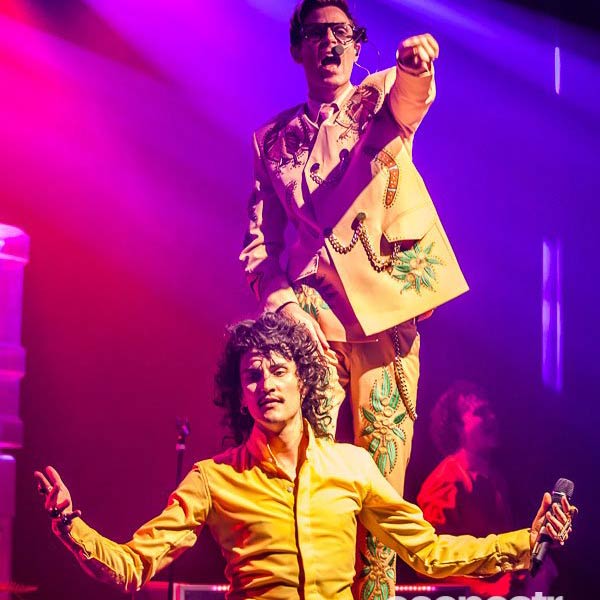 Image © Lachlan Douglas
They then covered a snippet of the 1990s Savage Garden classic 'I Want You', which received a particularly overwhelming reception by us Brisbanites and saw a room full of strangers arm-in-arm, with smiles from ear-to-ear belting out "Ooohhh I want you, I don't know if I need youuuu but oohhhh I'd die to find out"; you get the gist.
Other favourites included tunes from CL's 2016 release, 'Diplomatic Immunity', such as 'Wild Life'. Let's not forget the moment when the unmistakable guitar riff of 'Off White Limousine' rang out starting a venue-wide sing-along (bar staff included).
We were left feeling sweaty, but un-satisfied as the band waved a cheeky goodbye to us only for them to return within a minute or two to finish off what had already been a electro-pop, funk riddled, synth-heavy night with the spurts of smoke cannons and the euphorically dark but groove-entrenched 'World Of Our Love'.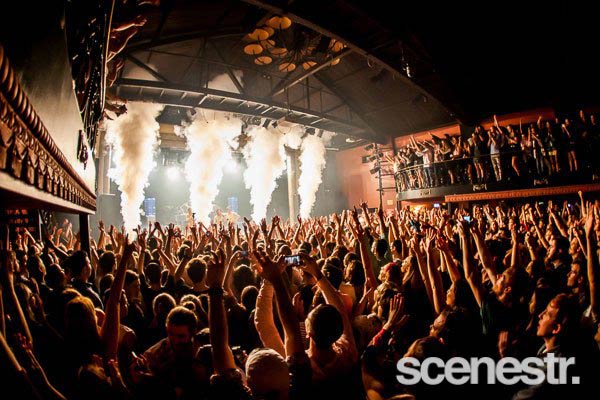 Image © Lachlan Douglas
I must admit, I was slightly nervous to see Client Liaison play live again. They had simply set the bar too high the last time I saw them in 2015 at Splendour, which was arguably the best and most energetic set of the festival. But boy, oh boy they truly out-did themselves with expectations exceeded twofold.
Client Liaison are undeniably a must-see act of 2017 and an act that takes you on a journey through the debauched world of '80s and '90s corporate culture that also showcases the true theatrics of Australian politics.
Click here for more photos.