The dirty, grungy interior of Fowler's Live provided the perfect escape for fans intent on escaping the State's unseasonable thunderstorms, packing in to witness some of the best progressive metal in the country right now, as Caligula's Horse once again graced us with their presence for their 'Hands Shape Stone' tour.
While a peculiar choice for what was otherwise solely a progressive metal gig, local metalcore act I, Icarus did a fantastic job of warming up the crowd.
I, Icarus - image © Jordan Bird
While they only played their first live show a month ago, it is clear they have already picked up how to work a crowd, performing with an abundance of energy and inciting several circle pits throughout their set.
Click here for photos.
Next up were Canephora, easily the most underrated, progressive metal band in the local scene. Their complex rhythms and crushing duel guitars blend with elements of jazz and reggae, giving Canephora an entirely original sound.
The melodies conjured by guitarists Joseph Hannan and Matt Marwe intertwined with one another, creating a layered, textured sound which while sounding impressive on record, is even more remarkable in a live setting. Over this already impressive foundation, vocalist Zander Prokes layered his incredible vocal ability.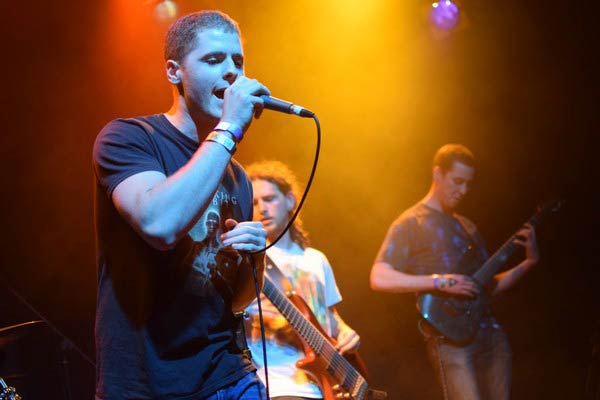 Canephora - image © Jordan Bird
Prokes' voice recalls that of Maynard James Keenan and Ian Kenny, often reaching notes high enough to sound operatic. Their setlist was varied and dynamic, interspersing driving, heavier tracks with sprawling, atmospheric soundscapes. There was a stark contrast in audience reaction when compared to I, Icarus, with many audience members standing completely still, eyes closed with wide grins, clearly awash in musical bliss.
Hometown prog-heroes Dyssidia were up next, touring behind their killer new EP 'Of Delight And Despair'. Vocalist Mitch Brackman impresses both in vocal ability as well as stage presence, alternating between vicious screams and soaring cleans, all while flailing spasmodically about the stage like a rag doll.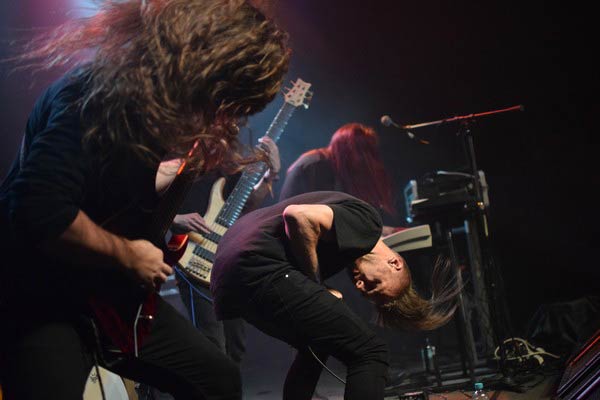 Dyssidia - image © Jordan Bird
However, it is the inclusion of Ashley Miller's dense layers of keyboard which is the most unique element of Dyssidia, giving the already impressively-constructed songs an extra dimension. The highlight of their set was 'In A Heartbeat', the closing track of their latest EP, its gentle atmospherics providing a counterpoint to the rest of their set.
Caligula's Horse have carved out an impressive following in their five-year career, evident by the rabid crowd packed into Fowler's bandroom by the time the band materialised on stage. Wasting no time, they launched into opener 'A Gift To Afterthought' at full throttle, their infectious energy fuelling the crowd.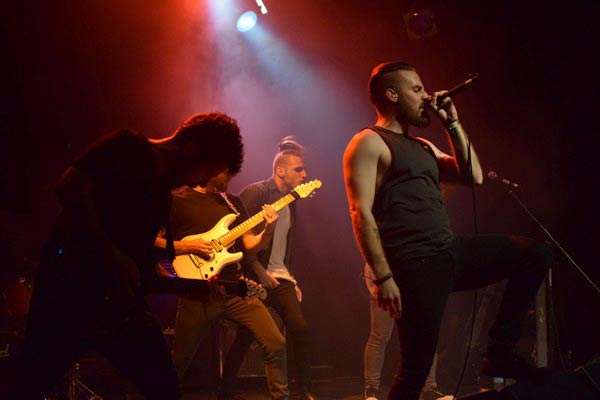 Caligula's Horse - image © Jordan Bird
Frontman Jim Grey was as affable and cocky as ever, charming the audience with his swaggering stage presence and witty, crowd banter, even managing to convince the circle pit to halt all hostility and begin hugging each other, such is Grey's charisma.
An unexpected stage crasher in the form of Dyssidia's Mitch Brackman gave the final moments of 'The City Has No Empathy' an extra touch of chaos, Brackman amping up the crowd and commandeering bassist Dave Couper's microphone. While their setlist touched on each of their albums, the centrepiece of the night was undoubtedly their brand new, 15-minute-plus track, 'Graves'.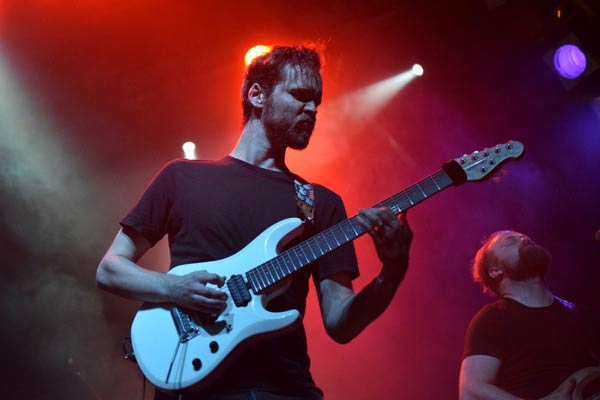 Caligula's Horse - image © Jordan Bird
A sprawling epic, 'Graves' slowly builds in intensity, all the while being accented by Zac Greensill and Sam Vallen's colourful melodies and indulgent solos. An interesting addition to their set was an impassioned spoken-word piece by Grey during their intermission, complete with topical allusions to Donald Trump's recent rise to power.
As the final notes of 'Water's Edge' rung out, we made our way back into the pouring rain, still half-mesmerised by the evening's incredible display of musical ability. Sure we were wet and miserable again, but the adrenaline in our veins helped keep us warm.
Click here for photos.