Bullet For My Valentine are finally touring Australia with their 2015 Australian #!, fifth LP 'Venom'. Any momentum the band lost with their lacklustre fourth LP 'Temper, Temper' has now been recovered.
Adelaide's HQ (21 October) was filled to the brim with the line extending out the door and around the corner out of sight.
Click here for photos.
Nu metal/ metalcore four-piece, Cane Hill opened the night to a full venue. Musically, Cane Hill is a hybrid of Corey Taylor vocals and Marilyn Manson instrumentals. The band has gained attention lately for their shock horror and controversial music videos. However, their live show was very timid and minimalist as the band were unable to create energy in the room.
Image © Lilly Brecht
Regardless of the crowd interaction, Cane Hill produces solid, headbanging anthems such as 'Time Bomb' and '(The New) Jesus'. By the final song, Cane Hill had won over a few fans. Continuing in this direction Cane Hill are definitely a band who will be rising up in the future.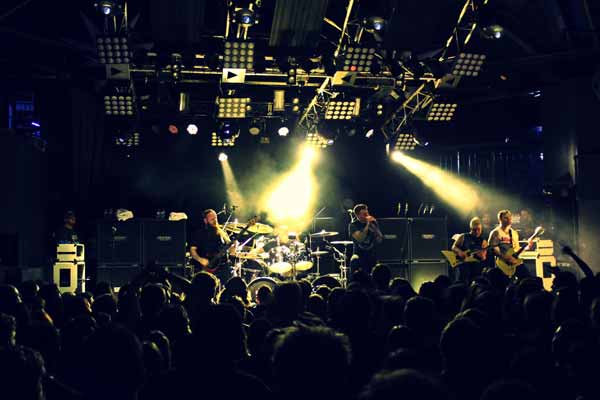 Atreyu - image © Lilly Brecht
Atreyu took to the stage to an unanimous roar from the crowd. Immediately the energy in the room went from four to ten. Atreyu are veterans in the scene having been together since 1998. Their longevity shows as the band works as a complete unit with their live performance perfectly polished, sounding just like the studio recordings.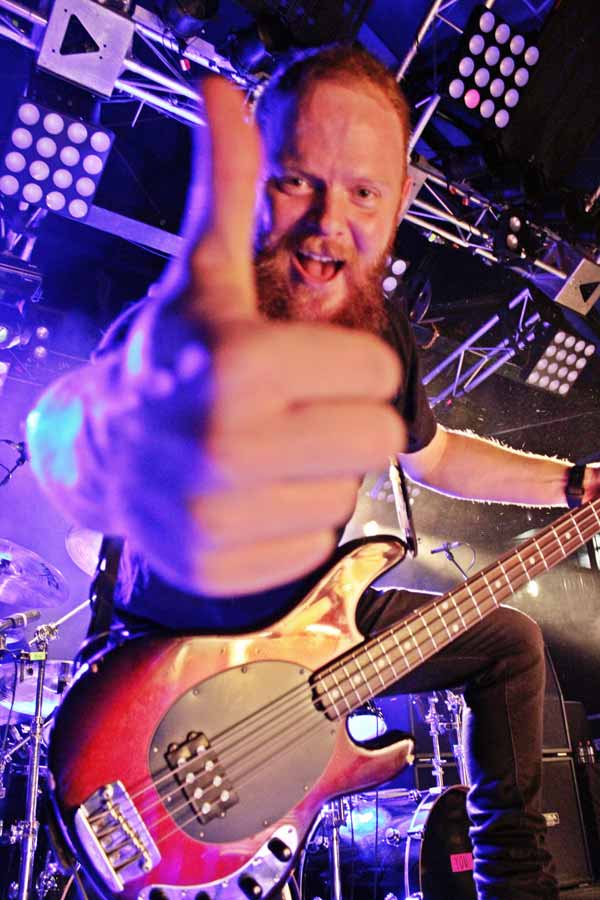 Atreyu - image © Lilly Brecht
The short setlist had everything from a cover of Bon Jovi's 'You Give Love A Bad Name' and a 'Fresh Prince Of Adelaide' freestyle rap as the band stalled while waiting for a replacement amp for the rhythm guitar. The highlight of the show was bassist Marc McKnight nonchalantly making his way around the back of the mosh pit and walking through the crowd as fans double glanced before they realised who was standing next to them.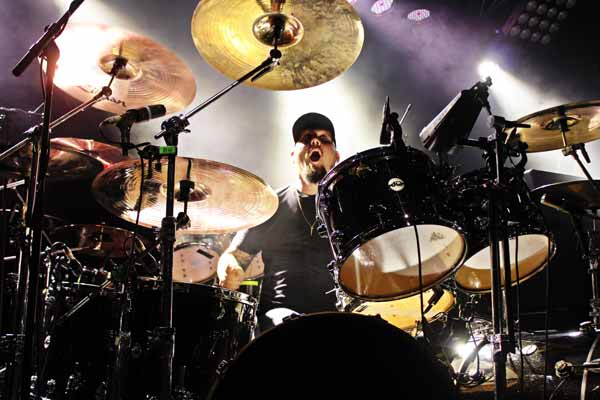 Atreyu - image © Lilly Brecht
Atreyu stole the show and the room was disappointed to see the band leave the stage.
It was surprising to see HQ packed with so many people eager and keen to see Bullet For My Valentine. The band has taken 'Venom' and resurfaced with a nod back to albums such as 'Fever' and 'The Poison'. Bullet kicked off with album opener 'No Way Out'. With a massive response throughout their setlist, the band focused on songs from 'Venom' and highlights from their past albums. Perhaps self-aware, the band didn't seem to play anything from 2013's 'Temper, Temper'.
BFMV - image Lilly Brecht
Bullet For My Valentine have not only revamped with their new album, they now have a new line-up consisting of bassist Jamie Mathias and part-time replacement Jason Bowld from AxeWound. This gives a new level of energy and musicianship to the band. Jason now covers most of the vocal screams and partners with lead singer Matt Tuck on certain vocal melodies.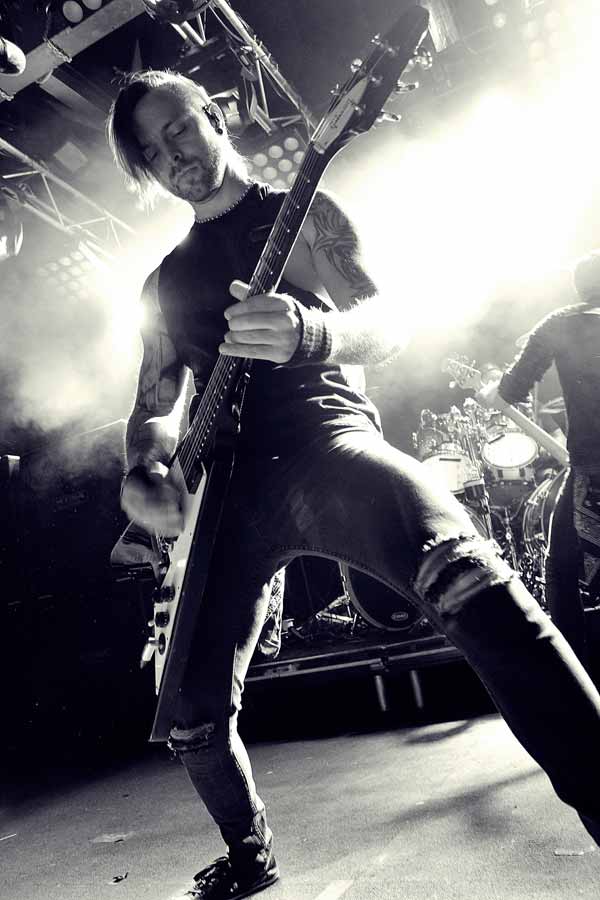 BFMV - image © Lilly Brecht
Jason's screams are perfect and are arguably make Bullet For My Valentine sound the best they have ever sounded live. Drummer Jamie has an addictive smile on his face the whole time he is playing. As he did an awesome, technically-sound drum solo he looked like he was having the time of his life, which is refreshing to see compared to the generic metal scowl.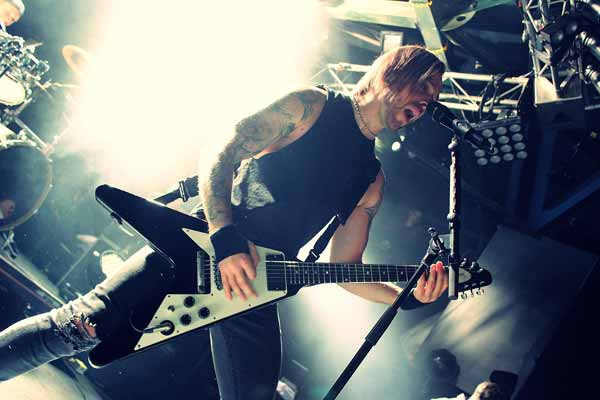 BFMV - image © Lilly Brecht
Bullet ended with one of the best encores in recent history. Starting off with emo favourite 'Tears Don't Fall' everyone in the room screamed along and had flashbacks to a time when life was more emotionally poetic. The band announced that their last song was going to be a heavy one hitting the starting riff to 2008's 'Waking The Demon', the mosh gave it their all for last final farewell. Vocalist Matt turned to the band and nodded as he declared "Do you want one more?"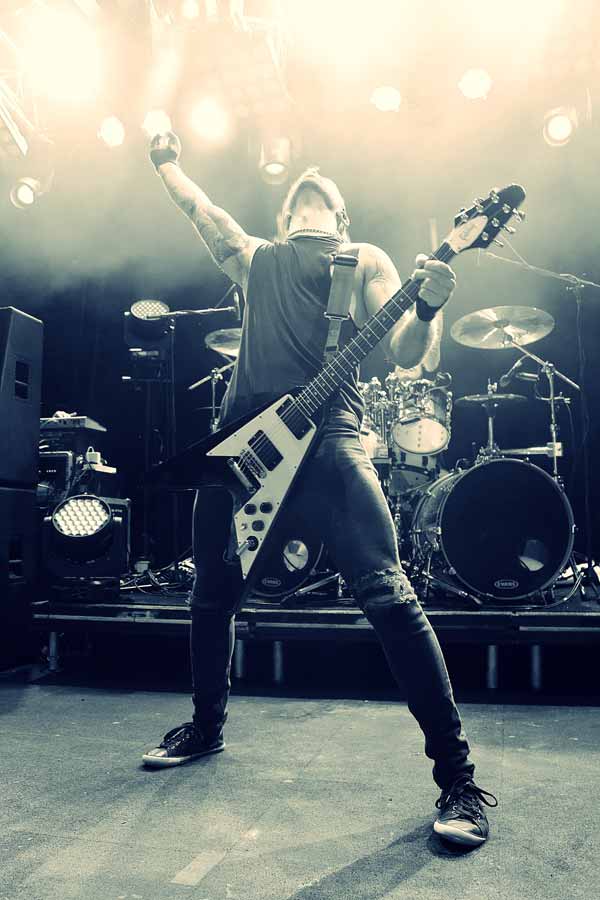 BFMV - image © Lilly Brecht
Adelaide was deservingly treated to an apparently spur of the moment rendition of heavy hitting favourite 'Hand Of Blood'. These three final songs were great for the older crowd in the room who could revert back to their teenage metal highlights.
Click here for photos.
Bullet For My Valentine are well and truly back with a revamped live band and an album that gives a kick back to nostalgia while still matching a modernised evolving sound. If you're an older fan debating going, do not miss it.