Day 1


It begins with Snarky Puppy, soul-nourishing funk and groove and the perfect, magical festival intro.
Intense, mesmerising, goosebump-inducing eclectic psychedelic jazz. An old-world nostalgia that is strangely futuristic. Builds to a rousing crescendo then a filthy, funky drum-bit. A trumpet solo at the end that Miles Davis would not have sneezed at: lilting, serendipitous, a foretaste of the magic that awaits.

Vintage Trouble - image © Lachlan Douglas
Then to Vintage Trouble rocking flamboyant old-time threads, flying air kicks and charisma. "When I say naked, you say woo!" "Naked!" "Woooooooo!"

It's just begun and I've already been transported to another world, twice.
It's an older world where boys rock suits and music is everything. During 'The Battle's End' frontman Ty Taylor preaches tolerance and love. Pure soul, of the soul and for the soul. The full moon is glowing.

Click here for Day One photos.
With a blistering horn section, groovy basslines and psychedelic guitar, teleporting the crowd from the Australian surf coast into a dark, smoky bar in New Orleans, Trombone Shorty & Orleans Avenue is sensuous, rhythmic and vibrant. The bass player grooves chunky-swampy blues riffs while the two saxophonists conjure old-time jazz rhythms.
Free of make-up, androgynous in monochrome clothing, grey hair in plaits, that scowling intensity, Patti Smith & Her Band perform 'Horses'.

 She opens with 'Gloria', progresses to an old-school reggae bit introduced by spoken word that floats into fierce blues lyrics: the two meld.
The crowd shifts from side to side. Her voice rises. So much empathy, yet so alone. That heartfelt presence. Singing of things lost. Her acoustic set opens with an impassioned and gravelly reading of Footnote to Howl by Allen Ginsberg, her late contemporary and friend. It is the last time she will perform 'Horses'. She says simply, (mid set), "Goodbye".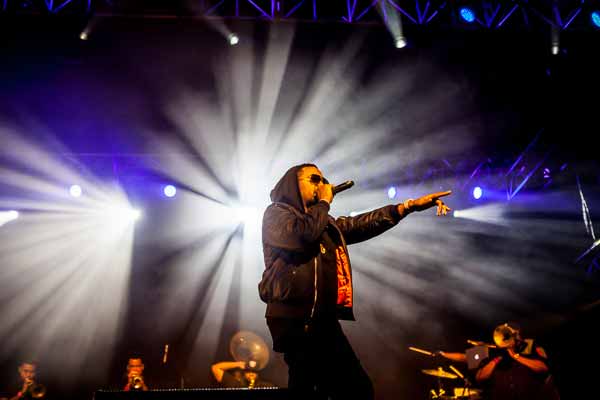 Nas & The Soul Rebels - image © Lachlan Douglas
Incongruously what follows is an insistent thumpy drum beat; throbbing bass, time to get down and dirty with Nas & The Soul Rebels. My comrade in arms, whiskey vagabond, purveyor of blues, is beside himself beside me. He turns amid the deafening roar and bellows:"Do you know what this is? This is the best rap ever. This is poetry." The crowd feels the same.


Then it's on for young and old as the big, horny brass band covers 'Fresh And Clean' by Outkast. Snatches of 'One Love' by Bob Marley float into my ears as I push my way through the crowd. Every inch of The Soul Rebels' NOLA charisma is evident in the incendiary set they play, sans Nas, a day later.
Nas' ridiculous bling catches the light as he yells to the young, glittery crowd: "I don't know if anyone here has ever owned a cassette tape. But this is how you press play."
Day 2


Strains of a harmonica and a plaintive woman's voice drift and echo over the campsite as festival goers emerge sleepily, fumbling for their things.
Rhiannon Giddens - image © Lachlan Douglas
From the outset Rhiannon Giddens' set is hypnotising. That arresting voice I recognise from the Carolina Chocolate Drops – its potency and resonance – flies out and soars over the Crossroads stage, magical from the get-go. A rhapsody from another time.


It is folk music and storytelling, performed with a raw beauty that I don't have enough adjectives to stumble for. Otherworldly, ethereal, dreamy but not reticent. Songs of all the warrior women there ever were. Of despair and oppression, but more importantly, of resistance and ultimately survival.


She's playing a banjo, then a violin, the drums are heavy, then funky, then bluesy. This is the kind of mysticism that cannot be produced or manipulated using electronic tools. Rhiannon says she plays "a lot of historical music… so that we can know about the future". She plays a song with lyrics that evoke the American Civil War, where a newspaper advertises the sale of a black woman slave. I start crying before they've finished the opening chords.

Click here for Day Two photos.
Then she plays a song on the violin, an American folk tale about a people that grew wings and flew to freedom. The ones that couldn't fly stayed and forever re-told the story of those that ascended to a better world.
I follow the photographers into the throng for the indelible charismatic stylings of Ellis Hall & Vasti Jackson, featuring an electrifying piano solo and incredible tabla percussion. Eat, sleep, blues, repeat.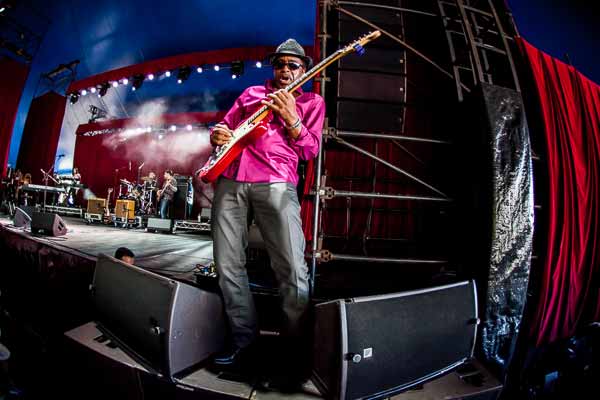 Vasti Jackson - image © Lachlan Douglas
The real magic of this festival is things you stumble on by accident. Like going backstage to fill up my water bottle and tripping over Vasti Jackson and Devon Allman's bassist jamming in the Gibson tent.
Like The Strumbrellas halting my gumboot power-stride with 'Shovels And Dirt'. Or Leopold's Treat on the busking stage, who magicked the crowd with their
song 'Time To Fly'. "I wrote this while I was sitting by a creek a while ago."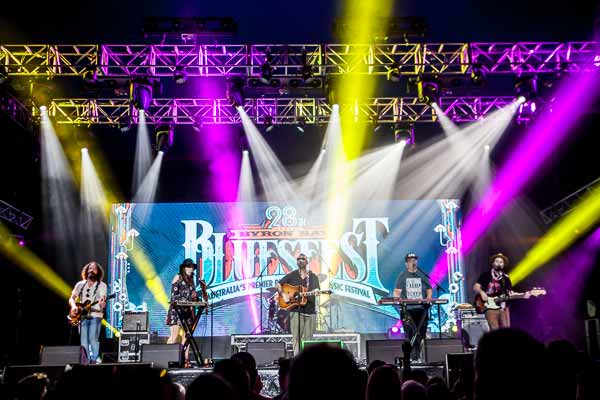 The Strumbellas - image © Lachlan Douglas
Or the thing that really stops me in my tracks, finding out Jason Momoa aka Khal Drogo – my sun, moon and stars – was getting his party on at Bluesfest. Not a drill.
Day 3


Beth Hart gets on stage with Vintage Trouble for some blues-rock rompy-stomp fun times playing 'Run Baby Run'. Afterwards thump, thump-thumpy drums and moody-funk basslines with Laura Mvula; that audacious voice, beauty with a keytar. "Some people find it hard to say my name. Just think of something that tastes good."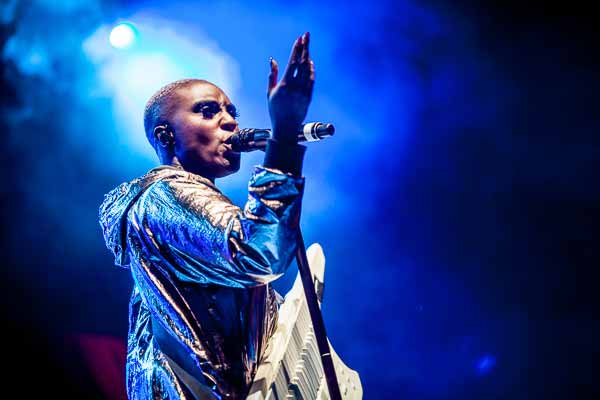 Laura Mvula - image © Lachlan Douglas
The arresting presence of Irish Mythen captivates the masses with a heartfelt set that tugs at the heartstrings and claws at the crowd, pulling everyone across an emotional spectrum that moves from joyous reverie and laughter to compelling, awe-inspiring melancholy.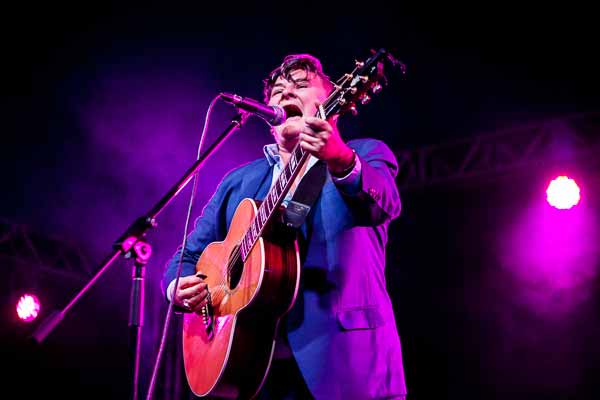 Irish Mythen - image © Lachlan Douglas
Then it's getting down to business time with some serious rock & roll blues from The Record Company. Then Roy Ayers. Mood: sensual (with apologies to the IT crowd).

Click here for Day Three photos.

I go to mingle amid the aromatic air that circles above The Doobie Brothers crowd. Their twangy, old-time guitar sound matches their twangy, old-time voices; straight outta the '70s. A fiddle bit gets the slightly subdued crowd jumping. Little kids jive in their pyjamas and couples circle dance roundabouts upsetting the gravel. Honky fucking tonk.
Day 4


Coffee with my new best friends Dave and Dave camping next door in gypsy town. I swim in the icy ochre waters of the tea tree lake. Then throw myself headfirst into the bubbling swell of warm ocean water. I find out Patti Smith donated $10,000 to the northern Australian flood relief and restoration fund. The morning has already been all kinds of uplifting.


Irresistibly drawn in by Nic Cester's pervasive upbeat, jazz-funk rock. His lyrics ('the truth always comes/ you're not fooling anyone') is like Bluesfest I think as I sip life-affirming black coffee from the 'Motley Queue' at the Mojo Café. Everyone here is themselves and not pretending to be otherwise. No bros at Bluesfest.


Click here for Day Four photos.
Then to the raw, grimey, punky-pub rock stylings of 'the royal southern brotherhood,' Devon Allman Band. "Not a bad way to start an Easter Sunday. Are you feeling good?" he asks. And I think, 'why yes Devon, yes I am'. Especially after his cover of 'I'll Be There' by The Spinners.
Then a woman takes centre stage and takes everyone's breath away. The Suffers vocalist Kam Franklin has a voice to rival Aretha's. What a babe.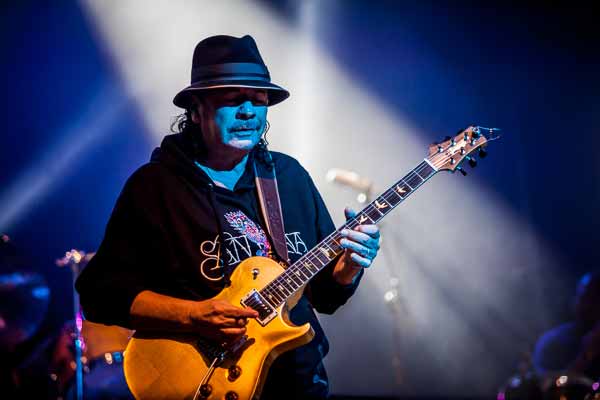 Santana - image © Lachlan Douglas
Three-quarter moon's glow in the lamps as the sun starts setting slowly. The electric, spine-tingling intensity of Santana, singing in Spanish, lilting, fluid, melodic, mesmerising... again, I am breaking writing rules and losing the adjective olympics.
From pulsating flamenco beats to downtempo reggae feels, his irresistible Latin sound, flamenco grooves, thumpy percussion, your hips start to swing of their own volition: excitement, escape, release.

 The perfect state to be in when Booker T plays 'Green Onions'.
In the end
According to Playing for Change, 'it's not just about people playing music but living music. That's what Bluesfest is all about.'
Bluesfest is a magical circus space where babies wearing too-large headphones being wheeled around in prams festooned with fairy lights can rock out with octogenarians and everyone in between. You can be a soul sister, a blues brother, an ageing rockstar, an emerging diva, an experimental vegetarian, occasional occultist, grunge surfer or a shamanic wizard and that's ok.
Click here for Day Five photos.
Patti Smith, the rock star powerhouse stood on stage with no make-up, untouched by plastic surgery or the esoteric modern markers of what is considered beautiful, and held over 100,000 people captivated in the palm of her hand, quoting Ginsberg: "Holy the groaning saxophone! Holy the bop apocalypse! Holy the jazz bands marijuana hipsters peace peyote pipes & drums!"
This is Bluesfest, which exists for and because people love music so much it bruises their soul.