BlenheimFest began in 2010 as a private paddock party for a small group of friends; three bands, three DJs and a skate ramp situated around an historic bluestone homestead.
Seven years later, the line-up has expanded exponentially but the warm and jovial atmosphere remains; it is still a festival for friends, just friends that you have not made yet.
Over the two days of the event (13-14 April), you will have shared a table, a dancefloor or potentially even a tent with kindred spirits; lovers of local music, supporters of the arts and of benevolent causes.
Click here for more photos.
There was little to no macho bravado. While BlenheimFest has a 'no dickhead policy', it is not strictly enforced because it does not need to be; a dickhead has no place in this carnival where children dance with parents, silver nomads embrace and every passing face is affixed with a smile.
It was a much finer way to spend your Good Friday than watching midday biblical dramas, eating a bland fish dinner and lamenting the widespread closure of public amenities.
In a day where music, beer and wine flowed freely, here were some of the highlights.
What's your flavour?
Like a box of Cadbury Favourites gifted on Easter Sunday, BlenheimFest offered a diverse line-up of genres to cater to every palette. For those who could not make it to Byron Bay, Lazy Eye channelled the Blues Brothers and Bo Diddly with their vintage 1963 organ.
The Timbers - image © Ross McNaughtan
The Timbers, Aidan Jazzy Jones and Ciaram Granger delivered the foot stomping hoedown vibes that were so apt for the rustic surrounds. In contrast, Max Savage & The False Idols and Maggie Rutjens played tracks inspired by the sounds of '80s, with pub rock and synth grooves respectively.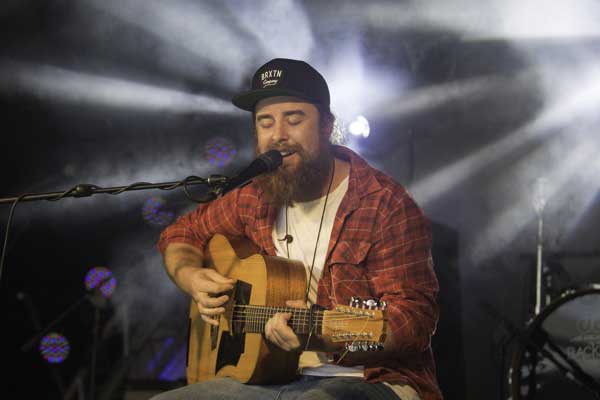 Ciaram Granger - image © Ross McNaughtan
Acts like Bullhorn and Chiara La Woo, meanwhile, defied genre classification, with both fusing an array of last century's sounds into something excitingly new.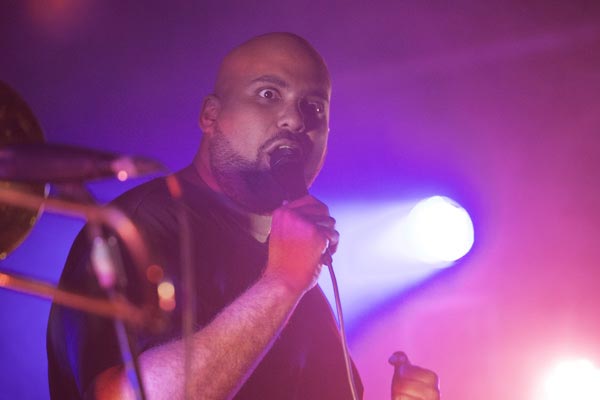 Bullhorn - image © Ross McNaughtan
Britney's Back, Alright
Cover versions are an obligatory component of a band's festival set-list; they are a guaranteed party starter. The Coconut Kids, fresh from South By South West in Austin, Texas, and sporting comically garish, fluoro tracksuits, unleashed a tightly honed mash-up of Backstreet Boys, Britney Spears, House Of Pain, Ricky Martin, Kelis and Eurythmics. Britney is cool again.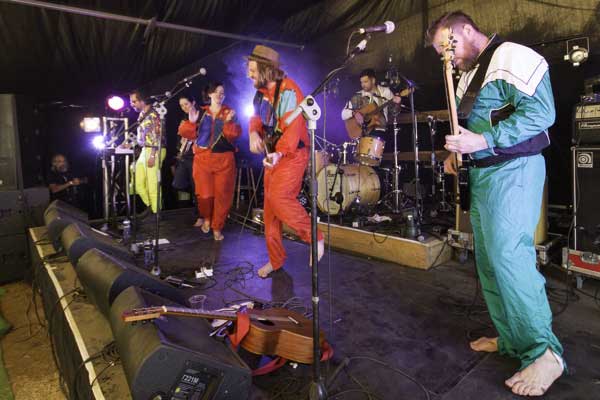 The Coconut Kids - image © Ross McNaughtan
Sahara Beck, her lips painted black, delivered a withering take on Spears' 'Toxic'. Breaking up with Beck is a very bad idea; she has a caustic pen and a wilting delivery.
Sahara Beck - image Ross McNaughtan
The Chiara La Woo brothers, resplendent in hillbilly denim overalls, added new spice to Gorillaz' 'Feel Good Inc', while The Timbers and Aidan Jazzy Jones harkened back to an earlier age with their Cab Calloway and The Jungle Book tributes.
More Top Brass Than the Pentagon
There were trumpets, trombones and saxes aplenty, while Bullhorn featured the mighty tuba, which bobbed and rumbled upon the musician's shoulder. While Bullhorn and Deep Street Soul were purveyors of the American big-band sound, Nicky Bomba, now with Bustamento, served the Caribbean flavour.
Deep Street Soul - image © Ross McNaughtan
When not bellowing out her soulful vocals, Ash from The Coconut Kids blowed and slid the trombone along with her trumpeting colleague. While the wind was serenely still upon the Clare Valley plains, there was a whole lot of blowing going on.
All The World's A Stage
Performances were not confined to the two live music stages; jugglers and stilt walkers wandered, as did the sometimes perplexing performance artists from The Bait Fridge.
The local swing troupe, The Various Nefarious, summoned magically impromptu moments with their musical wizardry, serenading the unsuspecting under an expansive tepee. The roaming artists were just another thread in an immaculate tapestry.
The Clare Valley in South Australia is fertile ground and this festival will only continue to grow as the word continues to spread.
Click here for more photos.