Former Powderfinger frontman Bernard Fanning returned to his hometown for a night (10 November) filled with rousing anthems.
Seeing Bernard Fanning on a hot and humid night may just be the most Queensland thing I've ever experienced. The amount of adoration for the singer-songwriter in his home state could be counted by the hundreds of people packed into The Tivoli Theatre for the first of two sell-out shows, joyous to be in the same room as their idol.
Click here for photos.
It was hard to hear the sets of the supports Ainslie Willis and Dustin Tebbutt, with the audience chatting loudly over the top of their largely stripped-back folk music.
But when 'Bernie' (as one fan I talked to who travelled several hours from Western Queensland called him) stepped on the stage, he was able to silence the raptures of applause when he opened with 'Civil Dusk' track 'Unpicking A Puzzle', alone with just his voice and acoustic guitar.
Image © Sophie Wakefield
Soon after this discreet start, Bernard broke the tension by bantering with the audience, as he did the rest of the night. When informing the audience the number of reasons this particular show is so special to him – his 21st show at The Tivoli; his whole family was there – he was greeted by a woo, with which he jokingly responded: "What is this? A fucking episode of 'Ellen'?", then offering to go to their workplace to woo and drink.
Bernard's fun personality shone through at different points throughout his set. After finishing 'Not Finished Just Yet', Bernard and his backing band The Black Fins launched into a jam featuring the familiar riff of Black Sabbath's 'Iron Man'.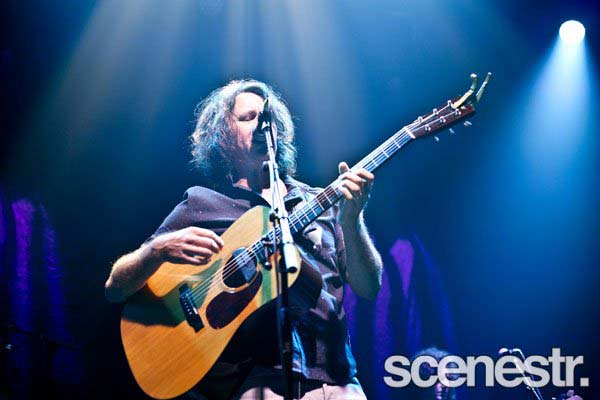 Image © Sophie Wakefield
The band left the stage after the heavy metal workout, leaving Bernard alone at a piano to perform 'L.O.L.A', a song dedicated to his family's lost pet hamster. Soon after, he picked up his acoustic again for a rendition of Powderfinger song 'Sail The Wildest Stretch', dedicated to former bandmate Ian Haug.
Bernard welcomed his band back on stage for a rousing rendition of 'Civil Dusk' lead single 'Wasting Time', then took a step back to let guitarist Andrew Morris take lead vocals on the Steve Miller Band's 'Jet Airliner'. Rather than leave the stage and return for an encore, Bernard decided to stay on stage and begin the chant of encore himself, reasoning that everyone knew an encore would happen, so may as well go straight into it.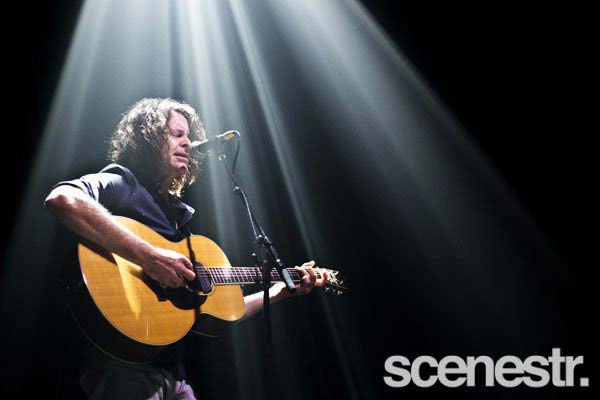 Image © Sophie Wakefield
The opening chords of 'Wish You Well' were enough to lead the crowd into a state, singing along to every word. To finish, Bernard took to the piano alone once more to deliver a spirited version of the Powderfinger classic 'These Days', showing that Bernard is not just a charismatic performer, but a writer of some of the most powerful anthems for many Australians, let alone Queenslanders.
Bernard then transitioned into a spirited Prince tribute with 'Purple Rain': a beautiful finish to a night of hometown pride.
Click here for photos.