The Djent genre has evolved considerably since its inception.
From its early days where the genre was simply a way for musicians to worship at the polyrhythmic altar of extreme metal gods Meshuggah, Djent has spawned numerous bands who have managed to break free from the genres constrictions by incorporating elements from other styles of music to create entirely unique music.
Chief among these bands is Animals As Leaders, who packed out The Gov's bandroom this Wednesday night (1 March) for an incredible evening of instrumental bliss.
Click here for more photos.
Canadian instrumental guitarist Nick Johnston managed to draw a crowd early in the evening with his technical ability and bluesy compositions. Flanked by Plini's band, Johnston soloed his way through the majority of his songs which, while technically proficient, were not able to capture my interest in the way the rest of the bands were able to.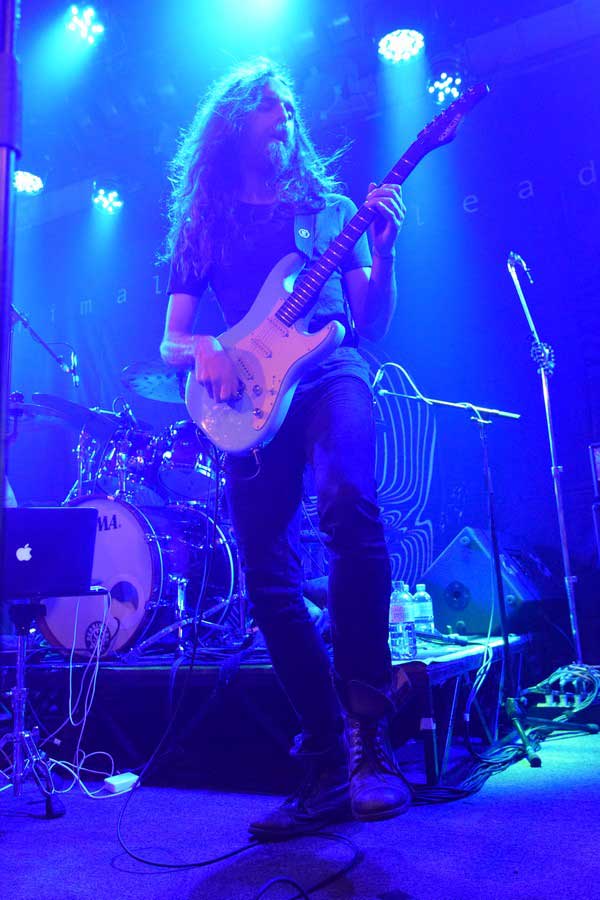 Nick Johnston - image © Jordan Bird
Nevertheless, the sizable crowd were impressed by his skills, though they were about to be blown out of the water.
Plini and his absurdly skilled band seemed to catch the audience by surprise, not quite prepared for a display of technicality on par with the evening's headline act. Their setlist was varied, tackling songs reaching back as far as his jazz-inflected debut EP, 'Other Things', through to his more progressive 2016 LP, 'Handmade Cities'.
Plini - image © Jordan Bird
While Plini himself is given the spotlight, the other band members have more than enough opportunity to show their capabilities. Of particular note is bassist Simon Grove, who plays more like a second lead guitarist than a bassist, running his fingers up and down the fretboard like an acrobat and finger-tapping like it was going out of style.
Despite the often mind-melting complexities of his songs, neither Plini nor any member of his band ever miss a single note. While one may expect such intricate music to require the utmost level of concentration to play, Plini and co. seem completely relaxed on stage, smiles plastered over their faces and playing with such sheer enthusiasm for their music that you can't help but find yourself smiling too.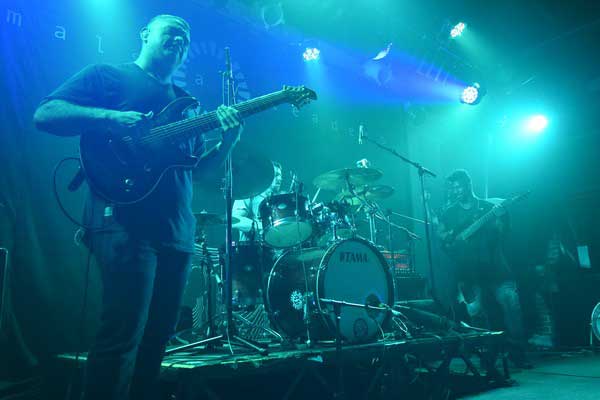 Animals As Leaders - image © Jordan Bird
Emerging to roars of applause, Animals As Leaders began their set by playing through the first third of their latest album, 2016's 'The Madness Of Many'.
Lead guitarist Tosin Abasi's technical ability is undeniable, and is somehow able to simultaneously emulate the basslines of the songs (as they have no bassist) on his guitar's lower strings while managing to play complex melodies on the higher strings.
Animals As Leaders - image © Jordan Bird
While eight-string guitars have become the fashion for many Djent bands, Abasi is one of the few guitarists who fully utilises them, his fingers running all over the fretboard with a speed and precision that would make any guitarist in the audience want to go home and sell their instruments.
Abasi himself is not unaware of this, mentioning that "between Nick [Johnston], Plini and us, I don't think there are any notes left to play".
Animals As Leaders - image © Jordan Bird
Heavy riffs and technical wizardry were the order of the day, destroying eardrums with 'Tooth And Claw' and 'Ka$cade'. The intensity of their songs was only briefly dialled back when they played the slower paced 'Physical Education' and 'The Brain Dance' back to back, giving the audience the opportunity to pick their brains up off the floor, before being assaulted again by 'The Woven Web'.
Before launching into their encore of 'CAFO', Abasi took a moment to express his gratitude to the crowd: "It's amazing to me that nobody here has sung tonight, and yet there's a room full of people here. Thank you for being music nerds, keep supporting instrumental music."
If the level of skill for all instrumental music was more like that on display here, vocalists could well become obsolete.
Click here for more photos.