All Time Low have finally returned to Australia for a well-overdue headline tour, before they begin a new chapter with their latest album 'Last Young Renegade' (out 2 June).
The band gave Adelaide a taste of what's to come at Thebarton Theatre (16 May).
Opening the night was Arizona's alternative pop-punk darlings, The Maine. The band slowly won the crowd over with hits from their 2015 album 'American Candy'. The Maine made sure to get every person in the audience moving by the end of their set as they jumped into their anthem dance hit 'Bad Behaviour'.
Click here for more photos.
Pop-punk up-and-comers Neck Deep launched the crowd into chaos with highlights from their sophomore album 'Life's Not Out To Get You'. Neck Deep are the love-child of Sum 41 and Blink-182 and seem to be the only band capturing the classic, nostalgic pop-punk/ punk-rock sound from the early 2000s.
With an unexpectedly gigantic response for a support act, Neck Deep had the crowd chanting along and gave the unfamiliar viewers a showcase of their best and latest work.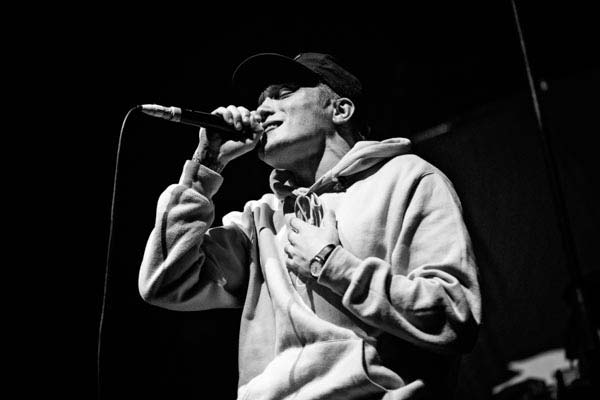 Neck Deep - image © Erika Owens
This included a full-band version of their Mark Hoppus collaboration 'December', their bass-heavy tune 'Rock Bottom' and lesser known fan favourites 'Lime Street' and 'Serpents'; while throwing in a few early standouts from their short career: 'Losing Teeth' and 'What Did You Expect?'.
Before leaving the stage, Neck Deep hinted at a return to Australia sooner than we think with their new third album in tow.
All Time Low took to the stage alerted by a unanimous screech of the crowd. The packed Thebarton Theatre sang their hearts out as All Time Low prematurely launched into one of their biggest singles to date and expected encore standard 'Weightless'.
From there, All Time Low continued with a steady rise of energy as they performed familiars 'Somewhere In Neverland', 'Damned If I Do Ya (Damned If I Don't)' and 'Six Feet Under The Stars'.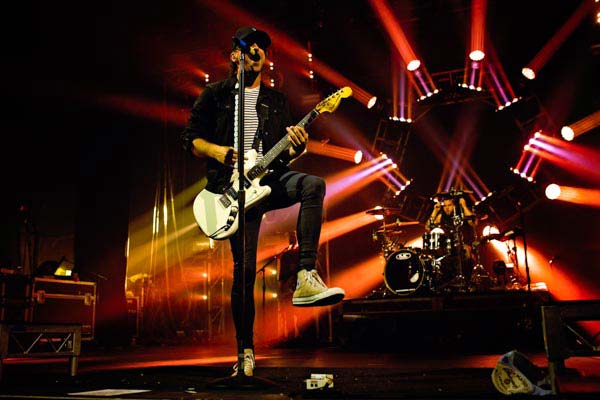 All Time Low - image © Erika Owens
The band returned to Australia with two albums worth of new songs as they hadn't officially visited Australia since their latest and biggest success, 2015's Future Hearts. This included stadium anthems 'Kids In The Dark' and 'Something's Gotta Give'.
Their next chapter 'Last Young Renegade' follows 'Future Hearts', the band moving forward and exploring new sonic-territory. All Time Low performed the first taste of 'Last Young Renegade', the three released singles 'Dirty Laundry', 'Last Young Renegade' and 'Life Of The Party'.
Unlike their mellow, new studio recordings, the live performance of these songs were given a shot of intensity. The live versions differed from the recordings, with a progressive climb to an ear-blistering, drum smashing, bass heavy and very distorted guitar most evident in 'Dirty Laundry' and 'Life Of The Party'.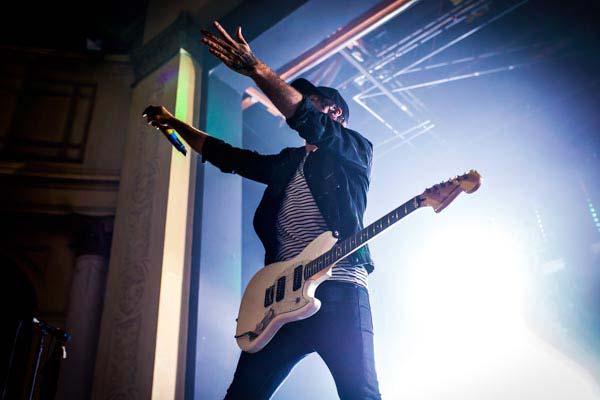 All Time Low - image © Erika Owens
All Time Low's cult-like following was most clear during acoustic ballads 'Therapy' and 'Missing You' where the audience's voice rang decibels louder than lead singer, Alex Gaskarth. The show ended with an encore of 'Lost In Stereo' and the song that launched them into the ears of every high schooler around the world, 2007's 'Dear Maria, Count Me In'.
All Time Low are heading in a different direction with their sound in the best kind of way. With a more mature style, instrumental experimentations and new elements to their live performance, All Time Low have managed to bring new life and a contemporary sound while still keeping their roots.
Alex Gaskarth's voice and the band's instrumentals have finally met in the middle to morph into a pair after drifting in opposite directions throughout their years of 'Don't Panic' and 'Future Hearts'. With 10-years worth of material, All Time Low have put together a setlist that new fans and old can find themselves singing every word to.
While the band's on-stage chemistry and tight sound is at an all-time high.
Click here for more photos.