She inspires devotion like no other artist, with a voice that could stop time and who chooses to sing from that terrifyingly, vulnerable place in her soul, Adele is an inimitable, undeniable, artistic force.
But that's not why people love her. It's because she's refreshingly, beautifully, unapologetically real. Authentic to a fault, endearingly honest and with that every-woman aura that makes her feel instantly like your best friend, Adele wears her heart on her sleeve and shares her thoughts with you like you're her therapist.
Couple all of those things with THAT voice, with lyrics that slice you open and soothe you simultaneously and with an ability to craft an insanely-memorable melody, Adele has redefined the boundaries of what being an artist means.
As everyone entered the stadium (4 March), they could see a video projection of Adele's closed eyes up on the huge screens and when the lights went down, the eyes snapped open and the real Adele appeared beneath them as the screens were raised high above the stage.
In a floor-length Burberry sequin gown, with her trademark winged-liner and a soft, shaggy bob, Adele epitomised old-world glamour and the crowd was screaming their approval. Without speaking, she simply started singing 'Hello' and from that moment, the crowd became a singular entity, singing, moving, swaying, smiling, laughing and crying together.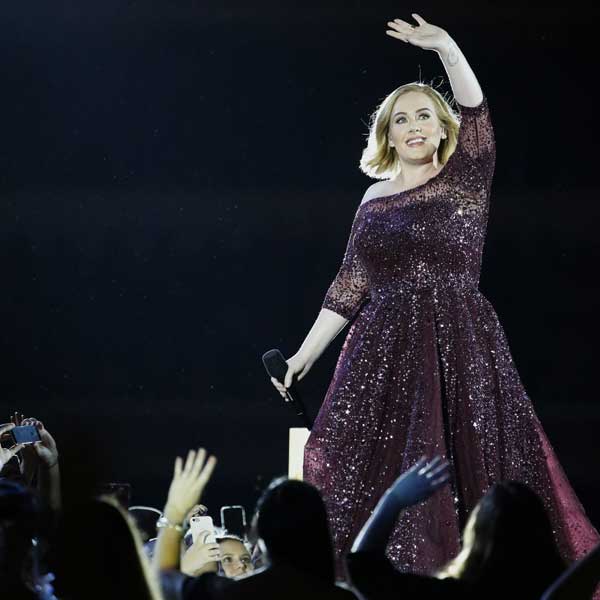 Image © Glenn Hunt/ Getty Images
It was surreal experience, but proves what's possible when everyone is united. She performed three songs before uttering a word to the crowd. After 'Hometown Glory' (where her production team edited images of Brisbane into her video montage) and 'One And Only', she paused, patted her glowing face with a towel and started talking about the weather.
"Obviously I'm not cut out for this weather and I can't have air con because it dries out my vocal chords, so I've been sweating like a pig." And it's this uncensored, unfiltered banter that invites respect and adoration.
She then went on to discuss the controversy of playing at The Gabba, which had built up in the days before her shows with many predicting chaos on the roads outside and a logistical nightmare inside. Adele told everyone to stop moaning about it and to look around. And she was right, the event was flawless.
Well organised, calmly managed with help available every which way you turned; the lines for food and drinks were manageable and the toilets stayed clean. The green oval was transformed into an arena spectacular in the round and the term 'front and centre' applied to the entire audience as Adele strolled around the circular stage, ensuring everyone could see her for every song.
And in between the songs was her signature small-talk that everyone loves. Oh, how she killed it up there in the comedy stakes. If she ever retires from performing music, she would be an instant success as a stand-up comedian.
At one point, she noticed all the people watching from the surrounding high-rise buildings and called out to them. To see an entire wall of people at patio parties all waving back excitedly was brilliant. And at another time, she stopped the show to inform the person sitting in seat 225 right at the very back that there was a letter and photo of her stuck under their seat for them. It was all these little moments that made it amazing.
No one questions her talent, no one queries her voice, but perhaps people underestimate the power of her personality. And it's that personality that shines in her songs, allowing people to hear her heartbreak and feel her despair, to giggle understandingly at her revengeful glee and to acknowledge their own, internal struggles.
She shines a light on the darkest parts of her psyche and allows music to heal them. It's her brutal discipline to go to those uncomfortable places that allows her to soar to the highest heights of joy as well. And then she puts all of that in a song that is incandescent and inspiring and always seems to slide straight into your soul.
She covered all the classics from 'I'll Be Waiting' to 'Rumour Has It' to 'Skyfall' and 'Chasing Pavements'. There was two confetti showers, bouncing plastic balls let loose in the crowd and a t-shirt gun to fire Adele tees out into the crowd. Add fireworks and you have everything you need for the ultimate, stage show.
After an hour and a half, she had a costume change and came back in a black, velvet suit to finish the show. In the interim, the crowd had become immersed in KISS CAM and everyone watched enthralled as couple after couple spotted themselves on the big screens and lunged towards each other for a hilarious, awkward, sweet and passionate array of smooches.
Ending with 'Someone Like You', Adele shared about the impact of this song on both her as a woman and as an artist. She thanked everyone for coming and seemed genuinely appreciative of the love of her fans. Her voice never wavered, but the emotion was palpable. At one stage, her eyes glistened with tears as the crowd roared their adoration for her.
She started singing her final song and the audience erupted. Her voice strong, soulful and deep carried out across the 60,000 strong crowd as easily as if she was standing next to you. She looked joyful and at ease, glowing as if lit up from within, and her voice soared and shot fireworks into your heart.
Her evolution as an artist will continue but right now, Adele is at the top of her game and untouchable. It seems as though her painful past has fused with her current, joyful reality to create a force that has the power to change humanity, one song at a time.