Things I learnt at A Rock & Roll Writers Festival included the sociology of rock and the sociology of youth are inextricably linked; the impossible paradox of the corporatisation of rock; the guitar is the eternal phallic symbol; and the ukulele is definitely in no way whatsoever a joke instrument.


In ancient times music was used for it's power to heal; ancient cultures embraced certain timbres and sounds that were felt to be soothing and restorative.
Shuffle forward to the 2017 A Rock & Roll Writers Festival, the second of its kind, where the pervading question throughout the weekend was: Can a record define the times in the 21st Century?
Image © Claire Antagonym
The comforts of madness
In 'The Comforts Of Madness' session, moderator Ian Shedden, with panellists Cash Savage, Mike Noga and Adalita, put a microscope on the process of composing songs and the conscious manifestation of subconscious thoughts and desires through writing words and music. "I have had moments where I've made myself cry on stage. Those moments where I have thought, God I'm good and awful," Mike Noga revealed.
On songwriting, Adalita of Magic Dirt said fervently: "[To write] I have to be immersed in myself. I have to be marinated in me." On heartbreak and songs of loss, certain sad, love song lines "get me in the gut".
When the panel was asked what song they wish they had written and what is the best or most powerful line you ever wrote, Cash Savage left the audience a bit stunned with her haunting refrain: "Travelling is for the rich/ and wandering is for the brave."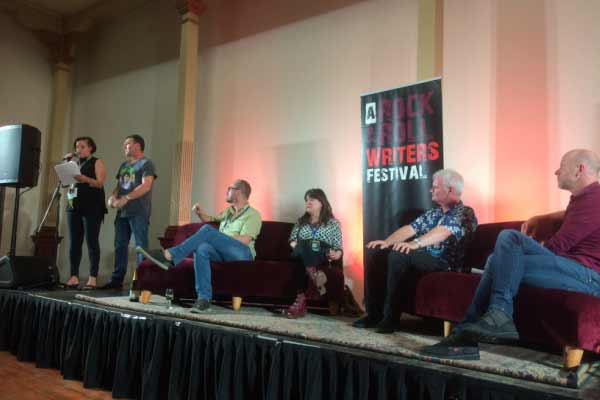 Image © Claire Antagonym L-R: Leanne de Souza and Joe Woolley (festival organisers), Michael Dwyer (Rolling Stone), Holly George-Warren, Roger Shepard (owner of Flying Nun label) and Rod Yates (editor of Rolling Stone Australia)
White Rabbit
The White Rabbit panel explored in-depth writing for and about women; unpacking the influence of women through their effect on writer's lives, their characters, their process and their connection with the audience.
All the panel members Peggy Frew, Nick Earls, Kirsty Eagar, Melissa Lucashenko were inspiring, yet sweetly self-deprecating and all shared stories of their collective experience of strong foundations of growing up with strong women.
"I've yet to meet a woman in my family who would take any shit," said Nick Earls, who told stories of an aunt in Belfast who would walk through crossfire to buy the sherberts that her nieces and nephews particularly liked, and the eternal impact of storytelling and reading from a young age.
The common threat of the panel – as with the festival overall – is that we are not benefiting from a culture that has very rigid definitions of masculinity and femininity.
Tim Rogers, frontman of cult, indie-rock collective You Am I, described the experience of rock & roll in his life as a retreat from an otherwise hyper-masculine world, living in a regional area where his dad was the local football coach.
This was one of many examples of magical times throughout the festival, where the process of writing and creating music creates a window of escape for the soul.
The algorithm as black art
The elusive algorithm is arguably how social movements are generated. Do we as music lovers resist? "I take pride in the fact that my Spotify playlist has not figured me out. I don't want that," said Cash Savage.
With everything music, the way we consume it is cyclical. Festivals are breaking down the idea of the existence of subcultures. It seems no movement is genre based, that the way we consume music is all about the medium it is transmitted through and the way the channels of dissemination are regulated.
Machines can now write songs. "Sounds like the perfect conditions for a revolution," was what Moderator Rod Yates, editor of Rolling Stone Australia Magazine, said.
This is the second time I have been lucky enough to be attendance at this wonderful event, a collision of music, writing and live photography. It is the only festival of its kind in Australia to explore the alchemical intersection of music journalism and literature.
In its essence it is pure mind-porn, with a lot of hilarity, cheeky banter and raucous anecdotes; of tours, of gigs, of awards ceremonies and playing in a David Bowie ukulele tribute band (Michael Dwyer, Rolling Stone Australia writer).
I cannot recommend attendance enough and sincerely hope this great enterprise keeps on keeping on.