When standing at a crossroad deliberating which way to spend Australia Day, taking the Laneway was easily the most convincing option.
Although arriving at any summer festival before 2pm often stamps out the chances of staying until close, Julia Jacklin's early timeslot was convincing enough to rise to the challenge and embrace the full-day affair. Having only recently come across her woeful-vocal hues spattered over the internet and independent radio stations, it was a pleasure to witness the artist showcase her quivering vocal chords and woozy melancholy live in the flesh.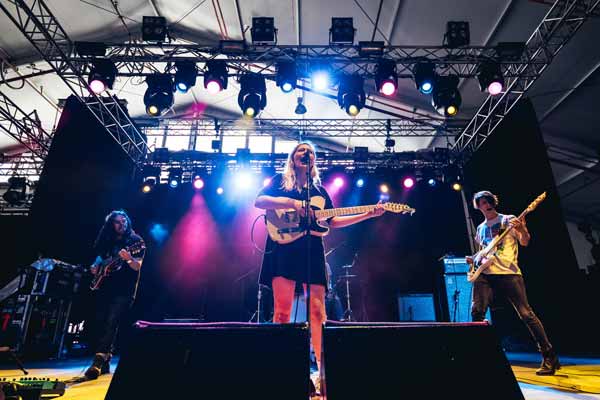 Julia Jacklin - image © Dave Kan
Jacklin has polished the art of combining soulful and emotive performing, with a nonchalant attitude and effortless demeanour.
Meanwhile, at the Future Classic Stage, 'G' of GL swished in a Queen of Hearts-like cape before a group of boogying audience members. The Melbourne duo layered sugary synths and heavy percussion with soaring vocals, transporting listeners to an '80s dancefloor illuminated by a spinning disco ball and Rubik's Cube floor tiles.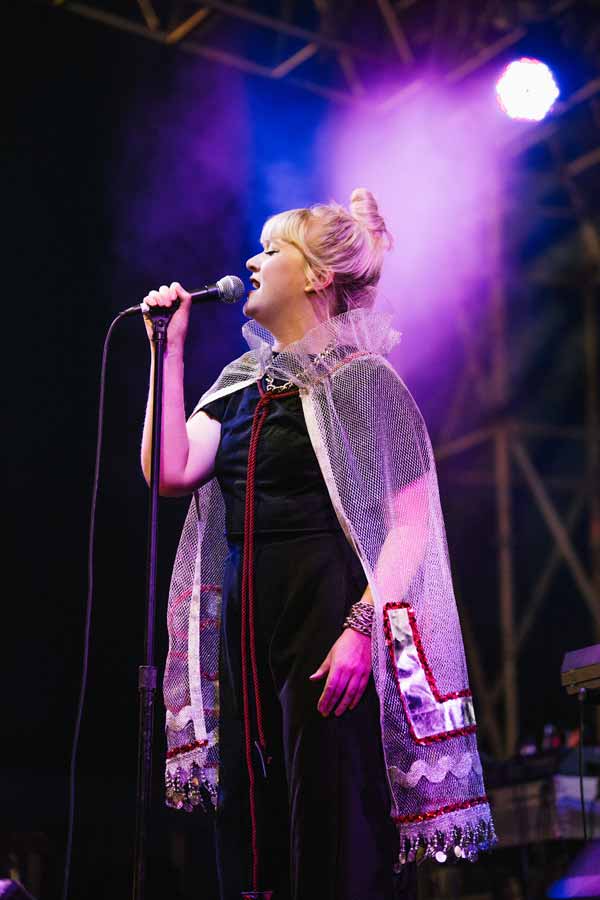 GL - image © Bianca Holderness
The Chicago-bred underdogs of the Laneway line-up; Whitney's six-piece set-up, steered by a drumming vocalist and sustained by a trumpet, bass, two guitars and a couple of keyboards, was visually captivating in itself. Tie a sense of hearing into the mix and the combined package completely bowls you over; what appear to be six teenagers fresh-faced from high-school bandcamp are in fact half a dozen pioneers in modern-day folk music.
Despite boasting such an eclectic selection of instruments, each song remains simple and understated. Rather than overcompensating and filling their tracks with unnecessary noise, Whitney subtly ties together what seems to be the bare minimum of each element to produce an absolutely beautiful collection of music.
Whitney - image © Dave Kan
"This song's about death!" vocalist Julien Ehrlich cheerily announced before playing 'Golden Days', while an ever-humbling "This song's about having a girlfriend, and then not having a girlfriend," comment preceded the set's stunning close with 'No Woman'.
As expected, the Good Better Best stage was packed out for Tash Sultana's appearance, and understandably so. The pocket-rocket balls so much raw talent into one, small being it's difficult to deny the urge of witnessing her magic in person.
Tash Sultana - image © Daniel Boud
Her performance was epitome of utter control; she had the audience eating out of her hands all while capably and confidently handling the guitar, loop pedal and drum pad in sync. Sultana's music bares an edge that's hard to pinpoint; although her sound could be described as reggae/ folk influenced, her tracks are laced with qualities of legendary rock ballads. No doubts 'Jungle' is well on the way to being described as one itself.
Dune Rats' – an unexpected though welcome addition to the Laneway line-up – 'Dalai Lama Big Banana Marijuana' paved the way for an absolutely killer set that didn't once waver in terms of intensity, energy and entertainment.
Listening to recorded tracks post-festival cowers in comparison to the live performance; those boys thrashed through each song with an unrelenting, unapologetic force, igniting so many fires it felt as if the entire tent would combust.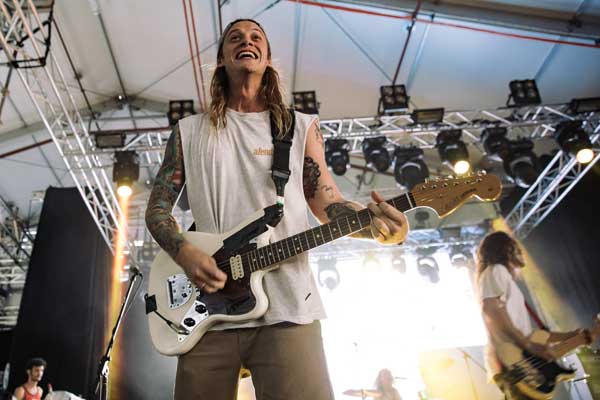 Dune Rats - image © Daniel Boud
Crowd favourites 'Red Light Green Light', 'Fuck It' and 'Bullshit' tore through the audience like a tornado, sweeping everybody up and trashing everything else in sight. The 45 minutes may have passed in a blur, but a blur that cemented Dune Rats' set as one of the most memorable from the day.
Already embedded in the mosh pit at the Good Better Best Stage, snaking through the audience to catch a closer glimpse of Glass Animals proved challenging; fans had congregated tight. High expectations for the performance were met and surpassed with flying colours; those four lunatics exude enough bizarre talent to instil you with questions as to whether they hold a key to unexplored musical realms.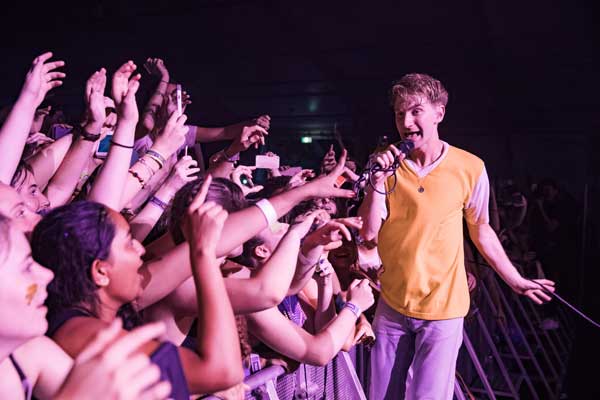 Glass Animals - image © Daniel Boud
Their sound can hardly be described as 'experimental'; the experimenting's well and truly wrapped up, beakers and Bunsen Burners locked back in the equipment cabinet; hypothesis proven; 'We're going to merge music with electricity'.
True to form, the resulting tracks charged the audience like a battery; a current ran through the crowd, sparking especially during 'The Other Side Of Paradise' and 'Season 2 Episode 3'. 'Gooey' shimmered, bringing genuine meaning to 'peanut butter vibes', while 'Pork Soda' proved a wicked way to close.
Disappointingly, the Future Classics Stage was only dotted with fans for Clams Casino, an artist whose live performances would benefit most by bouncing off an energetic audience. Nao's earlier set at the same stage was only sporadically attended, as well.
Though some may say the laidback atmosphere is refreshing – punters more musically-focussed instead of socially steered – it's always hard watching musicians put their all into an act witnessed by very few pairs of eyes.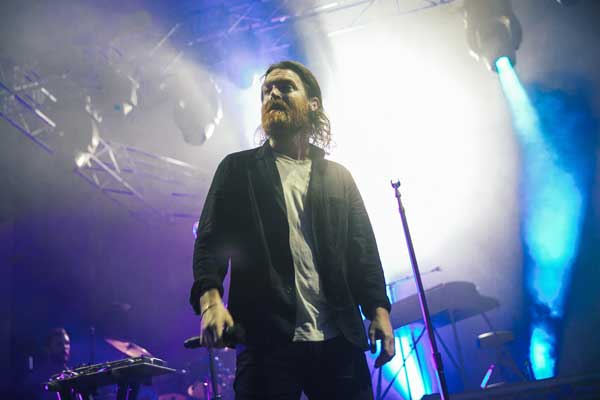 Nick Murphy - image © Daniel Boud
Chet Faker's new title brought with it an undeniable sense of uncertainty, triggering questions as to whether the change of musical direction would meet the mark of his previous releases. However, Nick Murphy's shining performance eradicated any flickering doubt in his change of alias.
Granted, trademark Chet tracks were better received by the audience; 'Talk Is Cheap' transforming the crowd into a chiming choir, the iconic guitar riff of 'The Trouble With Us' reinforcing its catchy nature, '1998' pulsating heavily; but Nick made an admirably strong stance as a reborn musician.
His new music, despite being noticeably different, remains drenched in Chet Faker's iconic tones: vocally flawless, thought-provoking, and emotionally moving.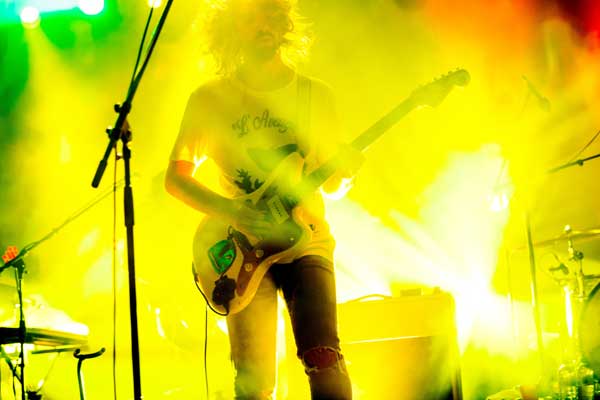 Tame Impala - image © Daniel Boud
An incredible crowd had accumulated for Tame Impala's awaited set at the Good Better Best stage. The tent was teeming with an excited buzz, fans spilling from the shelter in an eager huddle, stretching their necks in a desperate attempt to witness Kevin Parker work his magic on stage.
The performance started strong; 'Let It Happen' saturating the atmosphere with its swirling, psychedelic hues, instrumental stretching out infinitely though building the song's tension expertly, eventually releasing in a pop of confetti that showered over the transfixed listeners.
There's no denying Tame Impala's comfortable nestling into the list of most game-changing bands in history; their music reflects a kind of musical assurance and maturity that stems from a wave-length impossible to resonate with, though also impossible not to worship.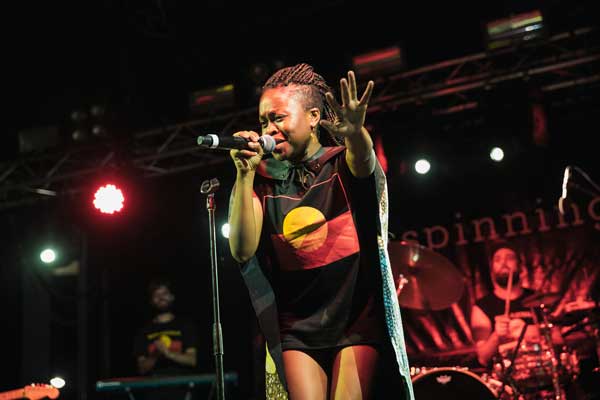 Sampa The Great - image © Daniel Boud
The impulsive decision to catch the last of Sampa The Great at the Spinning Top Stage was one not lamented. Despite the mere handful of audience members she performed with fierce sass, character and confidence, asserting herself as a woman in charge.
The set was powerful, brimming with attitude and grl pwr ("Where's all my queens at?!") supported by smooth back-up vocals and a faultless band.
As predicted, the early arrival eliminated my prospects of staying for Jagwar Ma, though unlike my dwindling energy levels my spirits were soaring upon leaving the Brisbane Showgrounds.
After an equally positive experience at the 2016 event, Laneway has easily cemented itself as one of my favourite festivals in Australia. The cleverly thought-out main stage set-up allows for seamless transition between acts, while the minor stages don't lack in quality.
The spacious Brisbane Showgrounds evoke the sensation of a Splendour-sized festival, but aren't difficult to navigate around. And the organisers are attracting big-name international bands year after year, all the while remaining loyal to Australian-born fan favourites.