And they're off! A review in the style of a song about a day at the races; fitting given that the Illawarra Folk Festival happens at the Bulli Showgrounds, where John and Tina (shout-out to the best breakfast roll of the weekend!) assure us you can visit every Saturday night.
Come all ye bould sportsmen and listen to my story, about Illawarra, sweet festival so folky. It started at Jamberoo amid tunes, sweat and beers, and tis going strength to strength 30-odd years later. Four days, nineteen international acts, eighty eight national and seventy two local Illawarra acts.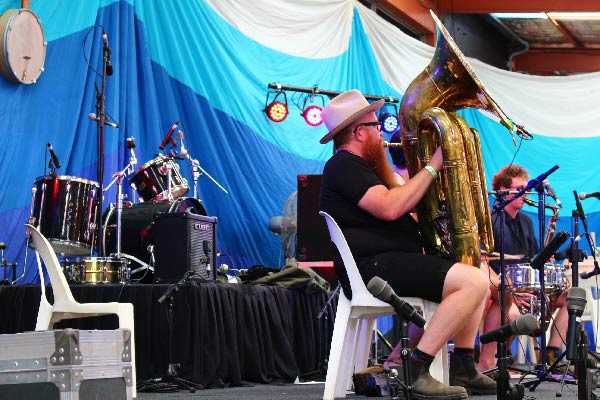 Image © Claire Maddocks
It's a place where you'll see the Junkadelic Brass Band lashing out Stevie Wonder covers, kids busking, belly dancers with swords upside their heads and world masters like Andy Irvine all within a 50-yard radius. Where old friends make recommendations for bands to check out or random strangers' brightened eyes hold doors open for you to discover your favourite new song.
The air is alive with mateship, union choirs, lagerphones, Morris bells, bush poetry, impromptu sessions, stories past and present, Japanese rock and roll, Mongolian throat singing, the wink and elbow language of delight and "anyone for the last few choc-ices now".
Click here for more photos.
Everyone's Illawarra journey is different. Sitting in on a session, stealing away to the dampened woods for a song/ snog or catching the bus up the hill to the Chapel stage. These are some of the moments that crossed my path.
Jaga band playing Ukrainian/ Eastern European songs, get the musician of the weekend award. Lucy Voronov on cimbalom/ dulcimer, holy moly! A close second is guitar maestro Bruce Mathiski. He embodies great Australian art, painting tunes with his life journeys, humour and warmth. He even sings on a tune. "You should sing more" and "you're so lovely" are the 'heckles' from his adoring fans.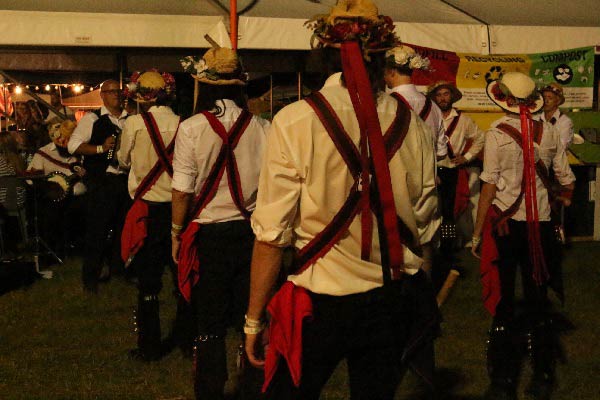 Image © Claire Maddocks
Brisbane duo Gone Molly sing songs about storms, mixing Nick Drake's cello with Sandy Denny harmonies. A bit of Kristen Hersh while you're at it? 
Andy Irvine (Planxty) and Luke Plumb's (Shooglenifty) second set in the chapel shines. And they play 'Plains Of Kildare' from the now 40-year-old
Irvine/Brady album
. Andy's touring it around Ireland in May. With Donal Lunny and Kevin Burke. Booking flights home as we speak. Andy and Luke are touring here now; highly recommended.
There is a buzz around Four Winds. I notice a few familiar faces. It turns out the piper Tom Delany and Daoire Farrell (vox/ bouzouki) met at the UL Masters in Trad performance course in my hometown of Limerick, from where Caroline Keane (concertina) also hails.
These are the pure drop of Irish music but with a twist. The set of tunes penned by Keane starts with a groove on Robbie Walsh's bodhran, which was pure R&B. Cruisin' music. Mark my words, don't be surprised to see a 'Four Winds featuring Ludacris' track some day. "Bend in the knee, loose in the buckle" aw yeah. And yes, bodhran playing in the same key as the tune.

Image © Claire Maddocks
Now, we need to discuss George and Noriko from Japan. Not since the Copella/ Johansson/ Murray/ Sheilds' frolics in 'Lost In Translation' have I wanted to jump on a plane and go party in Tokyo. 'Kampai!!" shouts George while emptying a beer, playing beer bottle (the same one) slide guitar, harmonica, foot kick/ snare/ cymbals to tunes about shaking your money maker, all the while being grounded by the Noriko's Tsugaru shamisen playing. Bonkers stuff, but great craic.

Wallis Bird was this year's Irish Mythen. Raw, emotional, hungry, virtuosic. I caught her twice and both rooms gave standing ovations. "Life I love you to my bones" she yearns as she turns her audience into her own Beethoven's 9th ode to Joycian choir. For 'The More You Hang Onto Me' she is joined by friends on harmonies for an amazing finale. I think those who were there witnessed an artist delighting to reach these new shores, physical, spiritual, and artistic.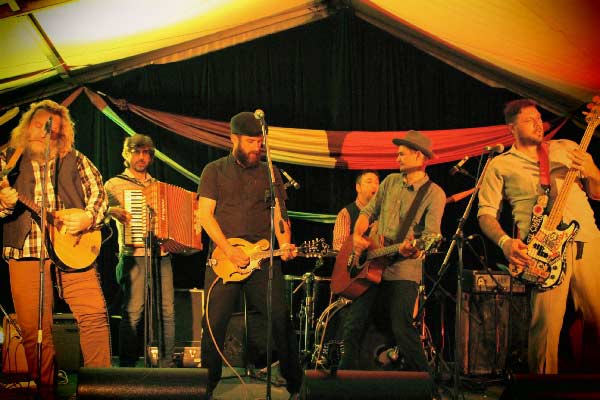 Handsome Young Strangers - image © Claire Maddocks
Handsome Young Strangers add an Aussie-punk edge to proceedings. All singing/ jumping they did a great job on 'Poor Ned'.
And this just in, we have a steward's word-count enquiry... switching to highlights mode.
 Other yay moments:
• The Leonard Cohen tribute concert
• 1917 STRIKE! Show
• Dingo's breakfast's tune about forgotten towns "All That's Left Of Hemlock Town'
• mine shaft/railway
• Pepper trees in a long straight line; shit cool
• Dave DiSanti's 'Good tunes' session
• storytellers sessions
• Squeezebox Trio jams
The Squeezebox Trio - image © Claire Maddocks
• Equus' Bukhchuluun Ganburged's always incredible Mongolian throat singing
• storytelling including the eight-year-old gal of the time her dad disappeared in Tassie and was later found in a pub
• Girls With Knives taking no prisoners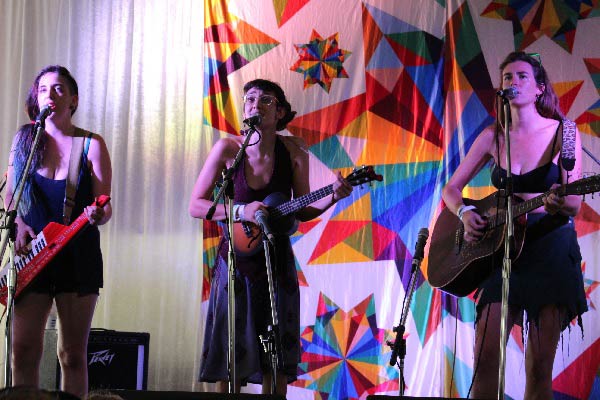 Girls With Knives - image © Claire Maddocks
• The Outside Track's Canadian, Scottish and Irish roots producing flowers, scents and airs that fill the soul
• And later jamming with Outside Track/ Four Winds peeps til theee in the morning
• The Whitetop Mountaineers
• Tim O'Brien and Taylor Pfeiffer bringing American mountain music and yodelling to the table
• The chalkboard stage
• Cross Rhythym dance company
• London Klezmer Quartet
• Melbourne Scottish Fiddle Club
• The Folkaphonic Youth Orchestra
• and the Combined Union Choirs bringing it all together.
Too many yays to mention really. And nay moments? Surely not?
The heat! My lady friend falling ill and well, sometimes fetching paracetomol and Berocca wins over catching every tune/ act. Saturday morning starting with the wonderful Northern Folk 12-piece band, 6 of them brass, but kind of a bit lively at 9am...really? Was the yoga whispery band busy? The bouncer shutting down our 20-person tunes session just as we were going at interstellar-ramming speed: "You can keep playing but you'll have to take it inside." "Boooo." And the Sunday morning rain! But wasn't too bad, cooling things down was good, and made saying goodbye a little easier.
Image © Claire Maddocks
This festival becomes a thriving little town for the few days. With all its best parts: artists, volunteers, jokers, families and freaks. And Morris dancers. An ancient tradition celebrating among other things 'the fool', whose fans include Shakespeare, Marcel Marceau, Padraig Pearse and Homer Simpson.
And the Morris dancer folks are in my forever-cool book for saving me under the weather at the Nash last year with a perfectly timed hot meal. But was it just me or did they do a heap of sets? Maybe we should start a campaign against cruelty to the poor, overworked Morris dancers. The kids will think Santa lives in Bulli not the North Pole.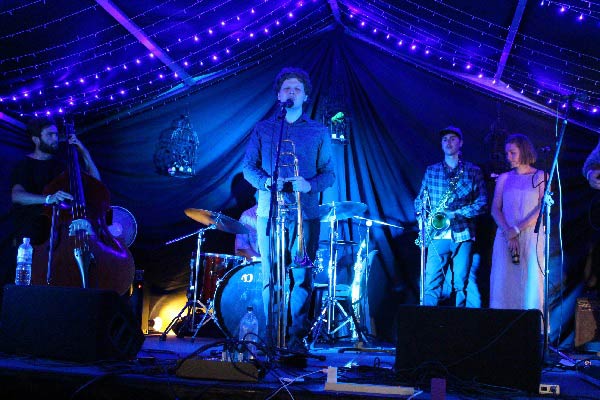 Tulalah - image Claire Maddocks
And it's anyone's race, but finally, for me the band of the weekend were Melbourne seven-piece Tulalah. Like Grizzly Bear meets Chaika in the woods where electric guitars are welcomed to a folk fest. Where the jazzy cerebellums of man have reached new hidden heights. Where double basses are plucked, bowed and loved. Where real brass hides Moses chords from lost notes. Vocals at times boy/ girl, at other times glowing fire arcadian. There's seven of them. They can't all be getting paid enough? Check 'The Flood'.
And the good news with this race, no doggies were harmed, and everyone wins really. In the words of Van the man: "Wouldn't it be great if it was like this all the time."
Click here for more photos.