The National Film and Sound Archive of Australia (NFSA) is celebrating the Sydney Harbour Bridge ahead of its 85th birthday (19 March, 1932) with the publication of a new, online exhibition.
'The Coathanger', as the bridge is affectionately known, plays an important role in both special occasions and everyday life for Sydneysiders.
It's been the site for fireworks, marathons, stunts, protests and an Olympic torch run. It also has its share of romantic moments with an average of three couples per week getting engaged while they're on the Bridge Climb.
The Sydney Harbour Bridge represented Sydney's coming of age, from remote colonial outpost to a modern city with its own engineering wonder; the world's longest arch bridge in the world at the time.
Even the Queen Mother referred to it as 'a magnificent monument to [Australia's] progress'.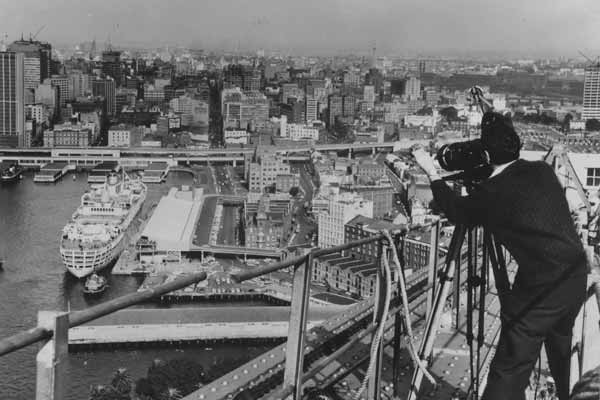 Image: Courtesy NFSA/Film Australia Collection
Online Exhibition Highlights
• Footage of the construction and opening of the Harbour Bridge
• 1930s songs about the bridge
• A recording of the Queen Mother calling it 'One of the wonders of our time'
• A 1984 tourism promo starring former bridge rigger Paul Hogan
• Opening of BridgeClimb, 1998
• Greg Norman carrying the Olympic torch, 2000
• Behind-the-scenes photos of the post-apocalyptic bridge from Mad Max: Beyond Thunderdrome.