International cycle races have been interrupted for a variety of reasons.
From dogs running at on-coming cyclists to people attempting selfies in front of fast-approaching pelotons, The Devil himself and even race officials (watch the video below of the car causing a cyclist to flip into a barbed-wire fence) professional cyclists are at constant threat from a range of arbitrary, outside forces.
But April Summers may have caused a world-first at yesterday's stage of the annual Giro d'Italia (one the world's three, major cycle races) by almost becoming the first Playboy model to ever be crushed by a peloton (a group of road cyclists).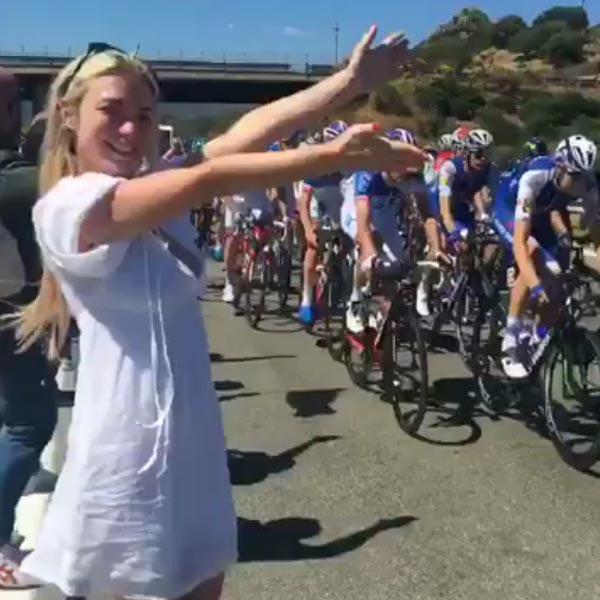 "Look behind you April!!" - image © Instagram
The UK-born, Italian resident was
bouncing
waiting at the side of an Italian motorway; when the peloton and associated motorcade approached, the enthusiastic April (real name Nadia Foster) became uncomfortably close to the surging stream of cyclists (pelotons can average speeds of 60km+) and support vehicles.
It has obvs generated a lot of attention for the all-round sports fan, with Nadia tweeting her response to the negative feedback. Lemon tart anyone?
To all those of you who have a problem with my behaviour 'let them eat cake' — April Summers (@april_summerz) May 7, 2017
Nadia also shares plenty of passion for her Italian soccer club, Serie A giants Inter Milan, when they put the ball in the back of the auld onion net.
Nadia's close call with the Giro riders had us scour the web for these cycle-related bewdies. Enjoy. No one was seriously injured in the featured clips.
Car Causes Cyclist To Flip
Train Halts The Race
Dog Almost Interrupts Cycle Race
Cyclists Butt Heads
The Devil Of Tour de France