The eighth annual Brisbane Comedy Festival (BCF) is the biggest yet, with a swag (66 in total) of international, national and local comedians headed to the Sunshine State to tickle your funny bone.
The likes of Wil Anderson, Dave Hughes, Stephen K. Amos, Rove McManus, Matt Okine, Jason Byrne and Alex Williamson will be joined by Tom Ballard, Ruby Wax, Sam Simmons, Becky Lucas, Aunty Donna, Paul Foot, Cal Wilson, Merrick Watts, Charlie Pickering and many more for four weeks of LOL action (26 Feb till 28 March).
Brisbane Powerhouse will be bursting at the seams once more for BCF, so the event has expanded to four locations within Brisbane City Hall. Alongside the laughs, King George Square (located outside City Hall) will come alive as a host of Brisbane's best street food purveyors and food trucksters who'll roll into the heart of the city to serve up mouth-watering delights from around the world.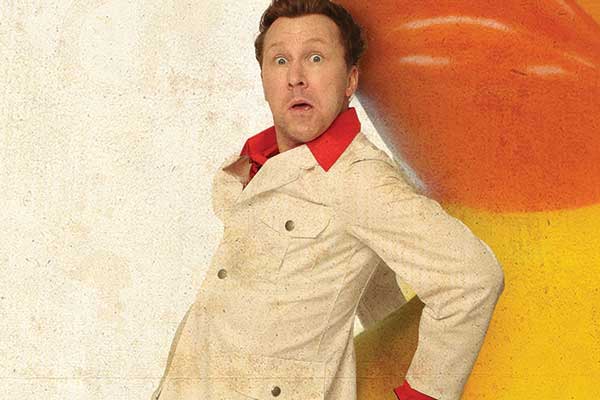 Jason Byrne
The festival kicks off with the traditional Brisbane Comedy Festival Gala at Brisbane City Hall, then runs throughout March for night-after-night of side-splitting fun.
Don't hold back; take in as much comedy as possible, and remember what Steve Martin said: "Comedy is the art of making people laugh without making them puke."
2017 Brisbane Comedy Festival Line-up
Aaron ChenAboriginal Comedy AllstarsAfter HoursAlex WardAlex WilliamsonAngus Gordon
Anne EdmondsAunty DonnaBecky LucasBen Russell & XavierCal WilsonCam KnightCameron JamesCharlie PickeringChris Wainhouse
Class ClownsConvince Me! (BCF debates)Damien PowerDaniel SlossDave HughesDave O'NeilDave ThorntonDusty RichFiona O'Loughlin
Frank WoodleyFrenchyGuy MontgomeryHannah GadsbyJason ByrneJeff GreenJoel CreaseyLawrence LeungLehmoLuke Heggie
Luke McGregorMatt OkineMel ButtleMerrick WattsMichael WorkmanNeel KolhatkarNick CodyPaul Foot
Potter UnplottedQLD Born and BreadThe Queensland TheatresportsRhys NicholsonRove McManusRuby WaxSam CampbellSam SimmonsSammy JSami ShahSusie Youssef
Steen RaskopoulosStephen K. AmosSteve HughesStripnosisTom BallardTom GleesonTom WalkerTommy LittleUrzila CarlsonWil Anderson#FirstWorldWhiteGirls