Put on your bathing caps, grab your rubber duckies and prepare yourself for the unexpected with 'SOAP' – a breathtaking show that sends the old notion of relaxing in the tub down the drain.
Held in Gluttony's The Peacock – an apt location for a show that is as elegant and unique as the bird itself – 'SOAP' perfectly combines circus, physical theatre and cabaret to create a visually stunning masterpiece that is truly a feast for the senses.
Upon entering the expansive tent most find themselves drawn to the six bathtubs scattered across the already glistening wet stage and there is a palpable sense of excitement in the room – as though those inside know they are about to witness something great. In the semi-darkness of the tent, Bobby Darin's timeless song 'Splish Splash' begins to play and the artists take to the stage, weaving gracefully among the bathtubs in the first of many mesmerising acts.
Over the course of 70 minutes, the audience witnesses incredible displays of athleticism, stunning (and at times disturbing) feats of contortion and beautifully choreographed routines set to an eclectic soundtrack which included rock and opera; as well as a series of haunting musical scores. With each new routine the performers push the boundaries of possibility, balancing precariously on the edges of tubs or soaring high above them as showers of water fell from the roof.
Although it features a number of seductively sultry routines, 'SOAP' is a family-friendly show and the performances, while extremely passionate, are subtle enough to avoid offence. There are also plenty of laughs to be found in the form of one particularly spritely young woman who brings her own unique sense of wonder to the show.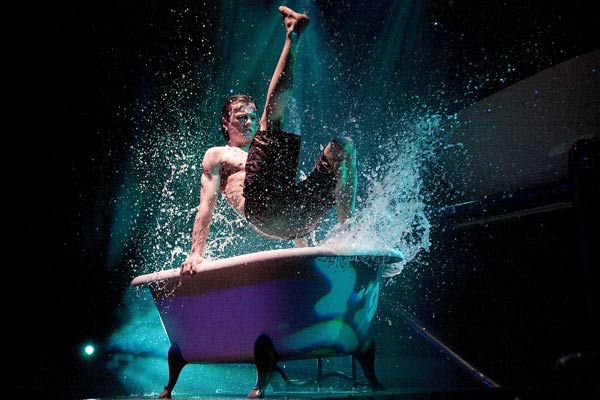 Subtle shades of red, purple and white lighting accentuate the performers' incredible physiques and there is plenty of eye candy to go around – particularly during a rather cheeky (yet tastefully orchestrated) routine featuring three young men in towels.
While the performers undergo several costume changes throughout the show, each new outfit is surprisingly simplistic (for example red and black leotards and white swim shorts) and this decision to avoid over-the-top wardrobe choices allows the audience to focus their attention on the shows enchanting routines.
Beautifully crafted, 'SOAP' will captivate you from start to finish and it's easy to see why this hypnotic show has been consistently rated among the best at the Fringe.
One thing is for sure, bath time will never be boring as long as 'SOAP' is in town.
★★★★★
'SOAP' plays The Peacock at Gluttony until 19 March.