The company behind high-profile 'The Hunger Games: The Exhibition' in Sydney has been served with a creditor's statutory demand for payment.
Ilive Entertainment Group, which brought the exhibition to Australia is believed to owe creditors in excess of $500,000 and to date seems happy to allow creditors, including high-profile national broadcast media groups, to indeed go hungry. The unfortunate culinary connections don't end there as Ilive's present sole director is Kevin Maloney of the Tulla Group which is the majority shareholder of Sumo Salad bars.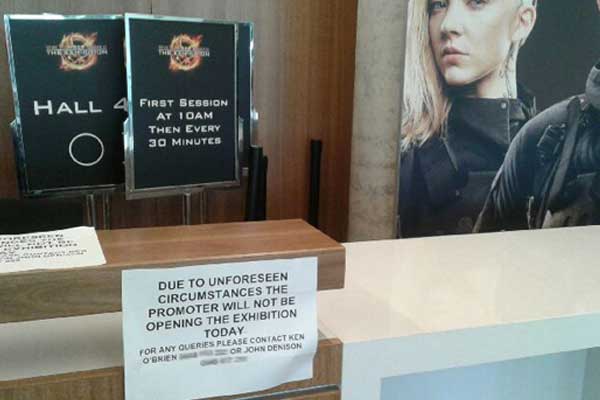 Maloney has featured in BRW's Rich List since 2008 but to date hasn't put his hand in his pocket to settle the tab. It is not clear at this stage how long Maloney has been aware of his company's predicament which came to a head when the company was served with a Statutory Demand For Payment on 19th January.
scenestr
understands that although Maloney is now the sole director, he was introduced to the venture by connections of John Denison who himself was a one-time director of ILive along with Michael Karagiannis.
For his part, Denison has a long history of failed, high-profile ventures in the entertainment space in Australia including acrimonious dealings with Football Federation of Australia, the Soulfest and Supafest festivals and myriad international artists. Denison, once boasted "he's been sued for a very log time and was an expert at it". A detailed
exposé of Denison's commercial dealings
was published on this site two years ago.
A statement released this week by one creditor of The Hunger Games: The Exhibition stated they had suffered abusive text messages and phone calls from representatives of ILIVE.
Three months ago
Denison was ordered by the Federal Circuit Court in Sydney to pay $437,000 to APRA/ AMCOS
plus $70,000 in legal costs over a separate matter. A representative from AA confirmed to scenestr the debt was a personal one and one they intended to pursue
The Hunger Games: The Exhibition was scheduled to close on 5th February but failed to open today catching staff and customers unaware. A note was posted in the foyer of ICC, apparently by the venue itself, stating, 'Due to unforeseen circumstances, the promoter will not be opening the exhibition today'.