With over 100 shows in 13 venues across 31 days and nights, the 2017 Garden Of Unearthly Delights has blossomed beautifully.
More than 750,000 people visit the event every season, and its popularity grows year after year. As part of the programme, the massive hit show from the creative minds behind Madonna's Rebel Heart tour 'Blanc de Blanc' will showcase their skills.
'Blanc de Blanc' - Image © Pamela Raith
A new take of 'LIMBO Unhinged' will open the door and delve deeper into the dark world of the award-winning production with all the familiar characters and then some.
Sticking to tradition, Garden Of Unearthly Delights will host some of the most fun shows, able to spring anyone into the party mood. 'Massaoke' and 'Jagged Little Singalong' lets audiences belt out endless Alanis Morrisette, while the kids can experience 'Kid / Dub', a family party based on 'Hot Dub Time Machine'.
'Jagged Little Singalong'
When it comes to family activities, 2017 is no exception to The Garden's big, bold family facet.
'The Amazing Drumming Monkeys', 'Children Are Stinky', Peter Combe and 'Boomstars & Supercats' will all return.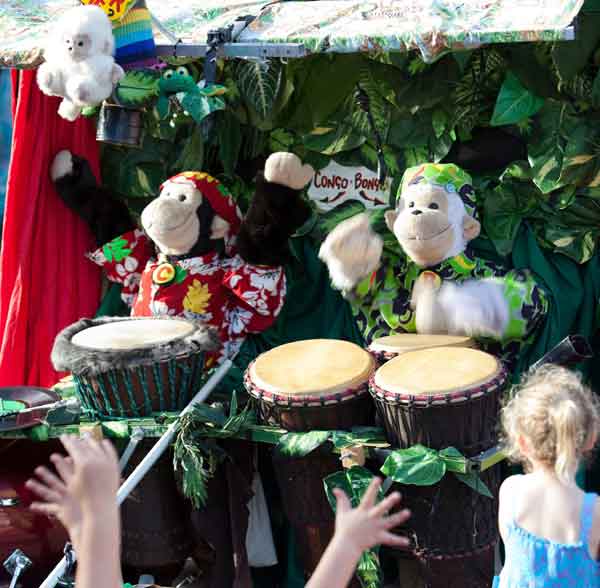 'The Amazing Drumming Monkeys'
Some new additions will excite and delight, including 'Super Amazing Giant Girl' in her show about fitting in, and a visual arts installation for kids called 'Foals'.
Physicist-turned-magician Kevin Quantum will make his Adelaide debut with 'Illuminations', and Indigenous dance stars and YouTube sensations Djuki Mala are back with their unique, infectious fusion of traditional Yolngu and contemporary pop culture, dance and storytelling.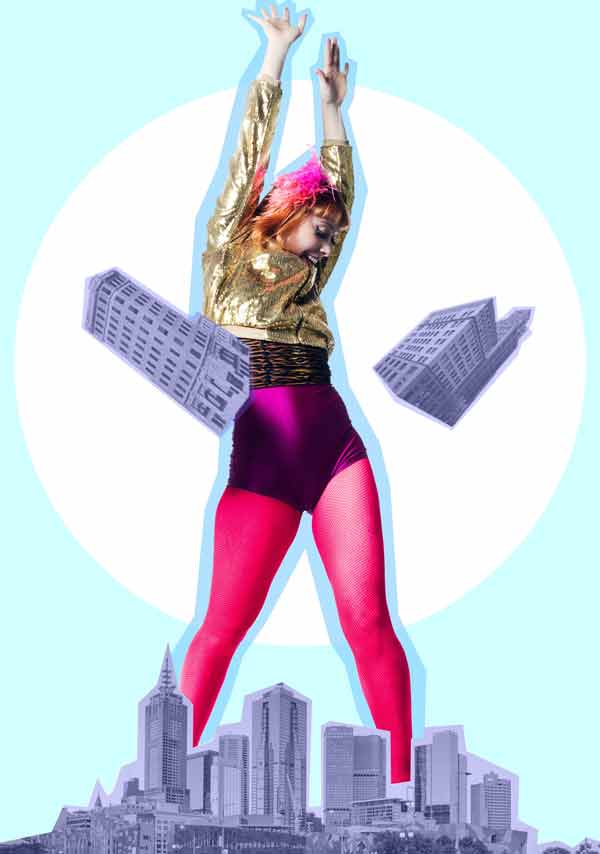 'Super Amazing Giant Girl' - Image © Jo Duck
Six-man a cappella group The Magnets will take a trip through music. Direct from sold out shows London's West End, the USA and around Australia, 'Graeme Of Thrones' sees avid 'Game Of Thrones' fan Graeme trying to recreate his favourite fantasy saga live on stage.
'Children Are Stinky'
Music, comedy and cabaret will be bursting at the seams at The Garden, featuring household names like Kate Ceberano, Leo Sayer, Cal Wilson, Dave Hughes and Judith Lucy, and shows like 'Livvy And Pete' and 'The Magic Inside'.
The full Garden Of Unearthly Delights programme can be marvelled at
here
from 2 December.
Garden Of Unearthly Delights runs from 16 February-19 March at Rundle Park in Adelaide.