Amy Lehpamer and debutante Baylie Carson give their hearts and souls as Dusty Springfield and her inner child in a revival tailored to our modern times.
The reality of fame did not resemble the childhood dream of English soul diva Dusty Springfield.
It is a familiar story, reminiscent of the many revered lives lost in 2016; like George Michael, her sexuality was suppressed for fear of prejudice; like Prince, she was always looking for that new, funky sound; like Bowie, her hairstyle was always in flux; like them all, addiction gripped her, and this ultimately shortened her majestic life.
She was forever an outsider: bullied at Catholic school and by her conservative parents; a black sheep within the button-downed conformity of the English pop scene.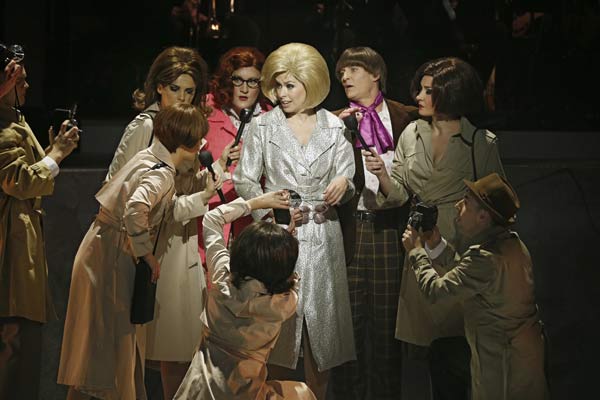 Image © Jeff Busby
When she finally found her place amongst soul sisters in the African-American R'n'B community, her same-sex and interracial love with backing singer Reno, played charismatically by Chloe Zuel, was socially forbidden.
Through her songs and her irrepressible voice, though, she ultimately triumphed, winning the public's adulation. 'Dusty: The Musical' offers the laughs, the glamour and the nostalgia that is to be expected, but it also delivers poignant drama with heft.
Amy Lehpamer, tasked with channelling Dusty's blue-eyed soul vocals while simultaneously embarking upon a tumultuous emotional journey, deserved the standing ovation that many in the audience gave her. In addition to her acting and vocal responsibilities, she underwent more costume changes than Diana Ross; her dressers had the efficiency of a pit crew in a Formula One race.
Image © Jeff Busby
As a young Dusty, or Mary as she was christened, Adelaide girl Baylie Carson was a grade A scene-stealer with her enormous vocals roaring out of such a tiny frame. The duet between the pair 'Who Can I Turn To?' was a thundering crescendo to act one.
Accompanied by a small ensemble under the musical direction of Michael Tyack, the replication of Dusty's abundant back catalogue is worthy of the price of admission.
While the musical is coherently narrated by Mary and a nosy music journalist, the transitions between songs and the pacing of the narrative is not always ideal. While it is necessary to perhaps jump decades at a time, this time travelling could have been more clearly signposted.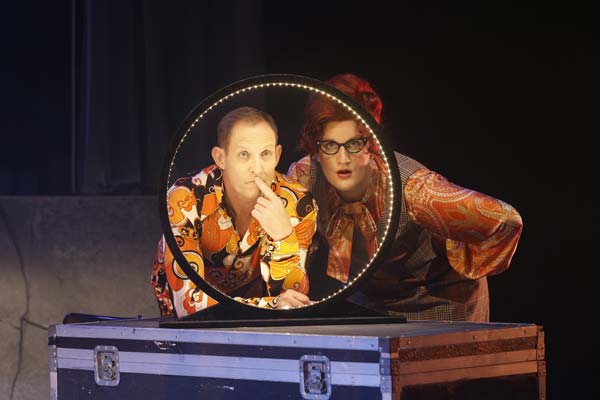 Image © Jeff Busby
While supporting cast Virginia Gay and Todd McKenney bring comic relief, some of the punch lines fall flat because of the incoherence of their thick accents.
McKenney's accent is his only failing, though, as he brings mirth through his physicality while also delivering gravitas when he intervenes to save his dear friend from her plunge into alcoholism.
Michael Ralph's choreography of the descent into booze was innovative and effective. Paul Blackwell as Dusty's father nails his gags at every opportunity.
While it is possible to nit-pick at small deficiencies, Lehpamer's harrowing depiction of Dusty's struggles paired with her glorious vocal renditions ensures that Dusty in Adelaide is as essential as Dusty in Memphis.
★★★★☆
'Dusty: The Musical' plays at Adelaide Festival Centre until 22 January.