The continent of Africa has long been associated with the circus big top, with lions, tigers and elephants forming the backbone of the traditional travelling carnival.
'Cirque Africa' is a modern circus, relying solely upon remarkable athleticism, awe inspiring skill and cheeky clowning about, all set to tribal rhythms played by a live band. While the production and lighting is not as slick as the high-end Cirque du Soleil style shows, it consequently also lacks the pretension that can sometimes be associated with the modern circus genre.
This is clean and energetic family fun.
The larger acrobatic ensembles were perhaps the highlight; rippling flesh forged into enormous and sturdy human pyramid structures with grace and ease. A solo acrobat made balancing aloft a tower of stacked chairs seem so effortless that he maybe didn't receive the volume of applause that he deserved; he just never looked like falling, robbing him of the impending danger clap.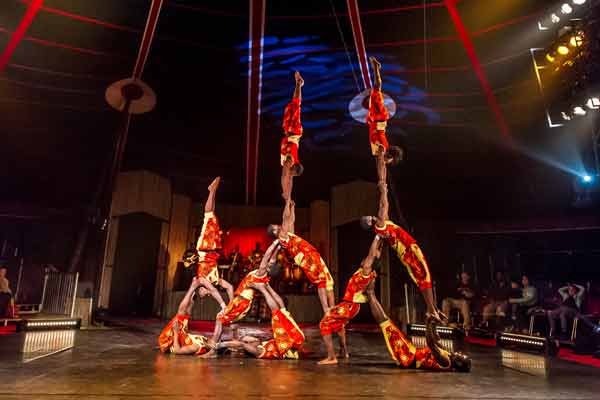 The Ringmaster Papa Africa exuded charm, manipulating the crowd with ease, although his microphone could have been a little louder.
'Cirque Africa' is ideal for an outing with the kids.
It is an amalgam of circus old and new: the animals and the safety net are gone but the scent of popcorn remains.
★★★☆☆ 1/2.
'Cirque Africa' performs at the Cirque Africa Big Top until 19 March.