The opening night (12 April) of Circus Oz's new show 'Model Citizens' was a night of thrills (and a couple of spills).
The first creation fuelled by new Artistic Director, Rob Tannion, 'Model Citizens' unpacks the myths of modern Australia with humour and startling insight among a landscape of supersized pegs, spools, scissors and Y-fronts. Mitch Jones' radical, nonconformist character found himself in a realm in which the inhabitants come alive only to move blank-faced and mannequin-like in imposing uniformity.
Image © Rob Blackburn
The air of oppression quickly dispersed however, as the new acrobatic ensemble tumbled, balanced, swung and roller skated its way through the theatrical circus that is 'Model Citizens'. Jarred Dewey, whose athletic physique is accentuated by a corset, evoked memories of Madonna's iconic male dancers from the '90s.
Casting alluring glances at the audience during his pieces, Jarred executed astounding contortion manoeuvres atop shoes fashioned as irons and the static trapeze. The beguiling Freyja Edney showed her quirky comedic timing and athleticism, delivering light-hearted relief through ukulele ditties mocking societal tolerance, and executing complex hula hoop routines, at times keeping six hoops in motion.
Image © Rob Blackburn
The second half of 'Model Citizens' was darker in tone, with many of the acts revisiting the theme of oppression. Mitch Jones kicked it off with a suspended straightjacket escape, while Olivia Porter wrestled with the temptations of addiction in her compelling, off-beat ball juggling act.
A circus experience wouldn't be complete without nail-biting suspense, and this was delivered firstly care of the Cyr wheel act. As Jack Silvestro rotated the wheel with ever increasing speed, cast members rolled bowling balls through its arc with precision timing.
Upping the tension stakes, Luke Ha assembled and balanced atop a house of oversized, collapsing credit cards, finally swinging suspended after they were kicked out from under him.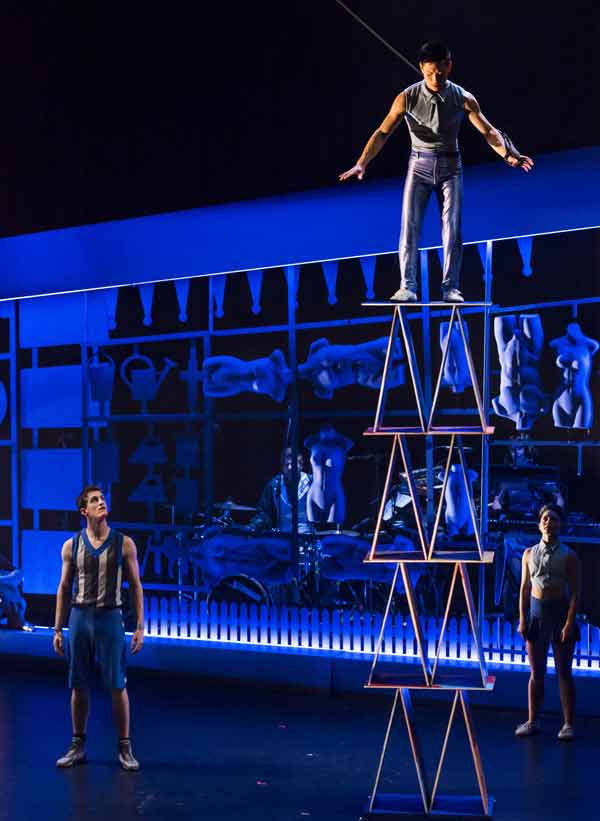 Image © Rob Blackburn
The live music soundtrack performed by Ania Reynolds and Jeremy Hopkins fit the performances like a glove. The rollicking surf rock number that accompanied the opening group tumbling act had all the frenetic energy of The B-52's' 'Rock Lobster', while the darker, moodier pieces had hallmarks of The Prodigy's jarring buzzsaw synths.
Fun, daring and insightful, 'Model Citizens' truly blends risk and beauty.



Circus Oz 'Model Citizens' Tour Dates
12-15 April – Queensland Performing Arts Centre26 April - Pilbeam Theatre, Rockhampton (QLD)29-30 April – Mackay Entertainment Convention Centre (QLD)12-13 May – Lismore City Hall (NSW)19-20 May – The Art House, Wyong (NSW)26 May - Joan Sutherland Performing Arts Centre, Penrith (NSW)31 May – Griffith Regional Theatre (NSW)2-3 June – Civic Theatre, Wagga Wagga (NSW)